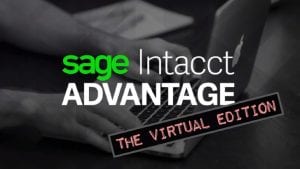 Marc Linden kicked off the annual Sage Intacct Advantage conference with a keynote that focused on transformation. He stated "2020, to say the least, has been an interesting year, we are living in a time of transformation. Our lives have been completely transformed, the way we work has been transformed. And now Advantage has been transformed."
While Advantage is transformed into a virtual conference this year, it still has a large number of sponsors and a wealth of sessions. Several of which count as CPD credits for attendees. Linden continued the theme of transformation revealing that a recent IDC study indicated that 48% of small and medium-sized businesses would spend $2 trillion on digital transformation before 2022. Sage Intacct will hope to grab a big piece of that market in the coming months.
Better together – Sage Intacct and Sage People
Linden then spoke about has Sage Intacct and Sage People would help organisations to transform. He introduced Will Tedrow HR Director Youth Dynamics, Tedrow commented: "With Sage people we've been able to increase the frequency of our pulse surveys, leading to an almost 200% increase in employee engagement. Sage People has become a tool that we've used to lower turnover by 25%. Over the past year, through the COVID-19 pandemic, Sage People became a lifeline for our teams. Housing, critical COVID communications, as well as the resources that they needed to continue providing services to the most vulnerable children and families in Montana."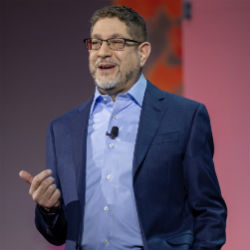 Linden went on to reveal the three transformation themes that helped frame some of the subsequent product announcements. "How you can Transform your organisation, bringing more visibility, agility, and resilience to your operations. How you can transform your workflows, leveraging AI and automation for continuous accounting. Last, about how we transform our partnership so that we can ensure your success today, during this crisis, and for tomorrow as you come out, but also for the long term. "
Product announcements
Tina Wang, VP Product Marketing at Sage Intacct, then talked about new Salesforce Advanced CRM Integration for Nonprofits. Intacct first revealed that it was working on this solution at Advantage 2018. Wang demonstrated how the new integration delivers transparency across the organisation. The CFO has visibility into grants and donors down to an individual level. They can communicate with Sales leaders using an integration to Salesforce Chatter. She concluded: "If the Salesforce integration gives the finance team and the donor development team the visibility into which campaigns are really successful, and that'll help them plan for their future campaigns. This kind of visibility really helps nonprofits plan their strategy. It'll help them continuously improve. and it'll help them to be able to better deliver on their mission."
Salesforce Advanced CRM Integration for Nonprofits will be generally available later in 2020.
Paul Burrin then talked about how Sage People helps deliver transformation in organisations as the system of record for employees. He also revealed the upcoming integration of Sage Intacct and Sage People that will soon be available in beta. The integration will provide synchronisation between the two solutions. This will ensure that updates in Sage People are reflected in Sage Intacct automatically.
Sage Intelligent Time to save employees time
Erik Zahnlecker, Principal Product Manager, AI/ML at Sage Intacct, spoke about the recently announced Intelligent Time. He summarised saying: "With Sage Intelligent Time,  time entry no longer requires starting and stopping timers, or reconstructing your timesheet at the end of the week by looking at your calendar or sending emails. Instead, users can privately and securely connect different data sources like their calendar, their email or their computer activity.
"Users will receive AI power time suggestions that they can review and add to their timesheet. As you edit and accept the suggested time entries, the system improves the machine learning and AI, ultimately making time entry faster, easier, more accurate with issues."
Sage Intelligent Time will be available later in the year. There is also an offer for Intelligent Time for Advantage attendees, available until December 31st 2020. It is offering a two for one deal on employee user packs.
Enhancing Intelligent Accounting
Sage Intacct revealed that the GL Outlier detection functionality, part of Sage Intacct Intelligent GL, would roll out to customers in 2020 release 4, due in November for early adopters. The solution automatically analyses journal entries to not only flag outliers; it also identifies why it is highlighted.
Sage Intacct customer and very early adopter, Sean Skuro, controller for rapidly growing restaurant chain Tender Greens, commented: "The new Outlier Detection for General Ledger functionality works like magic and saves me a ton of time. This past month, it found a dozen small errors that I might not have caught until they had already posted to the GL, given we typically have 500 or more journal entries each month. All I had to do was quickly review the flagged entries and decline the ones that needed fixing. Having this new capability enables me to complete my job faster and increases my confidence in how we approach approving journal entries. It's the assistant I've always wanted."
Other recent features of the intelligent GL were mentioned by Julie Choi Adams, Vice President of Product Management. She noted recent improvements including bank and credit cards feeds, leveraging Sage Banking. Around this feature, she noted: "We have many more (features) in the works to make it easier and easier to reconcile daily.; So you have more accurate and timely insight into cash, and you have less work to do at month-end."
More AI-enabled features
Two other examples of how Sage Intacct is leveraging AI are dynamic allocations and a new feature, Interactive Visual Explorer. This feature lets finance leaders visualise and explore their data interactively. Available in 2020 R4 for early adopters, it enables finance leaders to analyze better their business leveraging the multi-dimensional capability of Sage Intacct.
Graphical representations of pivot tables enable users to spot trends and insights by the click of a button. They are then able to drill down into the underlying data to understand those insights better. This enables the formulation of actions and the ability to take advantage of those insights.
Interactive Visual Explorer will be available for early adopters with Sage Intacct 2020 Release 4 in November and are expected to be generally available in early 2021
Enterprise Times: What does this mean
This was a typically solid keynote from Sage Intacct. Linden introduced a cast of experts from Sage Intacct that demonstrated the progress its products have made and will deliver soon. What Sage Intacct gets rights is that it demonstrates and then delivers on its commitments. Although Salesforce Advanced CRM Integration for Nonprofits may have taken a little longer than expected, Sage Intacct has significantly strengthened the underpinning integration over the last few months.
What is clear is that in the mid-market segment, Sage Intacct is drawing closer to Sage People. That combination is starting to look powerful. With a vibrant marketplace with companies such as PSA vendors BigTime Software and Kimble, as well as many others, Sage Intacct looks poised to accelerate growth. The big question is how quickly it can internationalise its product beyond English speaking countries. Also how quickly it will gain customer bases in Australia, the UK and South Africa. These are all countries that Sage Intacct has launched in over the last two years.