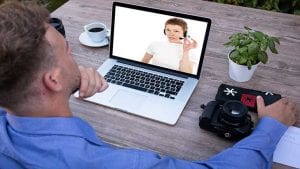 Act-On Software has launched a new integration with Zoom. The leading growth marketing automation platform is enabling users to administrate webinars using Zoom. At the heart of the new integration is an automated workflow that manages the creations, audience enrolment and tracking while integrating it with other marketing campaigns.
With lockdowns continuing across the world, this automates time-consuming manual tasks that marketers have to do more frequently. No longer are webinars somethings that organisations believe might be a good idea. Today they are vital for lead generation in the absence of in-person events. The challenge for marketers is to come up with innovative ideas that will attract their target audience to such events.
Aaron Johnson, chief product officer at Act-On, commented: "Our best-in-class, easy-to-use webinar integration not only makes the marketer's job easier, it's backed by powerful marketing automation features that drive stellar customer experiences, boost ROI, and grow businesses."
"In the wake of the pandemic, a truly holistic webinar marketing solution couldn't be more timely. We are pleased to provide this new medium for audience engagement, and we can't wait to see how our customers benefit from it."
The complete webinar marketing process
Act-On now has an entry in the Zoom App Marketplace. Zoom users can install the add-on which will enable the integration to Zoom. The integration, and wider Act-On solution, delivers marketers an end-to-end webinar management process, which can dovetail into wider marketing campaigns. It can complete all relevant steps of the process; these include:
Plan webinar sessions
Create a schedule
Develop promotional content
Create contact lists and send invites
Create individually trackable social media campaigns
Track click-through rates, registrations and attendance
Send confirmation communication to registrants
Send follow-up emails
Carry out post-event marketing actions
Act-On will synchronise information with Zoom to ensure that registrants are enabled. It will schedule messages to track responses and keep each webinar campaign running smoothly. On top of this, the Act-ON reporting tools can analyse how promotions are performing, which campaigns need further investment.
These tasks can also be automated in a repeatable workflow which enables marketers to initiate a webinar program and not have to worry as much about the administration of it. They can focus on delivering the best content with just an eye on how registration is going. Furthermore, the reporting provides metrics of how promotion and the webinars themselves function. Importantly content created for one webinar can become templates for future ones, further reducing the amount of work needed with the number of webinars increasing.
Customers already perceive significant benefits. Andrea Pelloquin, events manager at J.W. Pepper & Son, commented: "We're super excited for the new Act-On/Zoom integration. In the past, we've had to do all of this manual work behind the scenes and then import it into Act-On, so this saves us a ton of time and makes us far more efficient and effective."
Enterprise Times; What does this mean
Act-ON continues to build out its marketing automation platform. It recently launched the Following Act-On's roll-out of the Automated Journey Builder. This enabled marketers to customize journeys for prospects. They are now able to integrate webinars into this journey. For example, provide a webinar to explain technical concepts of a product or service. Alternatively, a higher-level thought leadership webinar to draw in leads the top of the funnel.
Webinars are now a key component of a marketers armoury, and this latest innovation takes them from an administration headache to a powerful tool.