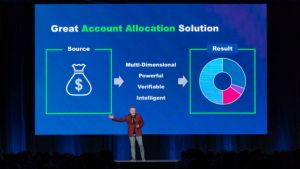 Sage Intacct unveiled extensions for its vertical market approach during the keynote at Advantage 2018 this week. The highlight was the Sage Intacct Revenue Recognition for Nonprofits, a dedicated solution that addresses the specific requirements for the non-profit sector. This builds on the Sage Intacct nonprofit Financial Board Book in announced last year.
In addition, it unveiled Sage Intacct Billing Workbench for software and technology companies as well as some new features for distributors and inventory-based companies. Sage Intacct continues to build out the functionality that specific industry sectors look for. Dan Miller, vice president of product for Sage Intacct, commented: "We understand that every business is unique. Even within vertical industries, you have specific business practices that make you an effective organization. Our goal is to provide an unmatched set of capabilities that embrace the complexity of any organization, while helping to streamline processes and deliver deep business insights."
I spoke with Dan Miller and Aaron Harris at Advantage after they had delivered the keynote during which they revealed the general enhancements for finance teams as well as those for industry sectors. The investment by parent company Sage is starting to pay off for customers. There was a feeling in the attendees that Sage Intacct is delivering more functionality than ever before.
Helping nonprofits
Nonprofits has become the fastest growing sector for Sage Intacct. This was demonstrated by the number customer win announcements it has made recently. There was also a separate track for them at the event. The keynote revealed past, present and future updates.
Recent updates
On stage Joan Benson, Industry leader for Nonprofits at Sage Intacct revealed two of the key features it has rolled out this year. The software now supports compliance for ASC 958 including ASU 2018-08 which relate to accounting for grants and contracts of nonprofit organizations. It has also delivered disclosure automation. This enables companies to produce disclosure reports quickly, including discussion notes within the reports. The latest updates are available in the November update.
Improved revenue recognition
Part of the next release is the module Sage Intacct Revenue Recognition for Nonprofits. This strengthens the revenue recognition within Sage Intacct by automating the recognition for conditional grants and contributions. It will reduce the time that finance teams need to spend on Excel to prepare the reports. It also integrated with Sage Intacct Grant Tracking & Billing, further reducing work load for finance teams. Harris commented: "It will save you time and give you confidence in your revenue recognition compliance."
It addresses three primary challenges:
Analyse revenue streams
define conditions and milestones
Ensure proper accounting for deferred and recognised revenue
Available in November 2018 there is a cost for the module, this was not disclosed. Stephanie J Cavadeas, CPA, Wipfli LLP, a Sage Intacct partner commented: "This is a great example of the power of cloud-based solutions to adapt to changing customer needs around accounting standards. As an auditor, I serve as a key resource for our clients in navigating any new accounting guidelines. What I really like about Sage Intacct is that it's so flexible in the ways that clients can track information.
"The system is easily configured to match the information needed based on the revenue sources and related revenue treatment needs per organization. Since the information is centralized in Sage Intacct, our clients don't need to track these details in ancillary systems or spreadsheets, reducing the effort for everyone."
Strengthening Salesforce integration
As for the future, Sage is working on delivering a deeper integration to Salesforce, specifically around membership and donor information. Feedback from customers using the Salesforce non-profit success pack is that the linkage between it and Sage Intacct could be strengthened. Currently, finance teams often end up with manual data entry on membership and donor information.
Additional workflows are being developed allowing Sage Intacct to carry out better analysis of donations. It will also help to eliminate the duplicate entry that many customers are having to do.
Software vertical gets many changes in 2018/4
The new Billing Workbench will simplify the way that software companies can manage subscription models and billing. It delivers the ability to manage subscriptions, services, project milestones, time, employee expenses and inventory from a single location. Users are able to generate batches of invoices, validate them and then send out. The workbench will help determine when and how the billing is done for different products and customers. It will integrate seamlessly with Sage Intacct invoicing.
This is not a fully automated system as it allows users to check on anomalies. Users can set parameters, by a percentage, for example that will highlight where a charge for the period is outside the norm. The workbench will also use augmented intelligence to identify where the issue lies. This could be a missing timesheet or insufficient inventory for example. A customer portal also enables customers to view a billing summary.
The system allows users to create policies, preconfigure billing and improve the efficiency of the billing process within SaaS companies using subscription billing. The software billing workbench will roll out in mid 2019. According to Harris it will have several releases during the year as it rolls out additional functionality.
Other updates
During 2018 Sage Intacct has already strengthened the integration with Salesforce Advanced CRM. The integration now has a smart sync that triggers an update when changes are made in Salesforce to the contracts and subscriptions within Intacct.
The November Release 2018/4 continues to strengthen the contracts and revenue schedules. For contracts there are more complex use cases for MEA allocations. It is now possible to re-allocate revenues if the number of licenses are changed mid contract.
Historically users have had to calculate and spread revenues manually, this is now done automatically. If revenue and expenses need spreading over a longer period (from 12 to 24 months) then the values are calculated for all periods. It will reallocate to open historic periods and adjust the open period values should some of those historic periods already be closed. This is not yet available for billing, just revenues and expenses.
Future enhancements will work towards eliminating all manual processes. Two planned features are
Project Task % complete Revenue in MEA allocations
Project Task % complete Billing
For finance teams in software firms these changes were well received and many in the audience looked forward to using the Billing workbench.
Other industries
During the main keynote the distribution vertical was also featured. Rod Winger, the Sage Intacct Lead for Wholesale Distribution unveiled several new features. These include improvements to financial cost reporting. Future enhancements include more functionality around landed costs, replenishment, cycle counting and enhancements to serial number tracking
Winger stated that it is: "Improving landed cost functionality introduced earlier in the year to automate capture of invoices, adding a method to capture estimated landed cost at time of purchase and enable automatic matching."
In 2019 it will introduce new tools for warehouse management. These include enhancements to receiving, picking, fulfilment shipping and put away.
Other industries have also seen enhancements over the past year. There is stronger consolidation for Financial Services. Healthcare is now HIPPA ready. It has also added functionality for the hospitality industry. This is an important sector according to Harris with casinos and tribal governments attracted by the multi-dimensional aspect of Sage Intacct. Where these organisations are multi entity, multi franchise organisations including restaurants and hotels. It allows them to report on key metrics such as revenue per room.
What does this mean
Overall the keynote provided a comprehensive and impressive update on what Sage Intacct has achieved during 2018. This included highlights from the imminent release. There were also glimpses of the future. An enhanced embedded analytics engine and greater use of its Artificial Intelligence engine, currently called Pacioli.
The investment by Sage is allowing Sage Intacct to ramp up development across different verticals. The updates are likely to come even thicker and faster over the next year. While there is a team working on the major internationalisation project, it is clear that other work hasn't slowed or been affected.