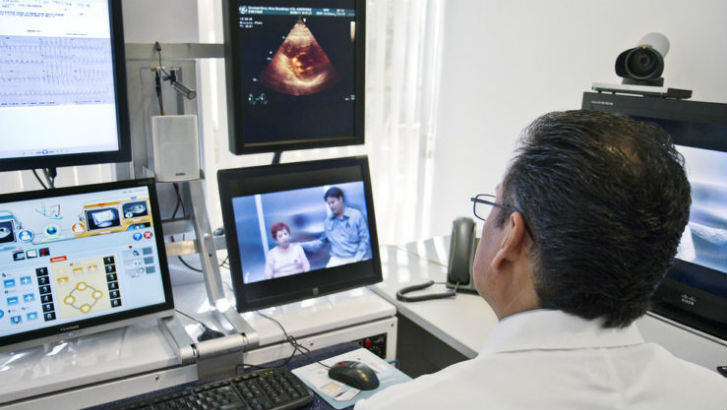 e-days has partnered with Doctor Care Anywhere to enable businesses to connect employees direct to virtual GP services as they complete online absence management. This is a first of a kind wellbeing integration between an absence management solution and healthcare services. There are several advantages to this.
Businesses can ensure that employees, if they feel ill, are assessed quickly by a medical professional. With health services under increased pressure and the ability to visit a doctor limited due to the coronavirus pandemic, this is good news. This partnership predates the current pandemic. It also allows employees to get rapid access to healthcare advice that can both reduce their time being ill. Additionally, it ensures that if they need urgent treatment they can be directed quickly to the appropriate healthcare service.
Will those companies taking up the service see a reduction in the number of sick days that employees take? This could be through reduced transmission when people return to work too early or through better oversight off employees wellbeing. For the NHS, this may also alleviate some of the pressure on the healthcare system. Doctor Care Anywhere is already fielding hundreds of calls a day relating to Coronavirus.
Virtual doctor services with Doctor Care Anywhere
Through the new partnership, employees can access GP Bookings 24/7 and receive both telephone and video-based consultations. The service is supplemental to NHS GP services and employees do not need to de-register from their surgery. However, this is not the right system for medical emergencies. Employees who need urgent care are urged to call 111/999 straight away in such cases. Doctor Care Anywhere is also working to integrate its services to the NHS to start offering services such as in person GP appointments where necessary.
As a virtual service it is also available anywhere in the world. Though for the moment, this may be less relevant. Prescriptions can also be offered in many countries (not the USA) and advice on over the counter medicines is also available. There is also support for visually and hearing impaired employees.
Dr Kate Bunyan, Chief Medical Officer at Doctor Care Anywhere commented: "Our purpose is to make people's lives better, and we are already working with almost one million people. This e-days partnership is a unique and exciting proposition enabling us to support their clients with medical assistance and routes to faster recovery. The more we can offer employees, the less the pressure on organisations like the NHS. This is a huge step for employee wellbeing."
e-days extends absence management
The Doctor Care Anywhere service integrates with e-days enabling employees to access the system seamlessly through the self service portal. This takes away the challenge of accessing healthcare services. It means that organisations can offer wellbeing services rather than imposing them.
Steve Arnold, CEO of e-days, commented: "Our mission is to provide companies with a comprehensive, full lifecycle solution, that maximises their ability to proactively manage employee wellbeing. This partnership with Doctor Care Anywhere opens the door to meaningful and convenient 'in-absence' care for employees.
"We believe all companies should have the tools and data points they need to impactfully take control of their employee wellbeing programs. Data is key to this, and very few companies can tie together their wellbeing programs with accurate absence data; e-days is fast becoming the centralised hub that brings together multiple employee wellbeing initiatives."
The announcement did not go into pricing details for the service. Doctor Care Anywhere is available on two plans, UK only or worldwide. It also offers a pay as you go service, as well as monthly and annual plans. The standard individual annual plan is £130.00 per year. There is also offers a family of 4 plan for £440 per year (UK, £760/year). There are two questions here. Firstly, what rate companies can negotiate on these costs for their employees? Secondly, whether they are able to extend the benefit to wider family members?
Enterprise Times: What does this mean
Wellbeing is becoming increasingly important. CIPD noted that almost 27 million working days were lost in 2017/18. Its Health and Wellbeing at work report found that 5.9 days per employee were lost each year. It recommends several actions that this partnership can help organisation to enable:
Ensure that senior leaders are aware of the importance of workplace health and well-being, and that they champion the relevant actions to ensure that it's taken seriously across the organisation.
Provide early access to occupational health support.
Develop an evidence-based understanding of the causes of absence and unhealthy practices, such as 'presenteeism' and 'leaveism'. Unless the underlying issues prompting people's behaviours are addressed, efforts to support employees and improve health and well-being will be short-lived.
Arnold added: "We all know that employee wellbeing is such an important topic, more than ever at this time. We're delighted to be working Doctor Care Anywhere and together we aim to firmly prove the impact that virtual GP solutions can have to improve employee wellbeing. Currently, there's a massive gap between the great intentions companies have, and the reality of their wellbeing offerings. We believe this partnership makes it a reality."
This is a timely partnership as it offers a service that is not always available through traditional means, the NHS. However, for many organisations they may find that the cost is prohibitive, especially at a time of huge business uncertainty. It will be interesting to see in a years time what the take up is. This is definitely a worthwhile service, but it may take a while to get a foothold.