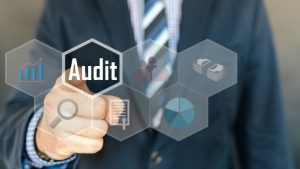 The close management software market should not exist. This was Charles Brett's view when I spoke to him after he had written a whitepaper entitled "Lessening the cost and pain of the annual audit" for FloQast (registration required). FloQast provides close management software.
Exist it does. Another vendor, BlackLine, believes that the total addressable market is around $18.5 billion (Source: Seekingalpha, registration required). While most companies look to close management software to reduce the pain of month and year ends, Brett's whitepaper takes a different angle. He examines how close management software can also change how audits are performed.
First step into the cloud
Companies have closed their periods in the same way for years. The process is often laborious with reconciliation, the creation of journals and just the whole process taking days to complete. For some companies the move to a more modern cloud-based ERP solution often increases the efficiency of the process and reduces the timescales but does not solve the problem. Close management software will reduce that time further.
For others, still using legacy accounting solutions, the ability of cloud-based financial close software can also deliver benefits.
Extracting the monthly transactions for analysis.
Providing recommendations for reconciliation.
Creating the journals for re-import into the accounting.
Providing the task management and collaboration around the whole process.
For companies that don't have the resources, both financial or time, to complete a reinstallation of ERP this can deliver several benefits.
It provides the proof of concept for any cloud based solution.
Once delivered, it frees up accountants to consider the bigger ERP project.
increases accuracy and provides period end figures faster to the wider business.
Once deployed, migrating the connection from a legacy accounting solution to a cloud-based ERP is not only simple it will often give added benefits. Some close management software supports bidirectional API connectivity to ERP solutions. This replaces the sometimes cumbersome import export normally required for on-premises solutions. Thus, the investment in the close management software is retained.
The solution will still compliment and improve upon the new cloud-based ERP solution. Companies that have already deployed a cloud-based ERP solution will still see significant benefits from a close management solution.
Improving the annual audit.
Finance teams often dread the annual audit. They ask the same questions year after year and the amount of effort it takes to produce relevant reports is both time consuming and detrimental to business as usual. The whitepaper digs into this in more detail and highlights that the situation is apparently getting worse rather than improving. Brett notes that "57% (of companies with >1,000 employees) have seen audits increase in cost by between 5% and >20%." 
This is a trend that many companies are unlikely to reverse if they do nothing. Each year businesses become more complex. As companies look to digital transformation to stay competitive, it also means new business models and even more complexity in the business. Brett looks at how close management software can mitigate if not reverse this trend. He looks at two FloQast customers where they have achieved some success in increasing the efficiency of their audits.
The whitepaper looks at the processes that many companies need to undertake as part of the audit process. He examines the common failings of most finance teams to produce the information that the auditors require. As a former auditor himself, Brett is able to take a look at the other side of the argument and the frustrations that the auditors themselves often experience during the process.
While auditors, like other business, are looking to increase revenues year on year, there is immense value in delivering auditing services in a more efficient way. There is greater profit in increasing the number of audits than in increasing the cost to existing customers.
Memory and other benefits
Brett also highlights the value of memory. In leveraging software that records tasks during an audit, future audits become less painful. Corporate knowledge is not lost but available for reuse in subsequent years. Brett advocates that companies can grant access (limited of course) to their close management software to auditors. Not only does this reduce the amount of paper or "versions" that the auditors have to deal with, it also means that much of the work can be carried out remotely.
The benefits of close management software are wider than one might expect. Purple, is a rapidly growing, bedding manufacturer and online retailer which leverages FloQast. It has reduced its accounting close times from 15 days to 10 days. This was possibly not the biggest impact though as Peter Taylor, Corporate Controller explained: "our real savings on the audit side derive more from cost avoidance rather than outright audit cost reduction; in contrast, the ability of our SOX compliance team to formalize processes, tests and report generation has saved time and cut costs".
Like most cloud vendors, FloQast is also constantly improving its solution. It is bringing in new functionality that brings planned and sometimes unplanned benefits for customers. To read the full whitepaper, click here, registration is required.