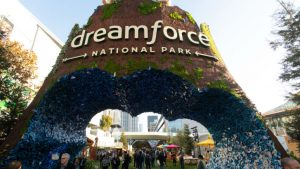 At Dreamforce, Enterprise Times spoke to Dan Rogers, Co-Founder and CMO, Peakon. Peakon delivers an employee engagement platform. Its customers include Capgemeni, Easyjet and Pret-a-manger. Rogers has used Salesforce in the organisation from nearly the first day. A deliberate strategy that saw him chose Salesforce over other solutions. Rogers commented:"We made an investment in Sales cloud when we were sub 10 people and only one salesperson."
He explains why and how Salesforce has enabled him to develop data driven strategies to help scale the business. Peakon is now looking to expand the portfolio and include Einstein, Community Cloud and Pardot (Marketing Cloud). The last is because it originally chose Marketo.
However, Rogers now sees the close integration between marketing Cloud and Sales Cloud will deliver an advantage. The Peakon platform is also built on AWS and Salesforce Heroku. The platform enables Peakon to scale its business both up and down easily as demand requires.
Rogers talks about the commonalities between customer experience and employee experience. He sees CX as being a few years ahead of EX currently. Peakon itself is developing AI enabled functionality. It has started to take insights from its data to deliver actions to HR leaders as augmented intelligence.
He also discusses the challenge of scaling. Exploring how he takes Salesforce as an inspiration taking a brief look at the Salesforce culture and the influence of its impressive ecosystem. He adds that that ecosystem has been one of his inspirations.
To hear what else Rogers has to say, listen to the podcast
Where can I get it?
obtain it, for Android devices from play.google.com/music/podcasts
use the Enterprise Times page on Stitcher
use the Enterprise Times page on Podchaser
listen to the Enterprise Times channel on Soundcloud
listen to the podcast (below) or download the podcast to your local device and then listen there