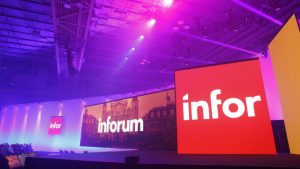 At Inforum 2019, Enterprise Times had the chance to sit down with Nunzio Esposito, VP Head of Experience at Infor. Esposito heads up the Infor Hook & Loop design team and is a adjunct professor at NYU and entrepreneur. Hook & Loop has a design philosophy of: "Always only exactly what the user needs right now". Esposito explains the challenges of this and how they aim to achieve it.
Hook & Loop is evolving from just this being a visual design point of view to one that is also grounded on data. He notes that: "Design is not just about how it looks but about how it functions."
He explains the approach that Hook & Loop uses saying that Design Thinking is not the only way, and is not the best way in all circumstances. The perfect UI is not necessarily the simplest with the least swipe. Esposito talks about the right UI for the business process. In the future we may see more personalised AI. Not branding which is in place at the moment in most cases. In HCM Infor has already delivered adaptive UI that meets the needs of the employees.
Conversation then turns to the future of AI and what it might offer. Esposito talks about personal AI and the challenges of introducing empathy into the mix. He sees a future with a digital clone that can provide insights that we are not aware of today.
To hear what else Esposito had to say, listen to the podcast.
Where can I get it?
obtain it, for Android devices from play.google.com/music/podcasts
use the Enterprise Times page on Stitcher
use the Enterprise Times page on Podchaser
listen to the Enterprise Times channel on Soundcloud
listen to the podcast (below) or download the podcast to your local device and then listen there