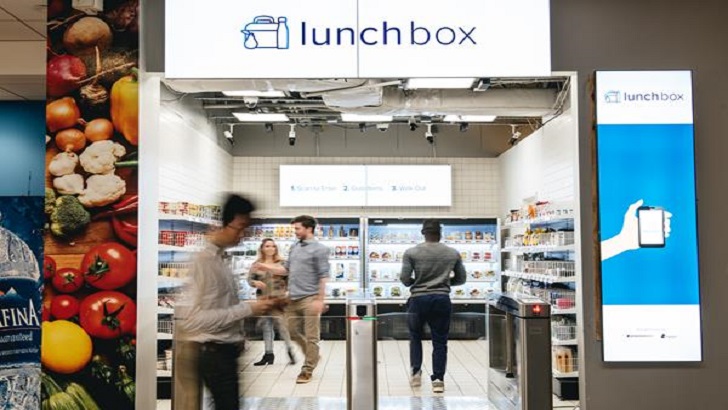 Retail Business Services, the services company of Ahold Delhaize USA, announced new frictionless store technology, piloted under the name lunchbox. The service enables individuals to shop a small format store in seconds by scanning in, shopping and walking out. The technology is currently being tested in Retail Business Services' Quincy, Mass. office.
Retail Business Services partnered with UST Global to develop the store. Retail Business Services led application development, technology connectivity and provided food retail operations expertise. UST Global and its partners provided the artificial intelligence (AI) technology solution and physical infrastructure for the store. The technology will be demoed at the National Retail Federation (NRF) Show in January with UST Global and Intel.
A new frictionless store concept
"Lunchbox is an easy, fresh shopping alternative," said Paul Scorza, EVP, IT and CIO for Retail Business Services. "Once registered, shoppers simply scan in, shop and walk out. It's that easy. And it offers fresh, healthy options 24/7. You can grab a snack, a salad, fresh fruit or even a carton of milk on your way home."
The company says that compared to other frictionless store concepts, lunchbox is efficient. the solutions carries a lean cost and can be implemented in a matter of weeks.
"We believed in this concept so much that we brought it to our own office," added Scorza. "Our cafeteria that serves more than 1,000 associates was being remodelled. We were looking for a quick, cost effective solution to give associates access to beverages, snacks and fresh items.
"We implemented this solution in just six weeks. Thousands of shops, with groups of up to 12 in the store at the same time, have been successfully completed."
The underlying technologies
Lunchbox is powered by a Retail Business Services' proprietary app. The app admits shoppers to the store and charges shoppers for purchases. For ease of payment, services such as PayPal, Venmo, Apply Pay and Google Pay are integrated into the wallet. Inside the store, the AI runs on Intel Core i5 and i7 processors-based systems. The platform is optimised with the Intel Distribution of OpenVINO toolkit.
It detects when products are being removed from shelves in the store. Anonymous body skeletal tracking connects the right products to the right shopper. The Intel Distribution of OpenVINO toolkit enabled lunchbox to use existing Intel-based point-of-sale-systems and deploy on-premises AI at maximum performance.
"In the age of eCommerce, there are many opportunities for companies to evolve and better serve shoppers," said Mahesh Athalye, Senior Director, UST Global. "The new service combines with AI/ML technology and purpose-built smartphone applications. Solutions like lunchbox, will help deliver frictionless experiences for shoppers seeking a quick, touchless experience."
Enterprise Times: What this means for business?
Shopping behaviours are continuously changing. Consumers demand a seamless experience between digital browsing and in-store purchasing. it's critical that store owners make the necessary adjustments to stay competitive. Offering a frictionless shopping experience that incorporates checkout and payment options remains the holy grail for many retailers. Amazon, and many other organisations have piloted similar scan and walk solutions in stores.
However, what appears impressive with the Retail Business Service solution is the speed of the implementation. Although the number of product skus is unknown, implementing the project within six weeks still remains remarkable. This is definitely a development worth watching for the future.