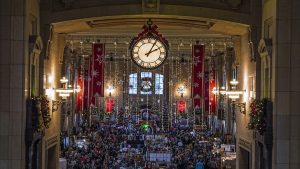 Elastic Path, a provider of enterprise API commerce solutions has launched a new data report. "The Sci-Fi Shopper: How to Future Proof Your Brand for the New Consumer." The report reveals a deep disconnect between what modern consumers want and what brands deliver.
When asked about the most common retail pain points, brands universally underestimated the issues their customers experience most:
Fifty-seven percent of shoppers have experienced and are frustrated by long checkout lines. Other pain points in the shopping experience include lack of inventory (55%), customer service waiting times (42%) and uninformed staff (38%) were also raised by shoppers. In contrast, the percentage of brands who considered this was a pain point remained significantly lower than the percentage of shoppers who experience the issue. Only 35% of Brands identified long checkout lines was a pain point. Other pain points identified – lack of inventory (32%), customer service waiting times (36%) and uninformed staff (20%)
According to the Gartner Group, brands invest heavily in trying to solve problems with technology, to an estimated $210B per year. They think they're doing well in delivering tech-savvy retail experiences, but their customers disagree. Brands surveyed in Elastic Path's report rated their offerings in "futuristic" shopping a 7 out of 10. Customers rated them a mere 4.
"This report is a timely reminder that consumer needs are simple: They want to save time and money," said Harry Chemko, CEO of Elastic Path. "Customer loyalty really comes down to listening to your customers and solving simple problems."
Failing to deliver for new consumer
Consumers are willing to buy with new technology, but brands aren't delivering. Elastic Path's research reveals a gap between the features customers use — or want to use — and what brands actually offer:
Sixty-seven percent of customers would like to use Checkout-less payments. However, only 18% of brands offer the service. The report found that 57% of customers wanted to use voice commerce, in contrast, only 23% of brands provided the service. Fifty-eight percent of customers wanted smart devices. Only 25% of brands provided it. Similarly, 55% of customers wanted facial recognition, however, only 20% of brand offered it.
According to the report, there's a lot of potential opportunity, if brands get the 'futuristic' experience right. The majority of customers (81%) haven't yet tried using voice technology to make purchases, but those who have are hooked. Of the consumers who have used voice technology to make purchases, 22% use it multiple times a week and 21% use it at least weekly. This proves shoppers have a strong appetite for new technology when it truly adds value to their busy lives.
Frictionless Commerce
The key to Sci-Fi shopper loyalty is frictionless commerce, every time. According to Darin Archer, CMO of Elastic Path, "When it comes to new technology, brands continue to chase shiny objects. Consumers just want to buy the products they need with as little effort as possible."
"Companies need a strong commerce backend that supports the latest innovations without sacrificing customer experience. It's up to brands to make any experience shoppable. With the right tech, they can enable consumers to purchase almost without thinking, anytime and anywhere," Archer added.
Elastic Path collected this data from 1,015 consumers who shopped online in the six months before the survey. Brand data was sourced from 300 professionals who work in a marketing role for a B2C company that sells products online.
Enterprise Times: What this means for businesses?
Just a few years ago, technologies and capabilities like voice assistants, facial and image recognition technologies and even same-day shipping seemed straight out of a sci-fi movie. But those futuristic technologies are here today. This was an interesting, but unsurprising report. Customers are open to new experiences and excited to try new ways of interacting with brands. The report shows that shoppers are excited for more futuristic options only if it means better experiences. In fact, 67% of customers said they'd switch to a new brand if they offered a more futuristic experience.
However, they're not interested in technology just for the sake of it. The report shows customers are less interested in experiences like virtual reality (VR) and augmented reality (AR) that can be futuristic just for the sake of it. To Sci-Fi Shoppers, futuristic means easy, fast and convenient. It's up to brands to show them how tools like AR and VR can make their lives easier and become a real brand differentiator. Rather than a cool trick to show off in your flagship brick-and-mortar store. Customers want technology to resolve existing problems such as lack of inventory. In act, it can come down to back to basics for business, such as providing comprehensive training to improve uninformed staff.