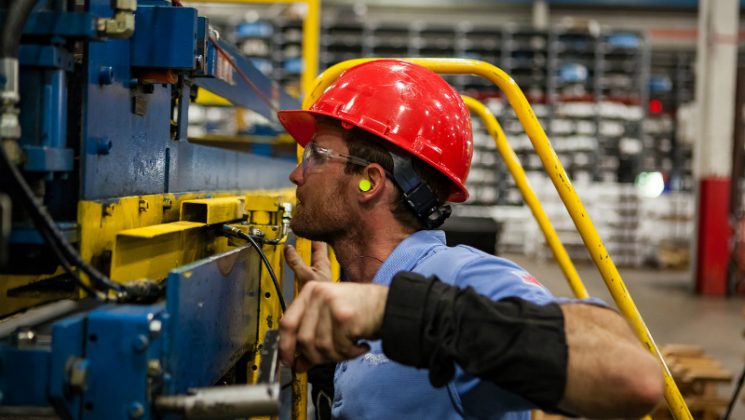 Salesforce, the cloud CRM vendor, has announced 'Manufacturing Cloud', an industry-specific product for (surprise, surprise) manufacturers. Manufacturing Cloud brings sales and operations teams together around a unified view of markets. The idea is that these teams can view customer demands and thereby forecast, plan and drive predictable business performance.
"In the manufacturing industry, changing customer and market demands can have a devastating effect on the bottom line, so being able to understand what is happening on the ground is imperative for success," said Cindy Bolt, SVP and GM, Salesforce Manufacturing. "Manufacturing Cloud bridges the gap between sales and operations teams while ensuring more predictive and transparent business, so they can build deeper and more trusted relationships with their customers."
The needs of manufacturing
The manufacturing industry depends on predictability. Its capital-intensive businesses have complex physical operations that cannot quickly (or inexpensively) adapt to meet changing customer demands.
In parallel, operations teams are not always aligned with the sales reps to ensure both possess a single, real-time view of all aspects of their customer relationships. Instead, vital customer insights are siloed across spreadsheets and multiple ERP systems. The result can negatively affect:
service level agreements
account performance
the ability accurately to predict demand.
The resulting inventory stockouts, buildups and warehousing costs inevitably affect operating margins and negatively impact revenue. For manufacturers to provide a seamless customer experience, they want an approach which assists the understanding of customer needs better while improving visibility across the enterprise's value chain.
Manufacturing Cloud
Manufacturing Cloud sets out to deliver deeper business visibility and collaboration between the sales and operations organisations specific to a manufacturing enterprise. Having these enables both sales and operations to possess a better view of their customers through new sales agreements and account-based forecasting.
To develop Manufacturing Cloud, Salesforce collaborated with major manufacturing and sales companies through its product pilot program. Those involved included:
Kawasaki Motors, U.S.A. – Engines Division
Hitachi Chemical
CF Industries
GELITA
and others.
Manufacturing Cloud key features
The two key features of Manufacturing are:
Sales Agreements
Account-based Forecasting.
Sales Agreements enable manufacturers to unify:
their run-rate business with data housed in ERP and order management systems
the contract terms negotiated, including planned volumes and revenues.
By doing this, both operations and account teams have a 360-degree view of the customer. If either need to make changes to an agreement, these immediately incorporate into the existing sales agreement.
Because there is always a single source of truth, account teams can manage the full sales agreement lifecycle and have visibility into committed and actual order volumes, the performance of agreements against forecasts and other time-phased custom metrics. This simplifies the renewal process and ensures account teams:
bring in revenue
focus and deliver improved margins.
In contrast, Account-Based Forecasting provides manufacturers with a complete view of their current business alongside future opportunities. This offers sales, finance and operations teams the capability to:
develop more accurate forecasts
break down internal silos
add updates on changing customer needs or market demands.
The intended effect is that teams:
collaborate and adjust forecasts in real-time
help make business transactions, profits and revenue margins more predictable.
In addition to Manufacturing Cloud, Salesforce is also releasing new manufacturing-specific innovation across the Salesforce Customer 360 Platform to help manufacturers deliver greater transparency, streamline collaboration and grow their businesses.
"Our customers have a clear desire to align sales forecasts with their core sales and operations planning demand and production planning functions. We can't wait to see Manufacturing Cloud give manufacturers a huge boost in tackling these challenges," said Andy Schoka, Managing Director of Manufacturing at Acumen Solutions.
Manufacturing Cloud, prebuilt solutions and accelerators
Salesforce has a comprehensive ecosystem of partners. These will extend the power of Manufacturing Cloud and key partners were instrumental in the development of Manufacturing Cloud, including:
Acumen Solutions: as a design and pilot partner for Manufacturing Cloud, Acumen Solutions collaborated with Salesforce to identify personas, use cases and requirements of customers in the manufacturing space to inform product development
Deloitte: Deloitte Digital, Deloitte's creative consulting agency and a Manufacturing Cloud pilot partner, built Cloud4M, an ISV Managed Package, on Manufacturing Cloud; Cloud4M is a pre-configured, multi-cloud software solution designed to simplify decision making in B2B sales agreements and throughout the end-to-end customer engagement process
Rootstock: Rootstock's ERP system, built on the Salesforce, feeds actuals from its ERP to Manufacturing Cloud to track compliance against sales agreements; Rootstock's planning engine consumes sales forecasts from Manufacturing Cloud to improve the quality of production, procurement, and distribution plans.
Enterprise Times: what does this mean
At its most fundamental, the problem Manufacturing Cloud seeks to address is the absence of coordination between silos in an enterprise. Silos inhibit. They too often prevent businesses achieve their targets, whether measures in revenues, profits and/or customer satisfaction.
The aim of Manufacturing Cloud is to overcome the inhibitors represented by 'siloing' – so that businesses can:
better satisfy commitments
run more streamlined businesses
improve customer satisfaction.
This is a substantial ask for Salesforce and Manufacturing Cloud, especially in an environment as complex and diverse as the manufacturing sector.