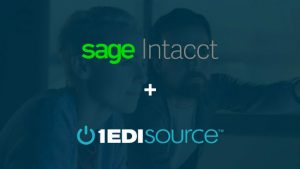 1 EDI Source has joined the Sage Intacct Marketplace and will now offer its EDI platform to Sage Intacct users. 1 EDI Source provides an order to cash solution that enables the use of electronic purchase orders in a secure and standardised format that ensures compliance and improves efficiency. The Order to Cash solution now has a Sage Intacct Marketplace listing that highlights the key features and benefits.
Purchase orders created in Sage Intacct flow through to the 1 EDI Source platform which manages the detail of the supplier transaction. All information updates such as received goods, shipping and invoicing are passed between the two systems to ensure that they are in sync. The automated process means there is less risk of invoice issues and disputes. These can lead to delays of loss of trust between organisations.
Intacct customers are also able to access the cloud-based portal IntelligentXchange. This provides visibility into the EDI platform. It translates different EDI formats and users can identify the status of a given order. They can perform analytics on orders. It can also alert to user when there is an issue that needs attention.
EDI is widely used across a large number of industries including: retail, automotive, healthcare, distribution and trucking industries. The direct EDI to ERP integration ensures that procurement and finance teams no longer spend time translating different EDI protocols to ensure compatibility with their internal systems.
Paul Bloom, President, 1 EDI Source commented: "We are very eager to bring our integrated solution to the Sage Intacct Marketplace. Sage Intacct's customer centric culture and reputation for delivering high quality cloud solutions to market blends perfectly with ours. We believe that this is just the first of many offerings that our partnership will take to the market."
Not the first ERP integration for 1 EDI Source
1 EDI Source already has integrations with several other ERP vendors. They include:
Microsoft Dynamics
SAP
Infor
Oracle
NetSuite PeopleSoft
ECi
Epicor
Sage
The addition of Sage Intacct also extends the relationship with Sage. It already integrates to: Sage 50, Sage 100, Sage 300, Sage 500 and Sage X3 (Enterprise Management). With Sage Intacct it adds the ERP software that is on the cusp of internationalisation. This is expected to be announced at this years Sage Intacct conference Advantage 2019. It should launch in first Australia and then UK, before rolling out to other countries. 1 EDI Source has sensibly added the integration in time for both the conference and the international expansion.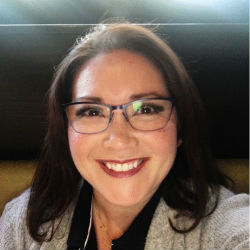 Eileen Wiens, VP of Business Development, Sage Intacct commented: "Sage Intacct has established a robust Marketplace with hundreds of solutions that offer prebuilt integration with our award-winning cloud financial management solutions. The addition of 1 EDI Source to the Sage Intacct Marketplace offers our joint customers an easy way to leverage the power of this new integrated offering. Having an integrated EDI solution will enable joint customers to improve efficiency and better serve their customers."
Enterprise Times: What does this mean
This announcement demonstrates the impact that Sage Intacct is having on the market. It is being seen as having huge potential for growth both within and outside the US. With the investment by Sage, other companies such as 1 EDI Source want to ensure that they do not miss out on the opportunity by integrating their software. Other recent integrations are IDU budgeting software and Trovata.io cash forecasting software.
Like IDU, 1 EDI Source is not alone on the platform. Other EDI solutions include B2BGateway, QSRonline and Cleo Integration cloud. As of writing this article, of the four, only B2BGateway appears to be sponsoring the Sage Intacct conference. I
t will be interesting to see if 1 EDI Source add themselves to that list.