Host Analytics has appointed Grant Halloran as CEO. The appointment comes six months after Vector Capital acquired the company and installed Ron Baden as interim CEO. Baden now steps down from the role and re-assumes the Chief Revenue Officer role he held before.
David Fishman, Chairman of Host Analytics' Board of Directors and Managing Director at Vector Capital commented: "We are thrilled to have an executive of Grant's caliber lead Host Analytics during this exciting period in the company's history. We see a tremendous opportunity ahead and we are confident that Grant's deep experience in the enterprise software space, coupled with his extensive leadership background, will be a catalyst for continued growth and expansion.
"We believe Grant is the perfect choice to guide Host Analytics as we continue to execute on our mission to become the global leader in financial planning and close solutions. Additionally, we are grateful for Ron's diligence and commitment as Interim CEO and look forward to his continued valuable contributions to Host Analytics going forward."
Halloran comes with an impressive resume
Halloran has an impressive resume. An Australian, he founded and led Orbis a SaaS based marketing resource management business before it was acquired by Infor. At Infor he was Global VP & GM, Infor Marketing & CRM Software Group before taking up the role of Chief Marketing Officer at Anaplan during a period when it experienced hyper growth.
It is that experience that Vector Capital is clearly hoping he can replicate at Host Analytics. For the last two years he has held senior roles at OmniSci. OmniSci isan analytics platform that leverages GPU acceleration has also recently experienced hypergrowth. That he has left for the lead role at Host Analytics says something for this opportunity.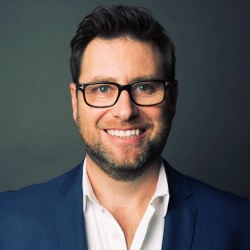 Halloran commented: "It is an honor to serve as the CEO of Host Analytics, a company poised for rapid growth, with award-winning products, an incredible customer base, and a deeply talented workforce. Under Vector Capital's ownership, Host Analytics has focused on accelerating growth in the USA and internationally.
"We see a significant market opportunity with finance leaders, in thousands of organizations, seeking ways to be more agile and to be strategic partners to the business. They are looking for powerful, easy to use software because they want to continuously optimize financial performance. Host Analytics has the perfect set of capabilities to help finance leaders quickly achieve their goals and I am very excited to lead this great team on the next phase of our journey."
Enterprise Times: What does this mean
Under the new leadership, Host Analytics will expect to thrive. It posted strong results at the end of 2018 and has recently expanded its channel. There is little in Halloran's statement to infer how he will accelerate growth. However, the company is well poised to take advantage of a market that is expected to reach $3.1 billion by 2022.
Host Analytics is in the leader quadrant of the G2 Grid for Corporate Performance Management (CPM). More recently it was named as a leader in the  2019 Dresner Wisdom of Crowds EPM Market Study. Howard Dresner, Founder and Chief Research Officer at Dresner Advisory Services commented: "Host Analytics continues to improve and build upon their position as a market leader in the EPM space. We congratulate Host Analytics for their strong performance, for being an overall leader in this year's study, and for their fourth consecutive perfect recommendation score."
Halloran will have the summer weeks to put his stamp on the company. Will he change the direction of the company? Make acquisitions? Or change the leadership team.