KeyedIn has announced version 6.4 of its cloud based PPM solution. The headline is that it promises a 10X improvement in Gantt chart performance. This is based on a complete rewrite of the Gantt chart experience. The release notes state that the performance improvement is due to "greater use of modern, client-side technology". Enterprise Times has asked KeyedIn to clarify this statement.
The new version also has several functional improvements. Not all of these are associated with the new Gantt chart experience.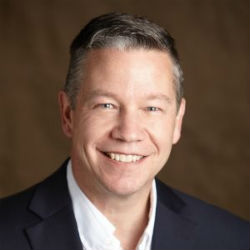 Matt Muldoon, VP of Product for KeyedIn commented: "Our Gantt capability in KeyedIn Projects is among the strongest in the industry, which gives enterprise users a leg up in planning and executing large global projects. Combine that performance and usability with the best resource management of any PPM cloud solution, and KeyedIn Projects is the ideal solution for PMOs or ESOs that need to cut costs, speed time to market and improve resource utilisation."
There are three main areas of improvement in this release:
The new task planning (Gantt) experience
Resource plan enhancements
Portfolio planning enhancements
A new Gantt experience
The new functionality runs in parallel with the existing solution. Users are able to switch over to the new version through a configuration change. The change is not reversable and applies to all users. Thus, KeyedIn suggest testing and user training is carried out in the sandbox/trial environment before the final switch is made.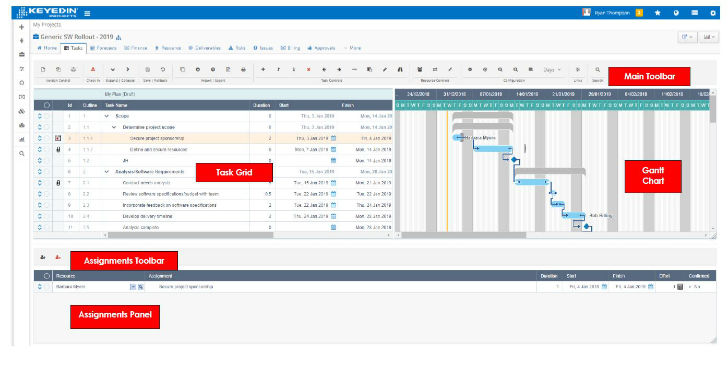 There are several new features including:
Automatic highlighting of changed rows
Automatic calculation of percent complete on summary tasks
Ability to mark tasks as protected to prevent deletion by unauthorised users
Copy and paste via the right click menu
Ability to search and filter across tasks and resources / roles
The ability to find and replace text, resources, and certain custom fields across one or more tasks
Ability to bulk update multiple tasks
Notification of over allocated resources on plan save
There are also some changes to existing functionality. This includes better support for import and export to Microsoft Project. There are also several bug fixes and other minor improvements. Some functionality has changed. Users now have to use the plan configuration on the toolbar to change a plan start date rather then the drag and drop feature. There are also some features that have been disabled as a result of the release. One of which will be included in a future release:
Minimum resources on assignments
Task plan Jira integration (to be reinstated for the late summer release)
Split assignments
Change selected assignment's resource (toolbar function)
Print to PDF (this can still be achieved by using the Gantt print toolbar option and selecting the output printer as PDF, as is widely supported by most browsers and latest operating systems)
Usability improved for a better Gantt experience.
Re-writing the task planning experience is no small task. While the Jira integration will be a loss to some customers, it has delivered an improved solution in scheduling. It is always a risk with a major update to miss out some functionality. However, for those customers that rely on it, they will still have the option of using the existing solution until that integration is available.
Users are able to configure their task grid column by each individual user. Sensibly, KeyedIn has also included the ability to revert to default and recover the standard settings. However, there does not appear to be the functionality to control personalisation by individual plan or project. If required the percentage complete or child task is rolled up into each parent task, automatically generating the total percentage complete. The setting that controls this relates to all projects rather than each one individually though. This will cut down administrative time for project managers. The completion is weighted based on duration rather than any other criteria. Care should be taken when the configuration is set as it will auto-recalculate task completion across the plan based on child tasks. This may change the current value.
Other improvements
KeyedIn has also improved the resource plan capabilities. Users are able to highlight whether allocations on the resource planning screen are colour highlighted by status, (ie provisional or confirmed), or chargeability. This setting can be applied to a login group or across the whole organisation. The system also allows users to change the default colours used for each of these settings.
There is also now support for two utilisation types:
Standard utilisation – Allocated Effort as a percentage of capacity
Productive utilisation – Allocated productive effort as a percentage of productive capacity. Each resource has a unique figure set for productive capacity percentage.
The final enhancement to resource planning introduces an resource filter which shows employees and/or contractors for both the capacity and resource plan screens.
In the portfolio planning area administrators are now able to change the start date of any individual future project. By doing so, the system will recalculate and update several other pieces of information:
Project end date (if it is set)
The demand and expenditure in live and any unapproved forecasts
Deliverables
Supply (assuming that auto supply is being used)
Enterprise Times What does this mean
This is a major update for KeyedIn PPM solution. It is an indication of the investment that the company is putting into that product. It is perhaps surprising that there are no comments from beta customers in the press release. However, if the 10X performance materialises and the solution is capable of managing thousands of tasks then its suitability in even larger projects becomes interesting. KeyedIn already has some significant customers in that space including Bupa, Walgreens, Easyjet, Schroders and Specsavers.
If project managers are able to adjust projects and rapidly perceive the impact that those changes have, it could have a significant impact for projects going forward. With the usability of the Gantt charts also improved users should increase efficiency when using KeyedIn PPM. The only disappointment is the removal of certain features, especially the Jira integration. However, with only a few months to wait and further improvements likely it will give those that need it time to test. The new version is available immediately to all PPM SaaS customers.