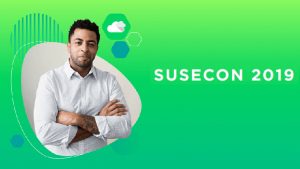 Enterprise Linux vendor SUSE has made several announcements around Kubernetes at SUSECON 2019 in Nashville, TN. They include the release of SUSE Cloud Application Platform 1.4 and SUSE achieved Kubernetes Certified Service Provider status. The announcements further the push by SUSE into supporting application delivery for their customers via containers.
Earlier this week Enterprise Times spoke to Michael Miller, President of Strategy, Alliances and Marketing at SUSE. He told ET that: "Workload mobility with VMs is harder than it sounds. Containerisation is a real opportunity. We provide a container as a service product that can be deployed on multiple clouds." Miller went on to say: "We provide our Cloud Foundry PaaS on top of anyone else's certified Kubernetes architecture."
What's the big deal with Cloud Foundry and Kubernetes?
Kubernetes has effectively won the battle to be the container orchestration engine. As such, all the Platform as a Service solutions are having to work out how to deal with it. SUSE has been a long time supporter of Cloud Foundry and is one of just seven certified distributions. One of the challenges for developers using Cloud Foundry has been deploying, simply, to Kubernetes.
SUSE believes it has solved that with SUSE Cloud Application Platform 1.4. It claims that this is: "The first software distribution to introduce a Cloud Foundry Application Runtime in an entirely Kubernetes-native architecture via Project Eirini."
It's important to put that statement in perspective. Project Eirini was first shown at Cloud Foundry Summit Europe 2018. The version that will ship this month is simply a tech preview and therefore not a production solution. That said, it will give developers an alternative to Cloud Foundry Diego as their container scheduler.
The release also has increased support for Google Kubernetes Engine (GKE). This is the managed Kubernetes service that Google offers on its public cloud. It means that SUSE customers can now deploy to GKE in addition to Amazon EKS and Azure EKS.
For a full look at what is in SUSE Cloud Application Platform 1.4, read this blog by Troy Topnik.
Enterprise Times: What does this mean
According to Andrei Yurkevich, president and CTO of Altoros: "As a system integrator that helps Global 2000 organizations obtain a sustainable technology-driven competitive advantage, we're really excited about the work SUSE has done to integrate the empowerment that Cloud Foundry brings to developers with the simplicity of Kubernetes for operators.
"We've seen growing interest from our clients in using both technologies together. By incorporating Project Eirini, SUSE has further optimized the integration and enabled our Kubernetes clients to adopt Cloud Foundry faster."
Yurkevich is right. Moving from Cloud Foundry to Kubernetes has been painful over the last few years. This announcement by SUSE is about more than just improving Cloud Foundry. It provides Cloud Foundry users with a simple and effective route to using Kubernetes.
The timing is right as well. The IBM acquisition of Red Hat means that enterprise developers will be looking at which tools make using Kubernetes easiest. Red Hat is pushing OpenShift which was designed with Kubernetes in mind. SUSE is now delivering the same thing for Cloud Foundry users. This move will appeal to both its enterprise customers and the wider Cloud Foundry user base.