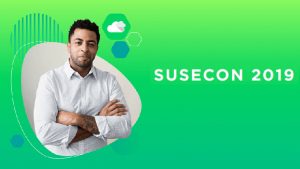 At SUSECON 2019 in Nashville, TN, Enterprise Times caught up with Nils Brauckmann, CEO, SUSE. Brauckmann had just given a very upbeat account of what the future holds for SUSE now it is no longer owned by Micro Focus. Brauckmann has overseen a move away from being just another Linux platform. The company is focused on the enterprise Linux market, software defined infrastructure and application delivery including Cloud Foundry and containers.
Brauckmann is very positive about the growth the company experienced under Micro Focus. He also accepts that the company cannot just grow organically. One of the challenges he faces is where to find the right people to grow SUSE. One solution to both problems is acquisition but this is a booming market and that means pressure on the available raw talent. Luckily for Brauckmann he has a growth investor, EQT, as the new owner of SUSE. This means he should have access to funds when he needs to make an acquisition.
The other challenge for Brauckmann is that of IBM and Red Hat. SUSE claims to be the biggest selling Linux on the IBM z platform. The question is will that continue? A similar challenge exists with Cloud Foundry because Red Hat support OpenShift which is a competitor framework. We also asked Brauckmann about this.
To hear what Brauckmann had to say, listen to the podcast
Where can I get it?
obtain it, for Android devices from play.google.com/music/podcasts
use the Enterprise Times page on Stitcher
use the Enterprise Times page on Podchaser
listen to the Enterprise Times channel on Soundcloud
listen to the podcast (below) or download the podcast to your local device and then listen there