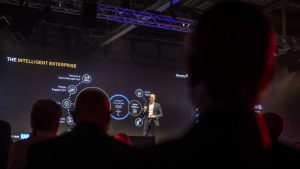 SAP held its first InnovationX event at The PrintWorks, London this week. It aimed to inform customers and prospects about the Intelligence Enterprise. It followed a slightly different format than many other industry conventions that Enterprise Times attends.
Jens Amail, Managing Director,UK and Ireland at SAP UK&I kicked off the event with a brief keynote that highlighted the importance of the UK market to SAP. He noted that the UK is one of the key innovation hubs in Europe for industries such as fashion, music and IT.  It has the highest density of Unicorns within Europe (37%). It also currently receives more early stage funding than either France or Germany. He summarised his tribute by saying that "SAP believes in the UK".
That investment landscape may change with Brexit though. Especially when the European Investment fund stops investing in UK organisations. A fact that Amail failed to mention as he aimed to remain upbeat.
Amail then spoke about SAP saying that its technology is a catalyst to unleash the innovation power in the UK and Ireland. SAP has almost 5,000 people working in the region to support this. Now with €5 billion in revenue it is also growing faster in the cloud than its competitors, according to Amail. With an apparent swipe at Salesforce he added: "We will shake up the traditional CRM space as we know today". Some might argue that Salesforce has already done that and what he should have said was: "the traditional cloud CRM space"
The difference is Qualtrics. With its experience management platform, SAP is now able to combine both operation and experience data from along the value chain. Amail added that: "With Experience Management we can combine operational and experience data along the value chain. We believe this is a powerful combination."
A new style of convention?
The event hosted five separate stages, each presenting a different category of talks simultaneously, these were:
CustomerX
Growth Through Disruption
HumanX
Making a Difference
Your Business, Better, Smarter Faster
Each of the 50 sessions presented was between 15 to 18 minutes long in a TED talk style. There was an interesting mix of thought leadership and customers stories. The talks were delivered by SAP experts, partners, customers and a few academics. The latter gave some of the most interesting talks. Notably Alan Brown, Professor in Digital Economy at Exeter University, he delivered a talk entitled: "Understanding How Digital Transformation Leads to Smarter Business".
For some, this high level approach gave enough detail to be inciteful. Some talks, however, left one short of knowledge about the subject. The shortened format gave time for the audience to move between stages. It also allowed time for attendees to talk to the exhibitors, get refreshments and network. There was a buzz at the event that is rarely felt.
The exhibitors that Enterprise Times spoke to during the day had felt it had been far busier than they expected. The attendees liked the different format and with the opportunity to talk to product experts one to one in a separate area their requirements were generally met. One attendee even said: "I think the event was brilliant"
Enetrprise Times attended several talks include Cloda O'Dea from EY who spoke about the journey EY has taken to transform its HR.
Another InnovationX next year?
SAP will not measure the success of the event by how attendees felt but more likely by the opportunities it both creates and moves forward. That may take time to realise. There are some lessons learnt from this year. The numbers attending seemed to drop off towards the end of the day despite Chris Hollins and Dina Asher-Smith headlining the closing keynote.
Over the last year PrintWorks has carried out some substantial work to improve the exhibition space. There is still further room for improvement but its worked well for InnovationX this year. SAP commented that with around 1000 people registered it is well short of the potential 6,000 capacity that Printworks currently offers.
Enterrprise Times: What does this mean
InnovationX was less about selling products and more about selling the SAP idea of the intelligent enterprise. While attendees were able to learn about the products, none of the speakers focus on them. It was more about how their business had evolved and improved through the use of technology. One challenge for SAP next year is to offer new talks that offer something more than this year. If SAP does hold a second InnovationX in 2020 it will be event worth looking out for.