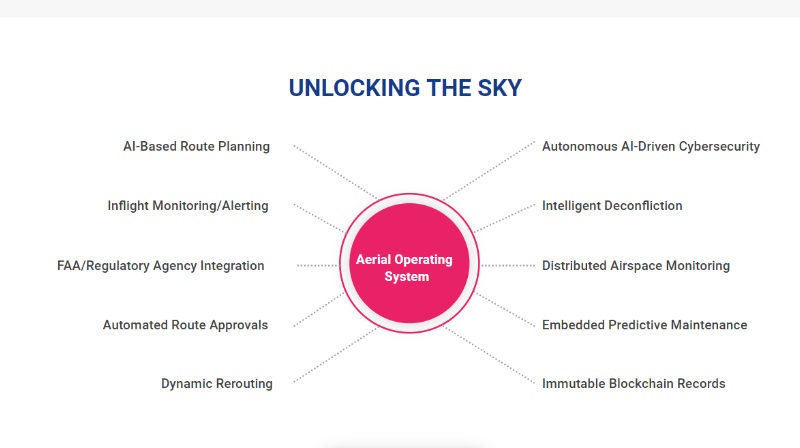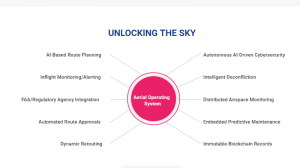 Boeing and SparkCognition have announced their SkyGrid joint venture which aims to build an AI and blockchain-powered airspace management software platform. The objective is to "enable the future of urban aerial mobility". Based in Austin, Texas, SkyGrid will develop a software platform to ensure the safe, secure integration of autonomous cargo and passenger air vehicles.
"SkyGrid merges expertise in AI, blockchain, security and aviation to deliver breakthrough technological advancements for the rapidly-growing urban aerial mobility industry," said Amir Husain, who will serve as CEO of SkyGrid in addition to his role as founder and CEO of SparkCognition. "By offering scalable and robust capabilities in a single, integrated framework, SkyGrid will make large-scale air vehicle applications more practical and accessible."
The SkyGrid platform
Boeing's and SparkCognition's ambition is broad and covers many technologies, including:
blockchain
AI-enabled dynamic traffic routing
data analytics
cybersecurity.
The intended platform aims to go beyond unmanned aircraft systems (UAS) and unmanned traffic management (UTM). The platform will also enable the platform's customers to perform a broad range of missions and services using UAS, including:
package delivery
industrial inspections
emergency assistance.
"The Boeing and SparkCognition partnership is unmatched in industry today," said Steve Nordlund, vice president and general manager of Boeing NeXt (a division devoted to flying taxis). "SkyGrid is building the digital infrastructure that will make safe, seamless commercial and personal transport possible for billions of people around the world."
Boeing and SparkCognition contributions
SparkCognition builds AI systems. Its customers use SparkCognition's products and services to:
analyze complex data
support decision making
transform industrial productivity.
In contrast, Boeing is an aerospace manufacturer. Boeing products and tailored services include:
commercial and military aircraft
satellites
weapons
electronic and defense systems
launch systems
information and communication systems
performance-based logistics and training.
Enterprise Times: what does this mean
In combination and under the SkyGrid umbrella, the two organisations plan to combine their strengths to produce a general-purpose platform which addresses UTM. This makes sense, given the strengths of each. Such digital infrastructure could become valuable, if SkyGrid'splatform arrives and has similarities with the Goonhilly Earth Station/Spacebit collaboration.
What is less clear is what the role of blockchain will be. One obvious concern could be with performance and scaling, if blockchain sits at the heart of the SkyGrid platform. That remains to be seen.