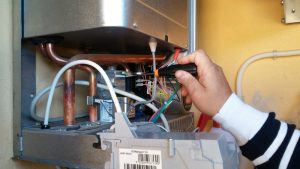 IFS has announced two separate wins for its software in services organisations. The first is Eltel Norway. It selected IFS Field Service Management and will deploy the solution to more than 500 service technicians. The second sees ISERBA Group, in France, deploy IFS applications ERP across its whole organisation.
IFS increases wallet share at Eltel
Eltel has a long relationship with IFS, first using the software in 2000. In 2006 the companies signed a framework agreement that extended the existing relationship. By then, Eltel already had 2,500 user licenses for IFS applications and that deal saw it extended the use of the ERP solution across the Nordics and Easterm Europe to 5,400. Eitel now has nearly 8000 employees. It isn't clear whether this latest announcement forms part of that original number.
This latest agreement will see the deployment as the part of a workforce transformation program. Eltel will take advantage of the mobile enabled field service application. The software was selected after a review of the market. However, it seems likely that IFS was always in pole position to win the deal.
The deployment will be undertaken by Accenture and will include the change management required to complete the transformation. The software will be rolled out to more than 500 field technicians and 30 back-office staff. Thor-Egel Bråthen, Managing Director of Eltel Norway commented: "This project was initiated to lift Eltel to the next level and secure our position as the number one service provider in Norway. IFS Field Service Management will give our technicians the tool they need to optimize the way we work, engage in continuous improvement, and facilitate interaction with all customers."
Is ISERBA dropping Sage X3?
The news that ISERBA Group is to implement IFS ERP will be another blow to Sage in France. Sage France has struggled in recent years compared to the rest of the group. This appears to be another lost customer. ISERBA is a family owned business founded in 1978 that delivers building maintenance services. It will replace presumably Sage and several other legacy solutions as part of the project.
Once complete the solution will help to enable its mobile workforce through both Business to business and business to consumer portals. It will implement functionality that includes maintenance planning, service management, project management, customer and supplier engagement, quality assurance, and financials.
ISERBA choose IFS after carrying out a competitive process. The bid was led by Applium, an IFS silver partner based in France. Frédéric Masson, Director of Technical Development at ISERBA Group, said "By deploying IFS Applications as our central business platform, we will be able to optimize the management of our maintenance activities while empowering all teams with better data management. In addition, the collaborative portal implemented by Applium and IFS will enhance our customer and supplier relations and will thereby ensure better processing of requests and better service delivery."
What does this mean
For IFS this is two significant wins in Europe in two mid-sized companies. The Eltel deal is a noteworthy expansion at an existing client. However, ISERBA is a significant competitive win. Amor Bekrar, CEO of IFS in France, commented: "We are pleased to welcome ISERBA Group among our new customers. By investing strategically in our service management capabilities, we have positioned ourselves as a leading vendor in the service and construction sectors. ISERBA Group, like many of its peers, understands the potential of digital transformation to optimize performance and we are delighted to be able to support them in this process. We look forward to a long and mutually beneficial collaboration with ISERBA Group."
The double win comes just before the IFS World Conference in Atlanta where new version of its software will almost certainly be announced. The two companies above will almost certainly have had sight on the new functionality and may have influenced their decision.