Infor has announced that Northgate, the market leader in light commercial vehicle (LCV) hire has selected Infor solutions to replace its legacy systems. It has selected Infor CloudSuite Equipment Rental and Infor Enterprise Asset Management (EAM).
The decision to make a change from their legacy platform comes after a dip in Northgate second half 2017 performance. One of the weaknesses identified in its annual report was IT. The report stated "legacy systems are inflexible, not supporting required changes". Those legacy systems include Dynamics AX 2009. The system was heavily modified by Northgate and could not easily be upgraded to the latest version.
Why Infor?
Northgate identified three reasons for decision to move to Infor after the selection process completed.
Functional fit. Northgate had previously heavily customised its previous ERP system. This time they wanted a match between what they wanted their processes to be and the new software. The Infor Rental suite provided that match. It would also enable them to expand into new markets while using standard functionality of the software.
The Cloud strategy that Infor has with its products. Northgate has selected two of the CloudSuite systems. It could extend those to include others such as Infor Document Management, Infor Mobility for Field Service and Infor M3 Customer LifeCycle Management (CRM).
The Infor team also demonstrated not only its knowledge of the rental market but could also leverage deployments such as Herc Rentals.
Richard Harris, UK IT director, Northgate commented: "Our previous system was based on on-premise, manufacturing ERP rather than the cloud based asset management that would truly reflect our business. Our investment and commitment here is to develop a platform that helps to realize the ambitious growth plans for the UK business, including targeting adjacent markets.  We expect to see immediate benefits by eliminating customizations in the software and then quickly move on to improved visibility and new offerings to increase revenue."
What will it do
Northgate is looking to grow both its market share in rentals but also other areas such as vehicle sales. It provides a range of LCS hire options to more than 5,000 business customers who use a fleet of 40,000 vehicles. The new solution will provide the basic rental functionality as well as top up services such as breakdown assistance.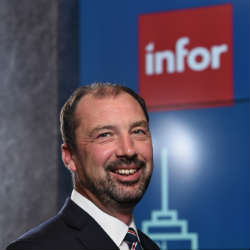 The size of the fleet also means that the maintenance operation is complex. Infor EAM will help to streamline inventory control and reduce costs.
Northgate also plan to integrate its telematics solution into Infor EAM. That solution enables Northgate customers to view where their vehicle is, how it is being driven and what its fuel consumption is. As more  data is fed into the Infor EAM suite it could start to provide predictive maintenance insights.
Phil Lewis, vice-president, solution consulting, EMEA, Infor commented:. "This is a textbook example of new technology delivering on both fronts. Firstly cloud will help deliver system efficiency, while the additional functionality and capabilities following the digital transformation will help Northgate with new product and service innovation. For Northgate this will defend its position in flexible hire but also support its clear strategy for growth. In order for the software to support such plans, a strong industry focus and commitment to cloud are critical, and that is just what we will deliver."
What does this mean
This is a significant EAM and Rentals win for Infor. Northgate vehicles are seen across the breadth of the UK for deliveries and logistics. Once implemented Northgate will expect the Infor solution to provide insights to improve their existing operations. It should also expand it to grow both in scale and diversity without having to heavily customise the software.