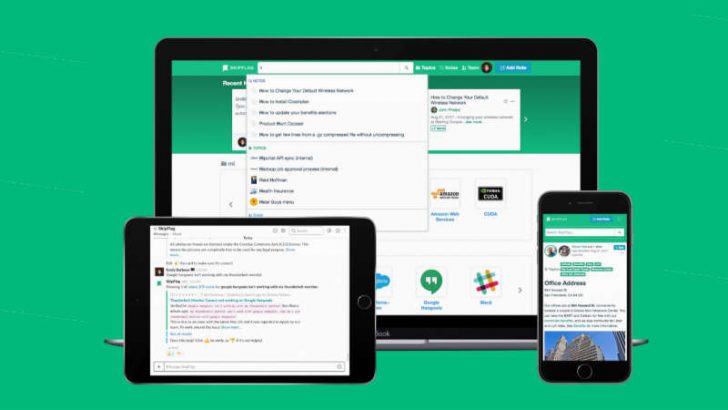 In a short blog post by Joe Korngiebel, CTO, Workday the company announced the acquisition of SkipFlag.
Korngiebel described SkipFlag as: "a disruptor in the enterprise knowledge management space! SkipFlag uses deep learning to help people make sense of mountains of data across multiple applications used by today's workforce."
SkipFlag was founded by Peter Skomoroch and Sam Shah in 2015, both of whom worked at LinkedIn. The product takes data feeds via several integrations and then applies machine learning to help build a picture of who knows what within the organisation. It looks across support tickets, development sites, emails and has integrations that include Slack, Hipchat, Outlook, Google Mail, Google drive, Jira, Zendek, Confluence and GitHub. It builds a knowledge graph to display the connections between data and people. This takes a knowledge base to the next iteration
So why did Workday buy them?
Workday will look to roll the technology from SkipFlag into its core product. How quickly that happens was not made public. Workday has experience of doing this rapidly in the past such as rolling Gridcraft into its new planning application. Workday already has a huge volume of information especially from both its HCM and Finance solutions.
It is also opening up its platform to enable third parties to develop applications. It has announced Prism Analytics will be available later this year. This is built on technology from Platfora and will allow customers to ingest data from other sources. Putting the SkipFlag IP over the top of this will give companies a greater understanding of the talent and its skills.
It may also become one of the building blocks for building the vertical applications that Workday has hinted at in recent conventions. SkipFlag has had no funding rounds according to Crunchbase.
However, in a tweet Skoromoch wrote: "Thanks to our users, investors and team. Excited about what we'll be working on next". It is therefore hard to value the company and the terms of the deal were not disclosed.
What does this mean
The knowledge base technology that SkipFlag brings to Workday will have several applications. Its customers will no doubt start asking questions about when the functionality will be available in the core product. Workday is accelerating its development through the addition of small but technologically leading companies.
This is another intelligent acquisition by the leadership. The company is small enough to ensure that the integration should be smooth. Workday looks for specific functionality that will help boost its core product, or can build into a future product and grabs it before it becomes too large.
So far there is no announcement for what it will mean for existing SkipFlag customers.