Workday is kicking off its annual US convention with three major product announcements. ET spoke to Dan Beck SVP Product Marketing and Technology Strategy. Beck spoke about the headline features that are in Workday 29. More on those later. What he was pleased to share is that the update for all users from Workday 28 to Workday 29 would take: "way under 4 hours". Workday is aiming for zero hours downtime for its product updates. This will be a key differentiator from its competitors. It also shows that it is striving to automate many of its own cloud processes.
Beck actually spoke about four updates that Workday has within its ecosystem. With Workday 29 it is introducing Workday Data-as-a-Service. It is also unleashing Workday Prism analytics. Finally, it has unveiled an updated UI (User Interface) with Workday 29. Beck also gave an update on the progress of the Workday platform that was announced in July.
In describing what these new features deliver Beck commented: "It creates a powerful capability where Workday is the only system that will allows you to plan your business, execute that business meaning  those HR and Financial transactions you need to do and then analyse and then extend to meet your more bespoke needs. "
Workday Data-as-a-Service
One of the advantages that multi-tenant solutions have is the opportunity to aggregate data for other purposes. In New Zealand, Xero supports more than 10,000 small businesses, a significant chunk of the ecosystem. Using that data Xero gains significant insights into the New Zealand economy and how small businesses are faring.
This is not about Workday suddenly accessing their customers data and providing aggregate information without any governance. Beck explained: "Workday benchmark is a new legal relationship with our customers. Customers have to opt in legally." Once customers agree they have to push their data into the Workday benchmarking tool. Beck also confirmed that the data would be anonymized, with data sets that are too small being left out.
Beck said: "If we do not have a corpus of data we just won't show it. If we only have two companies with benchmark data in Uzbekistan we won't show it. "
In fact Workday are being cautious in their approach.  Beck added: "We will have three filters initially, size of company, regions meaning EMEAAPJ, North America and then Industry.  As we have more data we will offer more ability to slice and refine those filters."
Considering that Workday has 26 million workers on the platform it may not take long for those filters to become more granular. Once a company becomes a member of the benchmark community, it can benchmark their data against other companies. It will be able to see where it sits in comparison to competitors in the industry using Workday or in other regions. The analysis will use Prism Analytics to display the information thus enabling even deeper insights and comparisons to be drawn.
Benchmarking benefits all
Customers will benefit from a growing range of benchmarks available. They will be limited only by the data sets. Comparisons on diversity, retention, management effectiveness and even Workday usage are viewable. In the future Workday will also introduce some financial benchmarking as well. This assumes that companies want to share the relevant data.
However, once aggregated, Workday is also likely to leverage the anonymized data to product reports on best practices and the current state of enterprises across the globe. Joe Korngiebel, Chief Technology Officer, Workday commented: "Data is the new currency, and Workday Benchmarking demonstrates how we continually deliver the analytical capabilities that enable our customers worldwide to unlock even more insights from their data and the broader Workday community.
"With Workday Benchmarking, they can tap into up-to-date, reliable data that gives an industry-wide view of how their individual business is performing compared to others, better equipping them to prioritize business initiatives, pick up new best practices, and strategically allocate resources in an instant."
Benchmarking is generally available now. Workday is actively asking companies across the globe to sign up to the product. It is also included as part of the core subscription at no additional cost.
Workday Prism analytics
Prism Analytics is based on the Platfora acquisition that Workday made last year. It extends the capability for Workday users use analytics on their Workday data. It also enables them to bring in other data sets. This provides the ability to not just display insights but also to help trigger actionable insights for users with this additional data.
Unfortunately for many customers Prism analytics is not fully available until 2018, but there is limited availability in Workday 29. The solution was developed in partnership with clients including Christiana Care, Hitachi, Shelter Mutual Insurance, Thomson Reuters, and United Technologies Corporation.
For many companies this will allow them to draw in operational data from disparate systems into Workday for detailed analysis. Beck added: "You can have a very large set of data. Workday data merged with point of sale data, merged with healthcare data etc. and in an innovate and interactive way analyse and display that data in near real time."
Making a difference to business
The solution allows companies to ingest data into the Workday platform. Once there it can be cleansed and prepared using self-service tools. Workday data governance overlays the solution. This allows only those users with appropriate access to use and view the relevant data. Reports only need to be created once, according to Beck, and only allowed data is viewable.
Once developed, a dashboard will host reports using modern graphical analytics tools including bubble charts to display the data. In the future, report creation will be further enhanced with the ability to drag and drop components to improve the analysis. The analytics engines within Workday Prism are mobile device friendly. This will allow executives to benefit from the insights wherever they are.
An early adopter, Tina Workman, Vice President of Accounting and Assistant Treasurer, Shelter Insurance commented: "Workday Prism Analytics has enabled us to combine policy, claims and finance data in Workday into an executive scorecard that gives our business leaders a single view of our key performance indicators, such as weather-related claims, from which we can drill down into operational details," said "Having this level of insight directly at our fingertips helps us continually mitigate risk, better serve customers, and keep the business focused on ongoing growth."
What Workday has done in a relatively short time is fully integrate the analytics solution into Workday. Those customers familiar with Platfora will recognise most of the analytics functionality. However, the powe that Workday adds with bringing in additional data sources is interesting. That the data is fully ingested into Workday adds a level of complexity but also means the analytics can rapidly provide the reports required. It will be interesting to see how analytics software providers compete with this new offering.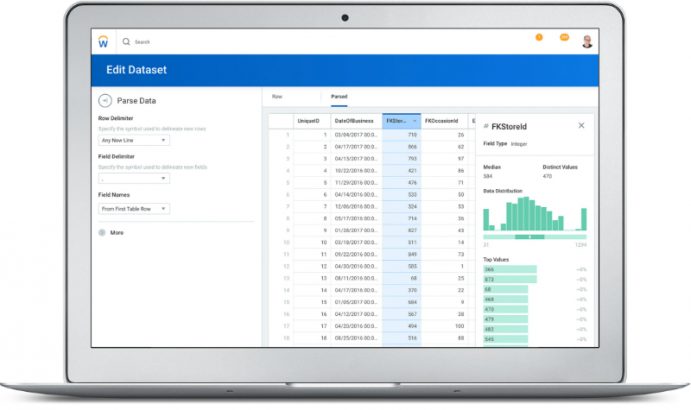 Updated look and feel
Workday 29 also introduces a new UI. Beck commented "About every 18 months we have a full overhaul of the Workday UI." The new look and feel introduces index cards that users can flip through on both the desktop and mobile interfaces. It will be interesting to see early feedback on this new modern looking interface. Some users prefer a more traditional style. While it is good that Workday revisit their UI every so often, it will be interesting to see if their user base agrees.
Workday platform
As Buddy Holly once sang – "Everyday, it's a-gettin' closer" and so is the Workday cloud platform. The developer site is now available and Workday is working with six design partners including SI's to deliver apps. They recently hosted a hackathon with teams from inside Workday, partners and customers to see what could be created. The winning Workday team created an app that delivered cross functionality between Finance, HR and Prism Analytics. They also delivered a charitable giving app that demonstrated the cross module functionality and flexibility of the new Workday platform.
The winning team was Slack. Using the open platform they delivered an app that integrated Slack to Workday to Google cloud. Users could ingest a resume into a Slack channel. Recruiters were then able to discuss the resume before it was ingested into Workday. The demonstration included the scanning of a Spanish resume that then utilized the Google Cloud API for visual recognition (OCR). Conversations and the data were taken into Workday.
Developers can either use a click-based interface to develop apps or their language of choice. Beck couldn't resist the indirect snipe at Salesforce who developed Apex. While the API route may limit Workday users over time, the decision to allow developers an open choice as to language should mean a higher adoption. If the API's are open to Salesforce developers it also allows them to develop applications as well.
Beck commented: "We see this a logical extension of our next phase of our extensibility." So is it ready yet? Not quite. Beck continued: "We are working our level best to get our design of into production by the end of the year… We will probably have our first production customer by Barcelona."  Visitors to Workday Rising will see some showcased apps and it will be interesting to see what apps become available and how quickly.
What does this mean
Benchmarking and Prism Analytics are two major announcements that most customers will be want to have a look at. For companies looking to compare themselves in the marketplace benchmarking is almost certain to be popular. Prism Analytics is more interesting and companies will want to consider what it delivers over and above their existing analytics solutions.  this will present a challenge for some analytics companies such as Tableau as companies realise that they may no longer need a separate solution, or at least not as many licenses.
With regards to the platform, Workday needs to show that it can attract partners to develop applications that benefit customers or possibly more importantly open up new markets. It will be very interesting to see if any software developers are introducing vertical market applications such as manufacturing or professional services using the API's.