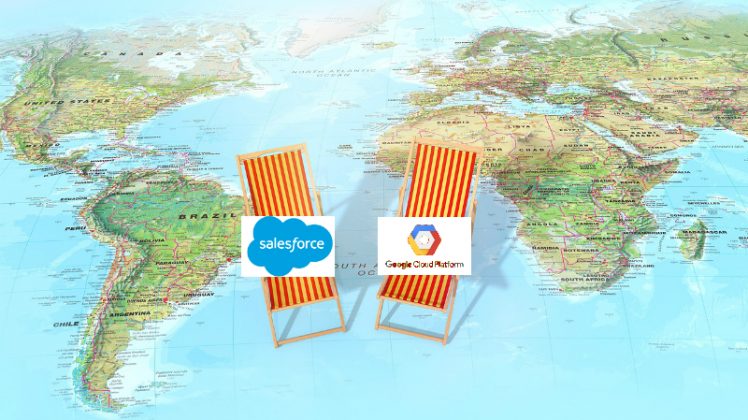 Salesforce has announced a new strategic partnership with Google. The announcement came as a surprise to many and consists of four key areas. What was clear is that this is not merely words but there is substance behind it now and in the future. In some of the four areas, however, that future is still a little unclear.
Deep integration with GSuite
The partnership will see a deeper level of integration between GSuite and Salesforce. This is going beyond the use of API's and the integration that already exists. Google and Salesforce are taking part in co-engineering to bring Google Suite into the Salesforce ecosystem.
If you think have heard of this partnership before, you have. A previous partnership between the companies in 2008 fizzled out. So why is this different? Tariq Shauket, President Partners and Industry platforms, Google Cloud commented. "We have made tremendous investments in GSuite. Investments in the level of functionality, in docs, sheets and slides. Now versus 10 years ago it is engineered as a business first roadmap rather than consumer first. It has been successful in the large enterprise space, not just small business."
The companies are promising a seamless integration between Salesforce Lightning, Quip and Gmail, Hangout Meets, Google Calendar, Drive, Docs, Sheets and Slides. Google also announced that new customers will benefit from the Google suite for up to one year subject to caveats.
Where this places Quip is interesting. Does it means that Salesforce does not believe that Quip is the collaboration tool for all companies? A free year might cannibalise their potential Quip user base. This is the one fly in the ointment. Salesforce has invested heavily in Quip. This announcement could mean its success is limited if customers look to adopt the richer Google Apps portfolio. Is Quip with live Apps perhaps a reason why this partnership might not be as successful as some might hope. If Quip does prove disruptive in the Office automation space. Companies might decide not to continue using Google Apps or Microsoft Office. Having said that it is hard to see a world without any email. However, if Gmail is included in the one year subscription it might draw more people away from Microsoft Office. It will be interesting to see how many Salesforce customers adopt Google Apps in the next year.
The deeper integrations are due to see general availability during 2018. Quip will access Google Drive in the first half of 2018 and that integration is part of the Quip enterprise license.
Analytics partnership
There will also be an integrated offering between Google Analytics 360 and Salesforce Marketing cloud. According to both Google and Salesforce this is one of the highest demanded requests from customers. They want the ability to integrate online and offline customer usage data. This is what the partnership provides. Data from Google Analytics has not been easy to move into the Salesforce Marketing cloud historically according to Bob Stutz, CEO Marketing Cloud and Chief Analytics Officer. This new partnership will see those barriers eliminated allowing customers to analyse customer data from all channels.
The integration should be available from first half of 2018 at no additional cost. Companies will, however, need to be customers of both Google Analytics 360 and Salesforce Marketing Cloud.
Preferred public cloud provider
Ryan Aytay, EVP Business Development & Strategic Accounts, Salesforce clarified that this does not mean Google are the only preferred public cloud provider. AWS especially will be pleased to hear that. Salesforce recently launched a new region in Australia based on AWS. Salesforce will use Google Cloud for expansion into new international regions.
Google to standardise on Salesforce
Google are also standardising on Salesforce CRM. It will become the CRM offering of choice. This will see it recommended to customers as the CRM solution to use with GSuite. Diane Green, CEO Google Cloud commented: "This partnership is natural; Salesforce CRM and G Suite together will let teams work more productively. Our up-to-a-year at no cost offer makes it possible for eligible Salesforce customers to experience G Suite's transformative impact"
What does this mean
Marc Benioff Chairman and CEO Salesforce commented: "Our partnership with Google represents the best of both worlds for our customers. There has never been an easier way for companies to run their entire business in the cloud – from productivity apps, email and analytics, to sales service and marketing apps, this partnership will help make our customers smart and more productive."
Aytay would not be drawn on where Salesforce would use Google Cloud in preference to AWS. It also seems likely that Salesforce will not want to destroy the bridge to Microsoft either. This is a clever move by Google to drive another wedge into the dominance of Microsoft. A big question is whether Quip will become the collaboration tool of choice and whether companies will still prefer to adopt Google Apps or stay with Office.
It will also be interesting to see what partners make of this announcement and whether the co-engineering helps them develop their applications to integrate with Google Apps.