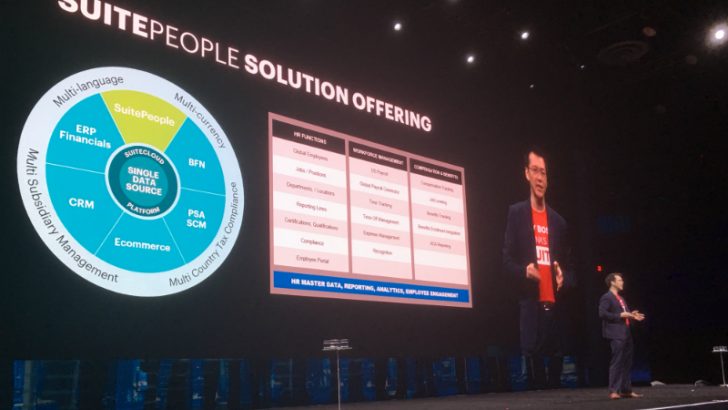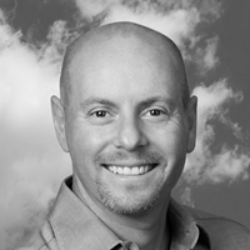 The product keynote at SuiteWorld hosted by Evan Goldberg, founder and CTO of NetSuite was a marathon whirlwind of news. Like previous years it overran but was a rapid fire of good news for users as multiple items on peoples wish lists for the ERP solution were crossed off the list. Some of the biggest cheers were reserved for enhancements for developers and accountants.
Probably the most impressive cameo was by Joseph Fung, VP HCM products, NetSuite. He demonstrated SuitePeople, giving the audience a good indication of how well it integrated into NetSuite already. The keynote proved Evan Goldberg's opening words that: "Oracle+NetSuite means more, more, more!". This is also just the beginning as the development budget has increased by a massive 25% in this year alone.
Goldberg – the kid returns to the sweet shops
Top of the Goldberg agenda was telling the audience that he was really happy to be back at Oracle. One of the first benefits he highlighted was access to the recent technology that Oracle has developed. This includes the recently announced container databases, analytics cloud, planning and budgeting cloud service and the list went on.
With access to better technology there are changes behind the scenes that will enhance performance of NetSuite.  This includes the move from queue based technology to processor base processing, significantly improving throughput. Goldberg believes that using processor based technology will reduce wait times by 98%!
For the first time in several years security was also covered. After NetSuite was hacked by Robert Saunders in 2012 there was less willingness to talk about security in detail. Saunders was convicted, fined and jailed last year. Golderg announced the availability of two layer authentication. There is support for third party authentification apps and NetSuite will not charge for the second layer. Quite rightly, Goldberg encouraged companies to adopt the extra security layer. In addition, SuiteCommerce will support HTTP/2 for greater security.
He also highlighted that the SuiteCloud platform and SuiteAnalytics have had enhancements as well as the newly announced Suite People. The remainder of the key note was dedicated to demonstrating the various functional improvements that are now available in, or will soon be available in NetSuite Oneworld.
Improvements to global accounting
Craig Sullivan, Group Vice President, Product Management at Oracle NetSuite masterminds the development of the accounting features within NetSuite. He has a busy year ahead coordinating the extensive localisation that NetSuite has committed to.
NetSuite has implemented advanced intercompany journals. For multinational companies this will simplify their processes, removing several manual interventions.  The system automatically calculates currencies and supports approval routing to different country hierarchies. For organisations with frequent intercompany transactions this is a significant improvement. The solution is available now.
General ledger impact locking can now be applied where local regulations require it, notably Germany. Users are able to lock accounting entries. If subsequently edited the reverse transactions are generated automatically and a full audit trail is created.  The feature is available now and also supports GRC mandates such as Sarbanes–Oxley (SOX).
There were also improvements to Suite Billing. NetSuite now offers the facility for multiple price books within SuiteBilling. Organisations are able to have multiple price books in each region. This allows them to have a standard price as well as a preferential price
What is coming in Finance is even better
Not yet available are the improvements to the bank reconciliation within NetSuite. Sullivan demonstrated that the new reconciliation update will list entries and match them automatically using predefined and customised rules. This was very well received by delegates but no shipping date was given. Later in the day Sullivan revealed to Enterprise Times that NetSuite is also working on real time bank feeds with several banks. This will be welcome news to many. Xero has pioneered the shift to real-time bank integration. It is important that mid-sized ERP companies make sure they keep up.
There will also be a new generation tax engine. This will support 140 countries including such things as tax inclusive pricing in those countries. There will be a lot of investment in local compliance reporting and tax requirements. Sullivan added that NetSuite will become the worlds most localised ERP solution. This will bring improved language support for customers.
Will SuiteSuccess fuel customer advocacy
One of the criticisms levelled at NetSuite is that in the past it was complex to implement. It took a long time to configure and get started. NetSuite has now addressed that criticism and taken the process a step further than many other ERP companies. SuiteSuccess is a product/methodology that provides preconfigured industry configurations for rapid deployment.
The clever part about SuiteSuccess is that it is not just intended for implementation. Part of the methodology is what it calls the "stairway to heaven". This is a five step process that companies work through when they are looking to maximise the use of their NetSuite solution. The steps are remediate, expand, innovate, enhance and transform. They take companies through a journey towards transforming their business.
Some companies will be happy remaining at the remediate stage with the basic implementation of finance, order management, inventory, CRM and operational BI. However, companies should strive to climb the stairway to evolve their business and integrate their processes with NetSuite for a competitive advantage.
Customers can also look forward the integration of the Oracle budgeting and planning cloud service to NetSuite. There was no announcement about when this will be available. It will enable large enterprises to consolidate their Fusion finance systems to multiple NetSuite instances across their subsidiary companies. This is one area where Oracle may be able to claw back revenues from large enterprises, especially those that have selected applications from companies such as Infor to run in multiple subsidiaries across the globe.
You shouldn't buy cloud once
This is a smart move by NetSuite as it will help companies continuously invest in their cloud ERP solution. For NetSuite the advantage is that as companies add functionality they will also take on more modules,  thereby increasing revenues for NetSuite. SuiteSuccess has been around for a couple of years but they will now apply it to every implementation. The missing component is partners, they will offer partners training on the methodology which for some we spoke to cannot come too soon.
SuiteSuccess is currently available for twelve micro-verticals across the eight NetSuite industries. NetSuite promised to add to this number, both in terms of additional verticals but also micro-verticals. It will be interesting to see how quickly this is done and what their focus is. For customers there are several advantages. It allows them to learn best practice from other customers and also lowers the cost and time for their implementation. NetSuite is aiming to deliver every SuiteSuccess implmentation in under 100 day. So far it seems to have achieved this. Another advantage is that the NetSuite solution is optimised to use the processes SuiteSuccess recommends. Analysis has shown that companies adopting SuiteSuccess have NetSuite pages loading 47% faster on average.
For NetSuite companies adopting SuiteSuccess practices are more likely to be positive advocates for NetSuite. If they can engage with partners and customers to deliver this then NetSuite customer advocacy should improve. It will be interesting to see if they start revealing statiistics around customer satisfaction in future.
Retail gets enhancements
NetSuite also announced several updates to their industry solutions. In retail the fashion apparel now has an enhanced grid management and an improved weekly trend style report. These and other enhancements will be available across other retail verticals as well.
The company also announced SuiteCommerce standard. This is a cut down version of SuiteCommerce advanced and is aimed at companies with simple eCommerce and website requirements. When NetSuite replaced Sitebuilder with the more sophisticated solution, many organisations felt that it was overkill and NetSuite listened. The solution enables the rapid deployment of websites using predefined templates. These integrate into NetSuite to provide simple ecommerce sites. There are some configuration options available, such as colours, but little else.
One new module is SuitePromotions. This is an incentives solution that lets users configure promotions and sales incentives to use across multiple channels. The omnichannel approach means that sales agents in store are made aware of add on promotions at point of sale. This gives customer a consistent experience whether in store or online.
Industry enhancements continue to roll out
For manufacturing and distribution the enhancements include support for complex bill of materials (BoM). Manufacturers can support multiple BoM's for different regions and contract manufacturers. This includes version support and the support of thumbnail images within the BoM's. It also has improved outsource manufacturing management which can be automated.
For professional services the key enhancement was really the announcement of SuitePeople. It integrates into both OpenAir and SRP which customers will welcome. One major improvement is the overhauled weekly timesheets with an improved UI in SRP.  A new flexible project profitability report enables professional service organisations to easily measure key metrics from a single location. There were also enhancements announced for OpenAir including a new project status dashboard.
Non-profits gets two new dashboards, own for the CFO and one for a grant manager. There is also support for fund accounting expense management and cost allocation budgetary controls. The latter include encumbrance expenditure. This is interesting as it is one of the features that NetSuite will need if it wants to enter the government sector. Encumbrance accounting is a pre-requisite for public sector. If NetSuite looks to develop that further it could seek to compete with Deltek that has a strong grip of that market in the US.
Suiteworld gets developers cheering
The audience reserved its biggest cheers for the improvements to the development framework. There is now support for sublists which was the most highly requested change over the last years. It also introduce SuiteTags which are temporary tags that can be assigned to actions. They are not categories which are predefined, though they may turn into them. Tag's can be private for each user and can be applied to other users as well. It will be interesting to see how organisations and partners utilise this new functionality, there could be some interesting applications.
Suite Analytics
The next generation of SuiteAnalytics was also unveiled. A demonstration of the new functionality was impressive, with mapping support and drill down capabilities that appear to be rapid and flexible. What was also interesting was that while that capability had improved, there is ongoing work to integrate the more powerful Oracle data visualisation service. This is one of several integrations with Oracle cloud services that will become available in the coming months.  
SuitePeople
Four years ago NetSuite bought TribeHR. For much of the intervening period Joseph Fung (ex CEO, Tribe HR) and his developers have worked to bring SuitePeople to life. It is now available and already in use by several customers. It is the missing link within the NetSuite application stack and provides NetSuite with a modern HR solution that many customers will consider. Fung, now VP HCM Products at NetSuite, demonstrated the product. It is not a comprehensive HR solution but does support integration to Oracle Taleo for talent acquisition, performance management, learning and development as well as Celergo for international payroll.
Conclusion
This was a typically comprehensive technology keynote by Goldberg's team. However with the investment that Oracle are making in R&D he will need to consider paring down the content in future years. The presenters skipped over sections of slides and the whole keynote overran. For the audience it delivered what they wanted to hear. NetSuite is investing in enhancing nearly every product, introducing new products and improving the internationalisation.
For some partners there will be some concerns that their applications will become obsolete as NetSuite increases the velocity of its development programs. The integrations into Oracle cloud services are also likely to hit some partners as well.
For implementation partners SuiteSuccess was a revelation. It will deliver them the capability of implementing solutions in far less time. With recompense on recurring cloud revenues it means that they can increase their revenues significantly without having to expand and increase costs.