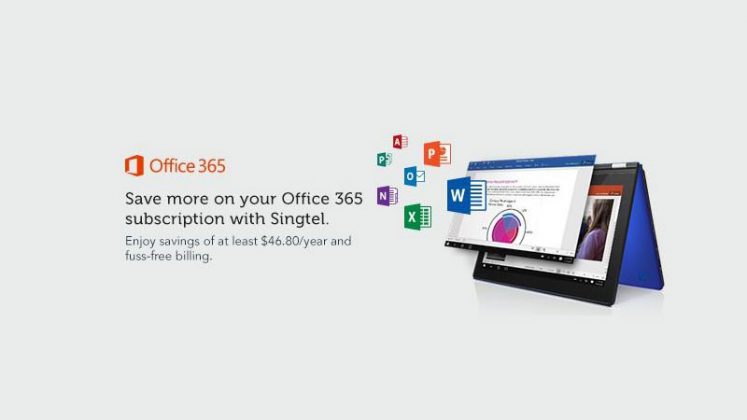 Singtel has announced a deal with Microsoft that will see consumers save up to 30% per year on Microsoft Office 365 subscriptions. The deal covers Office 365 Home and Office 365 Personal. It is available to customers who sign up to Singtel's fibre broadband and post-paid mobile services. Singtel is also offering simplified billing with the Office 365 subscription paid as part of the mobile service or broadband bill.
According to Mr Yuen Kuan Moon, CEO Consumer Singapore, Singtel: "This collaboration marks a new milestone for Singtel. We are excited to be the first telco in Asia to provide Consumer customers the best value for Office 365 applications. With this new offering, customers will also enjoy ease of payment and enhanced productivity. We will continue to engage different partners to offer solutions that are suitable for our customers' digital lifestyles, whether for work or play."
Two options for Singtel customers:
There are two plans on offer here for Singtel customers depending on what they need. Costs are based in a 12-month subscription. They are:
Office 365 Personal: Can be installed on a single desktop/laptop plus one tablet and one smartphone. All devices must use the same Microsoft user account. Also comes with 1TB of OneDrive cloud storage. Customers will pay US $6.90 per month based on a 12-month subscription
Office 365 Home: Can be installed on up to five desktops/laptops, five tablets and five smartphones. It also comes with 1TB of OneDrive cloud storage per user. Cost is $9.90 per month based on 12 month subscription. Cost effective when more than one person in the household wants access of Office 365.
Singtel Customers can sign up either at their local Singtel outlet or online. It is also going to allow visitors to the IT Show 2017 to sign up at the event.
Conclusion
Singapore has five broadband providers and four mobile operators. Singtel is having to add new packages for consumers to stay ahead of the market. Being the first to offer Office 365 packages to the consumer market will help win it customers. In his comment above Moon claims that Singtel is the first telco in Asia to offer this service. It won't be the last and there is likely to be a rush from other operators to sign deals with Microsoft.