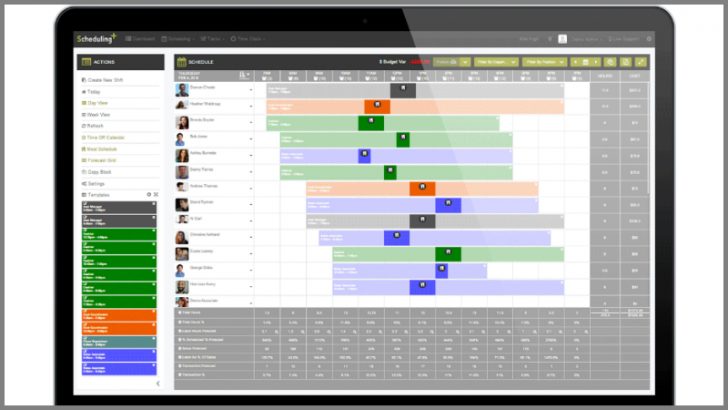 Epicor has announced the launch of Epicor Scheduling+, a cloud workforce management software. Judd Payne, CTO of Web Software LLC, now a strategic partner of Epicor, developed Scheduling+. Web Software LLC list the software independently of Epicor at a starting price of $20 per month. The press release mentions Web Software LLC but also seems to announce scheduling+ as Epicor branded. This may be because Epicor is looking to host the solution under some sort of agreement. Epicor has also integrated the software into Epicor Eagle.
US Retail workers are young, work part-time and make up a significant  proportion of the 27 million workforce. This can make the management of that workforce a challenge. There is a high churn rate and a large staff roster. According to Gartners Market Guide for Workforce Management applications: "Retailers must perform a balancing act when scheduling labor to ensure enough employees are scheduled to meet customer service demands and minimize check-out wait times. At the same time, optimized schedules are required to generate the most amount of revenue while not overspending on salaries, taking care not to overschedule labor to maximize profitability." Scheduling+ aims to address this challenge through its cloud based software.
Epicor Scheduling+
Epicor has taken a third-party piece of software and integrated it into Epicor Eagle. This brings an additional level of intelligence into the Scheduling+ application. It will forecast sales and subsequently workforce requirements. Scheduling+ also provides intelligent scheduling, time clock and task management functionality. In addition it allows employees access to the system to see their personal schedule and request time off.
Epicor already has one customer using the software, Miami Home Centers. Founded in 1954 the company now has four home stores servicing South Florida. Johil Parbtani, general manager of Miami Home Centers explained their decision: "We selected the Epicor Scheduling+ solution to streamline the employee scheduling process and reduce the amount of time it takes for management to organize those schedules.
"Prior to implementing Epicor Scheduling+, our scheduling methods were completely manual — we would take an Excel grid with a list of employees and try to appropriately fill in the needed labor timeslots. This was laborious and there were many mistakes with our staff schedules, including employees not being paid for the hours they worked. Because of Epicor Scheduling+, schedules are accurate, staff is being paid accordingly, and our management team now has extra time to focus on other key business needs."
Conclusion
Web Software LLC has not given any information on customers numbers for Scheduling+ prior to this partnership with Epicor. There is a possibility that they did not wish to sell the software to Epicor. This is intriguing and it will be interesting to see how this story unfolds. This seems more of a strategic partnership for Web Software LLC than Epicor at the moment. Epicor recently changed hands between private equity firms, moving to KKR. Does this agreement signal a change of strategy? Historically Epicor has been acquisitive, this deal may signal a more open approach to partnerships.
Certainly Epicor have added an effective tool to their retail cloud solution. Matt Mullen, vice president, strategy and product for Epicor Software commented: "Labor is one of the largest expenses for a retailer and many struggle to keep costs associated with their workforce in check. We, alongside Web Software, LLC, are excited to bring the Epicor Scheduling+ application to the market as a strong addition to our quick-growing retail cloud platform. This innovative tool will continue to drive retailers to focus more on customers and growing their businesses."