Have you ever worked hard over your PowerPoint presentation only to find someone else able to cut it up, tear it apart use some of your graphics and generally display your work as their own. I hear this sort of thing happening all the time when I train any application in companies. One way to stop this is to save your PowerPoint Presentation as a Show and use the Pack and Go feature which is now called 'Package Presentation for CD' so that it will neatly fit onto a USB stick. You now have the knowledge that you have EVERY linking file in one place, not all over the network. You will not therefore get embarrassed in front of your audience when you move to the next slide only to find a hole where a linked file should be.
Created your slide deck in all its beauty. Save your file in the normal way as a PowerPoint Presentation (x.pptx). Now re-save the file, but this time select to save it as a show. This is found in the Save as dialog box under the File Name some way down the list.
Having done this when you come to open this file it will take you straight into the presentation NOT PowerPoint.
This also gives you the ability to show your presentation from a USB stick even on a computer that does not have PowerPoint as an application.
N.B. you cannot edit this file
Pack and Go
Select the File Tab.
Select Export.
Select Package Presentation for CD.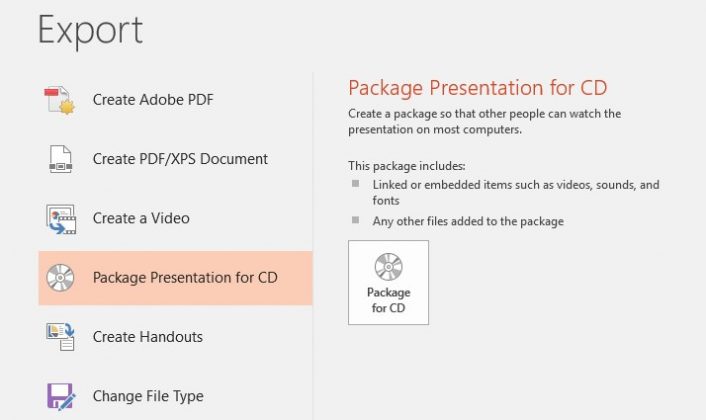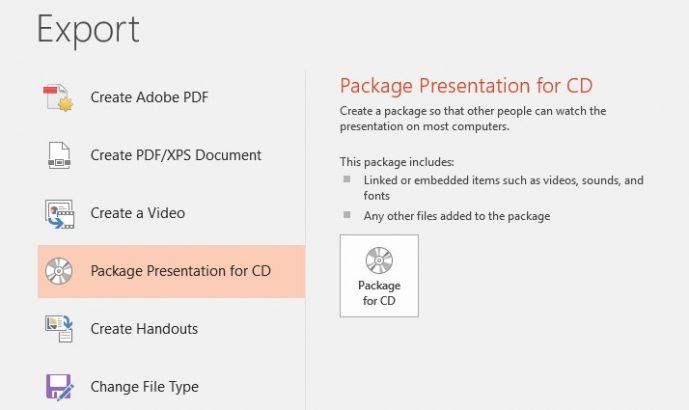 Follow the instructions on the screen.
You will get to this dialog box.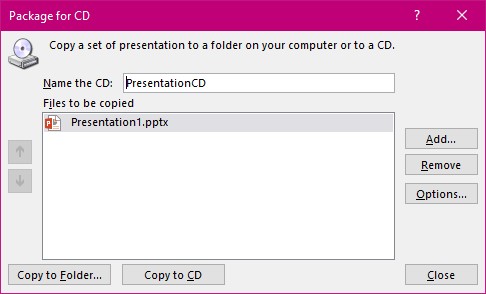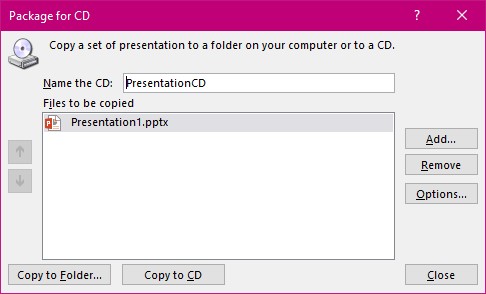 Name your CD. You can select the Copy to CD button to copy all necessary files to a USB stick.
Now you can travel very light!