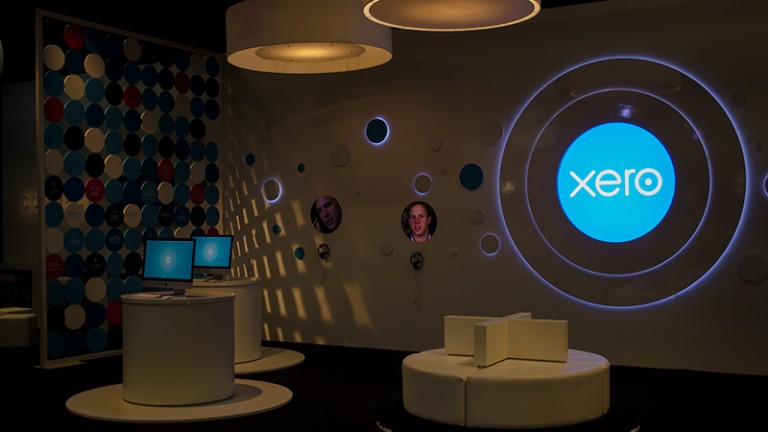 At Xerocon London 2016, Xero Chief Executive Rod Drury was as bullish as ever although it's difficult to think of a keynote where he is anything else. The audience was treated to a wide range of speeds and feeds and a look at where Xero sees the accounting market evolving in the next few years.
Top of Drury's list was the migration of accounting software off of the desktop and into the cloud. While that has been going well for Xero, Drury accepts that there is a major battle for the hearts and minds of accountants in order to put them at the centre of the business relationships of their clients.
Company Update
The numbers released by Drury will make a lot of competitors uneasy:
600,000 subscribers worldwide
$310 billion in transactions processed in 2015
More than 800TB of financial data stored
700+ servers worldwide
Multiple updates per day
99.99% uptime
More than 500 partner integrations
$200 million in cash on hand with the company currently financing future development from receipts
These are impressive numbers for any business and in many ways show the difference between cloud and on-premises software. The fact that the company is issuing multiple updates per day without user resistance is exactly what people expect from cloud-based solutions.
The level of transactions being processed is equally impressive. It puts Xero in the same realm as many large international banks and if the number were GDP it would make Xero the 34th largest economy in 2015. This year, Drury expects the company to continue to post larger numbers showing the strength of the business.
The amount of financial data that Xero holds, however, will raise some eyebrows. Data costs money to maintain and it is unclear how much of this is stored in any one country, whether it is all online, how much is archived and how well protected it is. The latter is a particularly delicate issue for many companies as governments increasingly look to force cloud and hosting companies to disclose data without telling customers.
What is also impressive about the level of transactions and quantity of data stored is that Xero ONLY deals with small businesses. This isn't about numbers distorted by a few heavyweight conglomerates. Instead this is small businesses averaging around 20 staff. Unsurprisingly the dominance of Xero inside New Zealand is greater than anywhere else. They currently handle more than a third of New Zealand's GDP by transaction value.
Taking it to the competition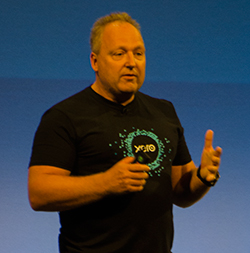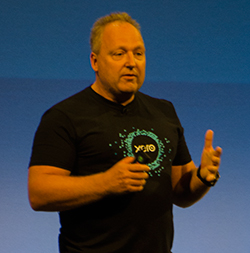 Drury and the rest of the Xero management like to stick it to their competitors whenever they do a keynote. Their primary target is Intuit but other large accountancy vendors such as Sage also get a kicking now and again. In Drury's keynote he pointed out that: "Xero had added more small businesses clients worldwide than any of its three closest competitors" outstripping Intuit by at least 25%.
When those numbers were looked at outside of the US which removes Intuit's main base, Xero added more small business clients than all its three main competitors put together. Adding customers doesn't always add up to revenue so when Drury disclosed that it had also taken more revenue than the combined income from its closest rivals the numbers looked even more impressive.
In a parting shot, Drury also pointed out that it had overhauled and outperformed Intuit without having to spend the same vast sums of money in marketing. He told the audience that Intuit spent $1.2 billion in marketing last year although he failed to disclose exactly how much Xero has spent.
Drury was not the only one taking aim at competitors. Gary Turner, UK Managing Director, Xero took aim at Sage pointing out that: "Xero were rapidly closing the gap between the two companies both in terms of Google searches and users." By the end of 2016, Turner expects to overhaul the Sage 50 customer numbers a move that would have been unthinkable just a few years ago.
Changing the relationship with customers
One of the things that Drury was keen to talk about was the globalisation of services. It is no longer companies with physical products to export but service companies as well. One example of this that Drury highlighted was Notarize, a notary service that uses the live video from an iPhone and connects the user to an authorised notary. When looking at future revenue Drury said: "Services now need to look at their export plans."
Drury was also clear about the change of relationship between vendors and their customers saying: "the vendor relationship is changing and it is no longer about software. It is about how we drive leads to you. We need to provide the playbooks and content which will help drive business to you. We are the number one lead source for customers and we are investing money in billboards, content and features."
That lead generation move is extremely interesting. In a separate interview with Drury he said: "We don't think of software as creating a solution but as an ecosystem that makes everyone's business better. We know that a direct customer will require less support from us if we get an accountant into the equation. This means it is in our interest and those of the accountants and customers to pass the leads out. We give accountants the tools, business leads, coaching and marketing to expand their businesses."
Drury's approach will frustrate many of the big software vendors who have tried to move their own sales teams from in-house sales to promoting the channel. A few years ago IBM said that it would penalise sales teams for taking orders in-house if there was a partner near to the customer that could have been engaged. While this is at the extreme end of the scale it shows how times have changed.
But what happens as Xero grows and moves up the stack to support larger companies? Drury has an answer for that as well: "As a company grows the accounting doesn't get that much more complicated. Instead it is about line of business workflow.  Over the next 10 years we will grow and so will the customer base but we will never change our model and create an  enterprise selling team. We will continue to work with the accountants channel to deliver solutions to customers."
Making the ecosystem work for itself
Drury believes that the Xero ecosystem is beginning to pay off for everyone. "We have 20m businesses interacting on the platform, these are both buyers and sellers. They drive other leads across the user base. We are seeing customers looking for suppliers who use Xero as it integrates with how they work and that helps to reduce the cost of doing business"
This evolution of the Xero ecosystem is interesting not least because it is something that is rarely heard from other vendors including Intuit and Sage. In the big system space you never hear the likes of IBM talk about how their customers work with other IBM customers because the software integrates so easily. The same is true of cloud vendors such as FinancialForce.com or Netsuite.That doesn't mean it isn't happening but Xero has customers willing to talk about this, something other vendors don't have.
Conclusion
Xero is continuing to grow quickly and so far seems to be showing little signs of slowdown in the small business space. While this is a very price sensitive part of the market, the fact that Xero can generate enough revenue to prevent it having to dip into its cash reserves is something other vendors can only dream about. It has also successfully leveraged its Accountants channel to create a sustainable system and with its approach to giving out leads has helped build loyalty into that channel.
With all of this it is hard to see a downside for Xero. The only risk that would appear to be there is that of expanding too fast and that is something that Drury is adamant will not happen.