CGI and National Bank of Canada expand their partnership with a $420 million extension that will see their relationship through to 2025. CGI overtook RIM to become the largest Tech stock in Canada in 2013. It should come as no surprise that they have extended their deal with their symbiotic partner.
The best business deals work both ways, each enterprise offering good services and a finance to balance the other. The National Bank of Canada gave debt funding to CGI to help with the acquisition of Logica back in 2012 and CGI have been delivering IT services to the bank for more than ten years.
CGI already work with 24 of the worlds 30 biggest banks and has 16,000 financial experts working across five continents that are available to help its clients including the bank of Canada. Only last year CGI installed its trading platform Trade360® at the Bank of Canada. This has enabled the bank to access the same solution that is already supported in more than 40 countries and with 15,000 corporate users for 40 major banks globally.
CGI also deliver the banks payroll services and will continue to deliver the services that the bank required from the Quebec-based centres of excellence in Sherbrooke, Shawinigan and Saguenay. It will be interesting to see how CGI moves the Bank forward in the digital age.
CGI's Guy Vigeant, Senior Vice-President, Greater Montreal commented "Through our comprehensive IT services and world-class centers of excellence, we look forward to helping National Bank of Canada position itself for future growth and success. In addition, by drawing on the expertise of our centers of excellence under this new agreement, we will have the opportunity to boost regional employment."
National Bank of Canada looks for more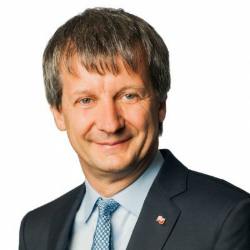 The Bank clearly believes that the relationship can get even stronger though there is no detail in this release as to what those projects are likely to be. Dominique Fagnoule, Executive Vice-President, Information Technology at National Bank commenting in the press release said: "We are pleased to renew and expand our relationship with CGI, which began more than a decade ago.
"CGI has in-depth knowledge of the banking industry and broad professional expertise, enabling us to maintain and increase our competitive advantages and achieve our strategic objectives."
Since November 2015 stocks at the National Bank of Canada have dropped from CAN$54.09 to 45.60 (close 11/8). With Information Technology increasingly important in the digital age CGI will have a big input into how the leadership team can reverse that trend. If they can replicate the 60.79% growth in share price from the last ten years then it may well be renewed again.
Summary
These are the kind of deals that CGI need to win to continue its growth. It currently has a plan to double its revenue by 2020 and just a week ago announced a €196 million deal with the European Parliament for IT support.
CGI's mantra from 2014 was to listen to its customers and innovate for its customers. It will be interesting to see what it achieves for the Bank of Canada over the next ten years. Vigeant respects that the agreement is more than just a transaction when he commented "We are honored to continue our strategic partnership with National Bank of Canada." The question is what difference the partnership will make to both companies over the coming years.