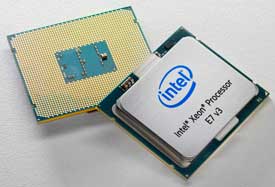 Intel has announced the latest versions of its Xeon E7 4800/8800 v3 processor families. The processors are targeted at customers who are doing big data, real-time analytics and mission critical computing.
Diane Bryant, senior vice president and general manager of the Data Center Group at Intel said: "The Intel Xeon processor E7 v3 family is the engine for accelerating business intelligence through real-time analytics, enabling businesses to improve customer satisfaction through more personalized products and services, generate new revenue streams and enhance operational efficiency."
At the launch, Intel made a number of claims for these new processors:
20 new performance world records
Increased core count with four processors having as many as 18 cores
Memory cache up to 45MB
Multiple claims of 40% more performance than the previous generation
Support for 32 socket systems via third party controllers
New on-board encryption, reliability and availability features
17 manufacturers announcing new models at launch
The fine detail of some of these claims is available both in the press release and the supporting press pack that accompanied the release.
Intel looking to shut out IBM
Over the last six months, Intel has come under sustained attack from IBM who, since selling its x86 division to Lenovo, has been pushing its POWER8 processor as an alternative to Intel Xeon. In January the Linley Group compared Intel XEON processors with IBM's POWER8 (registration required) putting IBM ahead of Intel in all bar power consumption.
This announcement sees Intel hitting back and releasing a series of benchmark results showing 21 new world records using industry benchmarks. All of the records have been set using the Xeon E7 8800 v3 processor family rather than Xeon E7 4800 v3 processors.
What is interesting is that a number of these are directly targeted at IBM's announcement on Monday around POWER8 support for SAP HANA. To counter that, Lenovo, Huawei and Dell have all announced new SAP HANA records using these new Intel processors.
Looking at the benchmark records, it is clear that Intel is determined to demonstrate it can still deliver across the entire server marketplace:
21 world records
Six different vendors – Cisco, HP, Huawei, Dell, Lenovo and Fujitsu
2, 4 and 8 processor servers
Multiple operating systems – Windows Server, Red Hat Enterprise Linux, SUSE Linux Enterprise Server 12, VMware ESXi
Intel claiming a price advantage over IBM
Multi-processor support and Linux are now the key battleground between Intel and IBM especially as IBM POWER8 and Intel Xeon both run the same variant of Linux. This means that customers will be looking for benchmarks and pricing as key reasons to decide what they want to run their hardware on.
When January's Linley Group report was published, Intel was reportedly unhappy about the pricing data that showed it was more expensive per chip than IBM. It should come as no surprise, therefore, that Intel has taken advantage of this swathe of benchmarks to make its own point over pricing.
In the supporting notes to its press release Intel is claiming:
Up to 10x greater performance per dollar
85% lower total cost of ownership (TCO)
85% better 4-year TCO based on lower hardware and software costs
One of the key statements Intel makes to support the claims above is: '85 percent lower total cost of ownership claim based on estimated SPECint*_rate_base2006 performance of 8-socket server using Intel® Xeon® processor E7-8890 v3 scoring 4980 priced at an estimated street price of $144,626 to 8-socket IBM Power E870 scoring 4830 priced at public list price of $1,592,788.'
The fact that Intel has targeted the 8-socket rather than the 2 or 4-socket market is important. With its x86 servers, IBM regularly dominated this top end of the market and is been keen to project its new POWER8-based machines into that space. It is clear that Intel is not willing to cede any part of the server space to IBM and while many have focused previously on the threat of AMD to Intel, it is becoming evident that Intel is taking the threat from IBM very seriously.
Conclusion
This is just the latest strike in a processor war that could go on for some time. While IBM is now completely focused on POWER8 and has even started to talk about POWER9, Intel is determined to ensure that customers have solutions now not sometime in the future. Next week in Las Vegas, IBM will be making more announcements around its Power Systems and it will be interesting to see what it says in order to counter Intel's claims at this launch.