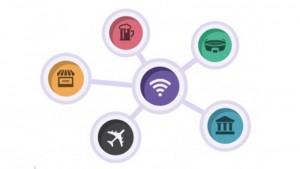 Earlier this year Purple WiFi raised $5 million in investment. The investment was targeted at produce development and extending its global sales team. As part of that sales expansion, it has now announced its plans for Australia and New Zealand.
Purple WiFi calls itself social WiFi. It allows users to connect and use public WiFi services free of charge using their social media accounts. Although users are not parting with money to use the WiFi, they are still giving up something – data. For their part the businesses providing the WiFi agree to deliver family friendly WiFi to protect children from porn, gambling and other age inappropriate sites.
Businesses benefit from the Purple WiFi add-on packages
While the social WiFi and family friendly content filtering tags helps to attract users it also provides opportunities for businesses. This ranges from analytics to marketing tools that businesses to understand and improve how they engage with customers.
For example, the WiFi analytics package provides information such as the age of the user, the length of their Internet sessions, the amount of data that they are using and where exactly they are. By knowing when users are connected and by using social media monitoring, businesses can get immediate feedback as to what customers are saying. This provides an opportunity to deal with issues as they occur and to deliver special offers and marketing messages to further engage customers.
The next level of analytics is to use Presence analytics. This allows business owners to segregate their premises into sectors and deliver very targeted messaging to customers. For example, a user enters a food court area and immediately they get offers from the vendors. If it is a sports and leisure facility, they might get a message offering special deals on booking an extra hour when in the bowling alley or extra time on a tennis court. This can be done through SMS, email or to the social media account the user has logged in with.
Another package provides additional marketing data. Customised splash pages when the users connect to the WiFi and couponing to those who have recently visited or who have said on social media that they intend to visit a premises is also possible.
According to Allen Pan, VP Asia Pacific, Purple WiFi:  "We have had an excellent start in Australia and New Zealand, working with the region's biggest Telecoms provider and hiring smart people to deliver our services. Purple WiFi is designed to meet the growing user demand for fast, secure WiFi enabled spaces, with the added value of giving something back to the company that invests in the WiFi."
This is just the first of several expansion announcements expected from Purple WiFi as they look to deliver on their claim to provide businesses with a tangible ROI for deploying free WiFi.