The Crown Commercial Service has announced a new Memorandum of Understanding (MoU) with Salesforce. The intent is to negotiate a discount for the delivery of solutions across the government. The announcement comes a year after it signed a similar MoU with Workday for the provision of its financial and HCM solutions. Both MoUs were signed to help accelerate the digitisation of government services and migrate to cloud-based solutions.
This is not an agreement that will see the delivery of a single solution across the UK public sector. The Salesforce ecosystem now includes solutions such as Mulesoft, Tableau and Slack, as well as the core solutions such as Marketing, Service and Sales cloud.
Salesforce already sells software to a huge number of public sector organisations worldwide. It has provided relationship management, case management, collaboration, and analytics and, with the work.com platform, helped many organisations through the pandemic.
However, its spend through GCLoud has recently been limited according to the data collected by advicecloud. In 2021 Salesforce (UK) Limited sold to only the National Heritage Fund and the Defence Science and Technology Laboratory. It will hope that this new MoU will help expand spending rapidly.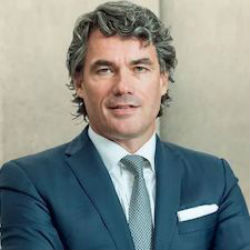 Gavin Patterson, President and Chief Revenue Officer, Salesforce, commented: "From vaccine distribution to call centre operations, governments have seen at first-hand the power of what our technology can do for them and their citizens: delivering high-quality
digital services, driving efficiencies and cost-effectiveness.
"At Salesforce, we're delighted that the MOU will support the work of our thriving ecosystem of UK SMEs who provide vital implementation and training support to public bodies. We're also proud to continue to build on our track record of enabling public service teams to deliver more, faster."
Can this MoU make a difference?
The CCS is the UK's largest public procurement organisation. Its purpose is to use its commercial expertise to help buyers in central government, public and third sectors purchase everything. With collective purchasing power and its procurement knowledge, it aims to get the best commercial deals in the interests of taxpayers.
In 2021/22 alone, the CCS helped the UK public sector realise benefits of £3 billion to lessen the potential burden on taxpayers. This MoU offers several advantages for public sector bodies looking to acquire Salesforce solutions.
Discounted licences and services (including training and support) for Salesforce, Mulesoft, Tableau & Slack
Access to pilot projects to enable eligible organisations to test and determine the benefits that Salesforce solutions offer
Direct access to selected Salesforce's SME implementation partners
A discounted trial of Salesforce's Net Zero Cloud, supporting the UK government's drive towards Net Zero.
Philip Orumwense CBE, Commercial Director and Chief Technology Procurement Officer at Crown Commercial Service, said, "I am delighted that Crown Commercial Service and Salesforce have been able to reach agreement on this MOU. It will allow UK public sector customers to access a competitive baseline of pricing by recognising our aggregated public sector spend; and ensures a cost effective marketplace with access to best of breed solutions for each requirement.
"The Agreement will further ensure increased collaboration and aggregation of Government and Wider Public Sector spend to achieve increased automation, forecasting, reporting and customer engagement management tools."
To explain what the MoU means for your organisation, the CCS is hosting a monthly webinar:
Enterprise Times: What does this mean
This is a sensible move by the CCS and protects the taxpayers' interests. Without the MoU, it would mean that different bodies were still likely to purchase Salesforce solutions, but without the same discounts.
What will be interesting is whether the CCS renews in a year and what difference the deal has made. Notably, the discount levels were not shared in the report, and the agreements only for a year. What happens at the end of the year is unclear. Will the CCS renew? Will Salesforce want to? That it is only for a year is unusual. Most of the MoUs in existence last at least 3 years, including Workday, SAP and Oracle.
Regardless this is good news for all parties concerned. Salesforce will hope that the agreement enables it to penetrate the UK public sector deeply over the next year. Public Sector organisations can benefit from the discount that CCS has achieved.