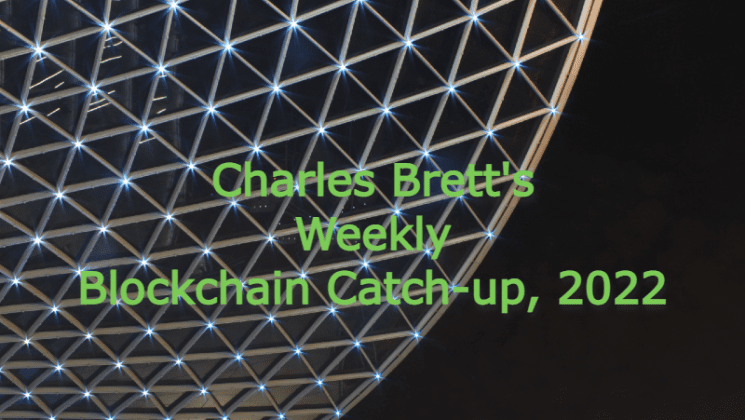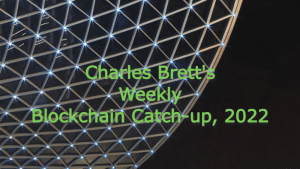 This is Charles Brett's start-of-the-week Enterprise Times 'blockchain catch-up' 2022-Week 19. Necessarily it is idiosyncratic and selective.
It is not intended to be comprehensive but does seek to highlight 'Quick Takes' on specific developments as well interesting pieces to read, a listing of some (not all) announcements/press releases and pointers to upcoming events.
Quick Takes – Charles Brett's Blockchain Catch-up 2022-Week 19
Lunch with the FT: crypto billionaire Sam Bankman-Fried 'I got involved with no clue what a blockchain was'
'I ask Bankman-Fried what he thinks of critics who liken crypto to a Ponzi scheme. Again, my question needs a bit of work. First, he tackles scams where people set out to deceive investors. "By number of Ponzi schemes there are way more in crypto, kinda per capita, than in other places. But by size of actual Ponzis, I'm not sure that it is particularly unusual. It's just like a ton of extremely small ones," he says.
'But what Bankman-Fried thinks people are really asking, when they query Ponzi schemes in crypto, is: "How much of crypto is sort of a weird layered system . . . [a] complicated monetisation scheme with nothing underlying it?"'
Quick Take: although this interview is behind the FT paywall, it is worth reading in the week that the crypto industry, and especially now not-so stablecoins, spiralled downwards. What happens next, particularly from a regulatory viewpoint, matters.
As Bankman-Fried, founder and CEO of FTX, said in answer to the FT's question – will crypto live up to its claims of empowering people? – "it is still in the balance. It depends on whether the sector falls victim to monopolies. … Network effects and regulatory barriers have made it difficult to disrupt banks and social media platforms, creating an entrenched elite. A lot of this is going to come down to exactly what regulation looks like; it could go either way."
7 pieces to read – Charles Brett's Blockchain Catch-up 2022-Week 19
Selected announcements/press releases/opinions – Charles Brett's Blockchain Catch-up 2022-Week 19
Selected upcoming events
FT LIVE" Crypto and Digital Assets Summit (26th April, 2022)
Security Token Summit (15-16th May, 2022)
Digital Assets AND Securities Conference (19th-21st May, 2022)
Crypto Valley Conference (2nd-4rd June, 2022)
Using blockchain to resolve supply chain challenges (SIMBA Chain, 8th June, 2022 at 1500EST/2000BST/2100CEST)
EEMA 35th Annual Conference to focus on securing identity and its business (8th-9th June, 2022)
Festival for the decentralised world (9th-12th June, 2022).