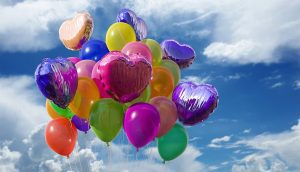 Retail and eCommerce highlights this week include: Limits are sky-high for Balloons Direct after Brightpearl's flexible ROS releases their growth potential. TikTok launches a new creative library and beta testing adverts within the app's search results. Design Trade Service, A design-led e-Commerce marketplace platform, secures $3 million in investment funding through Carofin. Buymie partnered with Asda for one-hour grocery delivery service across Leeds and Bristol. NatWest Group is working with Adobe as part of its 2025 transformation and innovation goals
Brightpearl was selected by Balloons Direct to support growth
Brightpearl has been selected by Balloons Direct to support its multi-channel growth. As a fast-growing eCommerce business, Balloons Direct will benefit from Brightpearl's range of retail-focused, out-of-the-box features. This includes an Automation Engine, Demand Planner and advanced reporting functionality. The team will also save hours every week with Brightpearl in place to automate and streamline their clunky, manual processes.
Virginia-based Balloons Direct started out as a balloon delivery and decorating service. Now they're a leading international provider of special event decorating products. The brand conducts business mostly online through their Magento 2 web store and eBay, selling products such as premium latex and foil balloons, custom balloons and helium supplies, direct to consumers and businesses all over the world.
The Balloons Direct team was under pressure to manually fulfil both their custom and standard orders via multiple channels. Their inventory operations were stretched. The team's Magento 2 system wouldn't connect to new channels easily, and the team used time-intensive workflows such as pick-and-pack processing and manual inventory management to deal with orders.
Brightpearl's flexible solution with its easy Plug & Play integrations meant it seamlessly synced with their Magento 2 system. It will swiftly extend to any third-party apps the brand adopts in future. It also integrated easily with Balloons Direct's accounting system, Quickbooks Commerce, which had struggled to exchange information with Magento 2.
The balloon distributor's manual pick-and-pack processes will be replaced with integrated barcode scanning thanks to Brightpearl's powerful Automation Engine, which streamlines and automates time-heavy processes in ordering, inventory, warehouse, shipping and fulfilment. This means key team members can quit wasting hours on manual tasks and free up their time to grow Fearlessly.
TikTok launches a new creative library and beta testing ads in search results
TikTok has launched the latest addition to its creativity toolkit as it starts to roll out Library, a new in-app creation tool. The company says it provides an opportunity to access a wide range of content, opening up even more creative possibilities.
Library also unlocks a new category of entertainment content. Making it easy for people to start or participate in their own trends. Using clips from their favourite shows, GIFs, memes and more by seamlessly integrating them into their TikTok videos.
The Library will be populated with entertainment content from GIPHY (GIFs with Sound), including their collection of GIPHY Clips. GIPHY Clips make culture-defining moments, popular quotes, and reactions shareable. It allows millions of users who use GIPHY for visual expression to incorporate it into storytelling on TikTok.
TikTok is also beta testing adverts within the app's search results. TikTok search ads now appear above other relevant search terms in a user's results page and marked as 'Sponsored'. The development could be a benefit for advertisers and brands looking to reach consumers searching for specific terms or products.
Advertisers will be able to view a list of search terms that drove clicks to their campaigns. Potentially useful to establish a database of successful terms that translate to other platforms and apps offering similar keyword-based ad tools. One of the app's main ways to engage users is through creator or influencer-based ads. The addition of search ads is expected to boost revenues for creators and drive greater traffic to a brand's website.
Design Trade Service secures $3m investment funding
Design Trade Service (DTS) has secured $3 million in investment funding through Carofin. The Design Trade Service is a private eCommerce platform exclusively for interior designers, led by CEO Greg Wyers. The company has also welcomed three new executives to its team, Mike Delgatti, Will Wittenberg, and Betsy Wittenberg.
The Design Trade Service was founded and launched in 2015. The body provides interior designers with an eCommerce platform with access to products from marquee furniture vendors, and manufacturers at low designer net pricing.
The company provides a channel that allows designers to combine orders for products from different vendors onto one DTS order. The process maintains one point of contact throughout the fulfilment process. This streamlined process has been especially helpful to designers due to the current supply chain challenges and logistics.
The funds secured will be used to expand DTS's current membership to every designer in the US as well as strengthen the platform, hire additional customer service reps and logistical support staff to oversee shipping and coordination for both designers and manufacturers.
Buymie partners with Asda for a one-hour grocery delivery service across Leeds and Bristol
Buymie has launched a one-hour personal grocery shopping service in Leeds and Bristol in partnership with supermarket chain Asda. The service allows customers to access Asda's full online range of products with the on-demand delivery platform. Buymie is an Ireland-based same-day grocery delivery company. It's network of personal shoppers will exclusively pick, pack and deliver each order. It gives customers the ability to submit any preferences and discuss their requests. This includes the type of substitutes they would accept if their original choices are unavailable.
The service will operate under the brand "Asda Express powered by Buymie". It will be initially trialled for three months across selected postcodes within a three-mile radius of ten Asda stores in Leeds and Bristol. It will create 60 new jobs in the two cities. The partnership will allow Buymie, which was founded in Ireland in 2016, to expand into a market that is ten times the size of the Irish one. Due to its different operating model, Buymie generally requires less capital to expand operations compared to certain of its competitors.
NatWest Group working with Adobe to improve customer experience
Adobe and NatWest Group have announced an extension of their relationship to enhance customer experiences. The NatWest Group serve over 19 million customers and is one of the UK's leading business bank. The collaboration supports the bank's 2025 digital transformation and innovation ambitions. With Adobe Experience Cloud and Adobe Real Time Customer Data Platform, NatWest Group will gain a single view of interactions made by each of its 19 million banking customers across its branches and digital channels. This includes its website, mobile app and Cora chatbot.
NatWest Group plans to leverage Adobe's technology to support the delivery of personalised experiences to its customers while protecting their privacy. The bank is centralising customer data on Adobe Experience Platform. As a result, NatWest Group is using Adobe Real-Time Customer Data Platform to analyse the behaviours and needs of customers in real-time. The intention is to eliminate friction points across every channel they use. Giving the bank the ability to tailor every message and experience for its individual and business customers. This is whichever channel they choose to use.
NatWest Group will gain a deeper understanding of their customers and identify and remove friction points along their customer journey. For example, analysing where and why customers dropout will enable NatWest Group to refine its approach and messaging each day. The AI capabilities within Adobe Experience Cloud helps deliver personalised, omnichannel campaigns for customers, in real-time, from a single application.