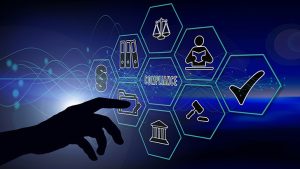 Understanding the assets in your environment is no longer a choice but a necessity for every cyber defense arsenal. Blind spots only impede the need to drive business outcomes, pinpoint critical areas that need protection, and meet compliance requirements. To meet these objectives, CIOs should consider investing in a cybersecurity asset management solution.
A top priority of every CIO is getting a firm understanding of every IT asset under their control. Better visibility into the variety of assets and where they sit is vital for prioritising the numerous challenges security teams need to address. That's why investing in solutions that allow organisations to better understand, track, and secure their assets is so critical to every CIO's success.
Fact is, eliminating blind spots was stated as the #1 objective in a recent survey outlining the top priorities for CISOs in 2022. It highlighted the need to gain visibility into all aspects of cloud and on-prem applications, networks, services, systems, and databases. It must also include a comprehensive, prioritised inventory of all hardware and software. These are key to improving any organisation's security posture. Security teams need to know what needs to be safeguarded and what controls to implement.
Much has been written about what new CIOs should tackle in their first 100 days. If you're new to the job, gaining visibility and control is always close to the top of the list.
Strive for a single source of truth or suffer the consequences
How do you get a clear view into which corporate assets are at risk? The best way is to have a single source of truth about where each one resides and its current state. Without visibility on your current security infrastructure, you can't know what's running on any given app or endpoint. Lack of a solution for discovering assets and creating an accurate inventory opens the door to any number of security risks.
Inadequate risk mitigation can result in damaging consequences. These can range from financial loss and operational downtime to the exfiltration of sensitive data. Any one of these can potentially lead to legal action, fines, and a hit on your company's reputation.
The CIO's expanding roles
The threat landscape continues to widen. It means cybersecurity is no longer solely the concern of IT operations and security teams. Responsibility for it now extends across business operations. The modern CIO's role has morphed from strictly technical to a more strategic one. They are increasingly involved with digital transformation and innovation initiatives.
As stated by Cyber Series, we now need to play the roles of enabler, strategist, and business influencer to build a culture of security and drive a competitive edge for the business.
IT asset management is not a new pursuit. Most CIOs understand how an accurate inventory helps you understand what you have, what it's running, and where. But today's CIOs need to consider specifically how cybersecurity asset management can improve the performance of their IT teams and empower the business overall.
The primary goals of all CIOs are to ensure business continuity and protect sensitive or confidential data. Understanding the security posture of your entire IT environment supports this mission. It means you know what's at risk, how to prioritise fixes, processes to define, SLAs and KPIs to measure, and how it all maps back to internal benchmarks to government/industry mandates.
Tackling job #1 with cybersecurity asset management
Fortunately, there are solutions on the market designed to meet these goals. Make sure that your chosen solution situates at-risk assets within their relevant context. This is key to effectively prioritising remediation. Ensure you understand the risk context of a given asset. It allows you to decide what requires immediate action, what can be done incrementally or mitigated with other changes, and what can be ignored as too low risk to bother with.
(Full disclosure: as the CIO of Qualys, I rely on Qualys Cyber Security Asset Management.)
It all starts with deep visibility into your infrastructure and the ability to identify potential threats, vulnerabilities, and areas of exposure. If you operate in a heavily regulated industry, meeting compliance mandates is a board-level concern.
From a detailed cybersecurity asset inventory, you can create a roadmap to keep audit committees up to date on your organisation's compliance status. It includes PCI DSS, HIPAA, FedRAMP, SOX, or some other requirement. All stakeholders, including your executive team, will be keenly interested in the audits and reporting out of such a system.
Solution requirements
We've covered why you need a cybersecurity asset management solution and what it helps you achieve. Now let's dig into how it does it. For starters, let's recap the must-haves. An effective solution needs to collect data and provide complete visibility of cybersecurity assets across every environment, including on-premises, cloud, virtual, endpoints, and more. Once completed, an accurate inventory should provide information about assets, their risk profile, lifecycle management, and risk mitigation.
When evaluating available market solutions, evaluate whether the product can:
Discover and inventory all your assets continuously: It needs to categorise detailed information about servers, desktops, networks, applications, databases, mobile devices, IoT, containers, etc.
View categorised and normalised hardware/software information: It should return a concise inventory with normalised manufacturer, product, hardware model, and software information. This capability will save hundreds of staff hours. For example, the dashboard below provides a view of infrastructure assets.
Define criticality and find related assets: The solution should understand the business context. It should assign criticality using dynamic tagging to quickly focus on the most critical assets. It should organise inventories to find assets related to business functions (e.g., finance), scope (e.g., compliance), and other relevant factors.
Find and upgrade unsupported software and hardware: Cybersecurity depends on knowing product lifecycle and support information. Effective asset management automatically extends IT asset inventories with non-discoverable metadata. Examples include hardware and software release dates, license categories, and more. As shown here, a good asset management solution for cybersecurity specifically enables IT to audit assets for milestones such as end-of-life and end-of-support.
Eliminate unauthorised software from your environment: The solution should select assets with installations of unauthorised software and define appropriate actions to improve asset health.
Identify assets requiring attention: You should receive notifications about asset health issues and get actionable info for remediation.
Keep stakeholders up to date: Look for reports on monitoring, maintaining compliance, and informing stakeholders about the health of your assets and ongoing compliance status. As illustrated below, look for a solution that views your infrastructure from a security and regulatory compliance perspective.
Keep your CMDB up to date: The solution needs to synchronise your inventory to keep it fresh. It should enrich it with hardware and software lifecycle information and business context data to improve response to issues.
Reduce risk with automatic patching: Automating patch jobs helps keep all your endpoints up to date whenever new releases become available. Automatically deploying patches will save your team the time and effort of manual patching.
Complete visibility into your entire environment
Job #1 for CIOs is to get a handle on the total scope of their IT infrastructure. You can't manage what you can't see. However, cybersecurity asset management solutions specifically address some of the shortcomings of typical IT asset inventory tools. They go beyond simply figuring out what you have and where.
These solutions guide CIOs and IT teams on how to mitigate risk, secure at-risk assets, and comply with relevant mandates. For that, you need complete visibility and control over your complex IT environment and a clear understanding of internal and external attack surfaces.
It's the smart way to check Job #1 off any new CIO's to-do list.
---
Qualys, Inc. (NASDAQ: QLYS) is a pioneer and leading provider of disruptive cloud-based IT, security and compliance solutions with over 19,000 active customers in more than 130 countries, including a majority of each of the Forbes Global 100 and Fortune 100. Qualys helps organizations streamline and consolidate their security and compliance solutions in a single platform and build security into digital transformation initiatives for greater agility, better business outcomes, and substantial cost savings.
The Qualys Cloud Platform and its integrated Cloud Apps deliver businesses critical security intelligence continuously, enabling them to automate the full spectrum of auditing, compliance, and protection for IT systems and web applications across on premises, endpoints, cloud, containers, and mobile environments. Founded in 1999 as one of the first SaaS security companies, Qualys has established strategic partnerships with leading cloud providers like Amazon Web Services, Microsoft Azure and the Google Cloud Platform, and managed service providers and consulting organizations including Accenture, BT, Cognizant Technology Solutions, Deutsche Telekom, DXC Technology, Fujitsu, HCL Technologies, IBM, Infosys, NTT, Optiv, SecureWorks, Tata Communications, Verizon and Wipro. The company is also a founding member of the Cloud Security Alliance. For more information, please visit www.qualys.com.