Arcwide, the joint venture that was announced last year between IFS and BearingPoint now has a name, a logo and a launch date. Arcwide is set to launch in April 2022 and is actively recruiting with posts available in the UK, France, Belgium, Italy, Switzerland and Romania.
There are 22 open positions which give an indication of the sizeable investment both firms have invested in Arcwide. While there are no positions advertised yet Arcwide will also offer services in Austria, the Netherlands and Ireland
Arcwide will bring together the professional services expertise of BearingPoint and the modern cloud-based technology of IFS Cloud. While the initial positions are in Europe Arcwide intends to expand further abroad in time.
The intent behind the organisation is to provide consultancy across the broad spectrum of solutions within the IFS Cloud which includes ERP, EAM, SM and FSM. Many IFS consultancies offer expertise in one or the other, sometimes both but rarely all three.
The intent of IFS and BearingPoint is to offer services around the complete IFS Cloud and help organisations with the entire customer lifecycle. That will start with value assessment, scoping and deployment. It will also include business transformation including training and change management. After deployment, Arcwide will also offer managed services.
The launch
Arcwide will launch in April 2022, and IFS will continue to invest resources in the company, whether this will include the transfer of personnel or capital is unclear. BearingPoint has already contributed its CEO, Philippe Chaniot. He has been a partner at BearingPoint for 11 years. Before that, he spent 13 years at Accenture.
Chaniot commented: "I am very excited to be at the helm of Arcwide. We have a very clear vision and that is to provide IFS Cloud technology services and business transformation services to business leaders so they can drive growth and success. The combination of our customers' specific business expertise and IFS' industry, technology, and service innovation gives us a clear advantage.
"Unlike other companies, Arcwide provides a single unified experience over the entire customer lifecycle with IFS Cloud, building trust over time and ensuring continuity and value creation with every release."
Evolution to joint venture
Arcwide is the next step in the relationship between IFS and BearingPoint. BearingPoint is already an IFS Platinum service partner. It won the IFS Growth Partner of the Year award in 2021. In 2020 it was the IFS Global Systems Integrator of the Year award.
BearingPoint has several significant customers that use IFS. They include Groupe Beneteau, a leading boating company. However, it is unclear whether its IFS practice will remain or if this new venture is another route to market dedicated to IFS.
Kiumars Hamidian, Managing Partner at BearingPoint explains more about the reasoning behind the decision. He said: "Launching Arcwide is a big milestone for us all. With this joint venture, we want to reset expectations of what business value is and cement the vision we have for technology-enabled business transformation.
"Working hand in hand with our customers and combining their specific business expertise with Arcwide's unique technology and services value proposition means we are defining a new experience in building partnership and in creating value. Together we are more."
Déjà vu?
For IFS, it creates a dedicated professional services company that can operate independently. It appears similar in nature to Avanade, the joint venture between Microsoft and Accenture that was founded in 2000. Avanade now has over 50,000 employees and is majority-owned by Accenture. It is a blueprint that IFS thinks it can follow.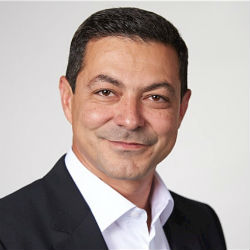 IFS Chief Customer Officer Michael Ouissi commented: "IFS has seen tremendous success over the last few years because we are close to our customers, add to this the huge uptake of IFS Cloud in 2021 and it became clear that we, IFS, needed to invest and scale our deployment capability.
"BearingPoint has been a strong and successful partner for us, they understand our business and mirror our customers' focus; expanding our relationship to build capacity was a natural step.
"I am particularly excited about Arcwide because it is a continuation of IFS's and BearingPoint's respective strategies: delivering great experiences and accelerating time to value. Customers can feel very confident that the Arcwide teams will look to build equally strong relationships with them as IFS did." 
Enterprise Times: What does this mean?
It is early days for Arcwide and success is by no means guaranteed. It is unclear what resources IFS will put into the venture, and what influence BearingPoint will have. Chaniot has the responsibility of growing a new professional services business. One, with a singular focus on IFS and considerable resources on day one. The release falls short of giving an indication of the growth rate expected. While Arcwide will help IFS deliver some of the larger projects it wins there will also be an expectation that Arcwide wins its own business.