Chris Evans kicked off the fully virtual QuickBooks Connect UK 2022 with a keynote that gave a mix of thought leadership and revealed some product announcements, though there was not much detail. The conference subtitle was POWER YOUR NEXT, which might infer the next business but was far more encompassing than that
Interestingly, the keynote's tone had Evans pitching QuickBooks as the solution preferred by Covid Entrepreneurs. QuickBooks sees three trends post-pandemic:
The era of the lockdown start-up has begun
Lockdown start-ups operate in a completely new way
Digital is no longer a choice.
Last year, the number of start-ups increased by 14%. Evans referenced several customers that were founded and have prospered during the pandemic.
One of these is Terrazzo Parazo, founded by Milly Parazo after losing her job in 2020. Powered by QuickBooks, the company has grown from a bedroom-based outfit to having a studio with employees handmaking trays, candles, coasters, and more. It was a digital company from the start, and Milly has grown a TikTok following of over a quarter of a million that has helped drive her business forward. Parazo shows that as a digital native, there are new ways of building a successful business.
Parazo is not alone, Evans commented, "If you pair these digital natives with the entrepreneurial streak created by the conditions of COVID, you start to see hundreds and thousands of Gen Z sole traders with digital businesses."
Evans gave other examples, including Ryan's World, Karat and GrowGlobal, where digital firms have appeared and grown rapidly. Existing firms must take note as digital is no longer a choice but a necessity.
Evans finally noted these digital businesses differ in three ways because they:
Create masses of content on social media as influencers, bloggers, and podcasters.
Rapidly adopt automation and artificial intelligence.
Have a flatter, more agile businesses without a top-down infrastructure, more like communities.
The importance of customer engagement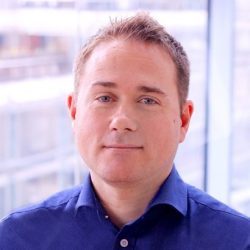 The main product announcement was around how the new acquired MailChimp is now integrated with QuickBooks. As Evans noted: "The number one problem we've heard now for years, is how can we help small businesses, find new customers, and then help manage existing ones. Nothing else matters. If you don't have customers, you don't take care of them."
Intuit acquired Mailchimp to solve a challenge faced by two-thirds of small businesses. There is now an integration with Mailchimp for UK customers that enables data to be shared between the two systems
Ami Verma, Head of Customer Success in the UK for QuickBooks, then took the stage. He explained more about the innovations that QuickBooks are delivering. On the Mailchimp integration, Verma explained: "In just a few steps, you can turn on the QuickBooks integration in MailChimp, selecting audiences and then marketing preferences. Once synced, all of your contacts will automatically be tagged as QuickBooks customers. You can view all your customers coming into QuickBooks in the audience tab and even segment them."
In Combination, Mailchimp and QuickBooks offer small businesses a way to gain, engage with and retain customers. This integration will undoubtedly improve. It will be interesting to see how QuickBooks delivers on this over time.
The importance of compliance
Several milestones for making tax digital are approaching. Verma assured the audience that QuickBooks was ahead of the changes to ease the administrative burden. The next milestone is that all VAT registered businesses in the UK must submit VAT returns digitally.
Verma demonstrated that with QuickBooks, users can run VAT error checking to highlight anomalies or duplications before submitting to HMRC. The submission itself is easy. Once it is checked, as Verma said, "with a click of a button, QuickBooks sends everything to HMRC, and just like that, you digitally filed."
Beyond VAT, MTD ITSA is mandated from April 2024 for sole traders and landlords with turnover above £10,000. QuickBooks is launching software that will be part of the HMRC pilot for submissions. It means that those impacted by this change can ensure they comply well ahead of the deadline. It is something worth considering if your firm has gone through the headache of VAT compliance. Those interested can email [email protected].
Finally, QuickBooks also launched a beta programme for new tax preparation and filing for CT600 forms for micro-entities. Available from within QuickBooks, it will enable accounting professionals to submit corporation tax using a single location.
Nick Williams, Accounting Segment lead, Intuit QuickBooks UK, said: "At Intuit, we love the word prosperity. It's in our mission statement – to Power Prosperity Around the World. We believe we can power the prosperity of accounting professionals by helping them harness digital technology, creating tools that enable them to grow their practice and scale their impact.
"Our Books to Tax capability is the latest step on this journey. We're excited to learn from its impact, and as we move forward, we aim to partner even more closely with UK accounting professionals to build tools to help them and their small business clients thrive."
Enterprise Times: What does this mean
In some ways, the announcements disappointed. There was a lack of updates within core QuickBooks. While the Mailchimp integration is welcomed, it does not come free of charge. Having said that, SMEs looking to automation and connecting their marketing, sales, and finance could see huge benefits in terms of efficiency and potentially increased revenue as they understand customers better.
Evans stated: "It's been an extraordinary couple of years where the macro conditions have totally changed the small businesses landscape. There has been a boom in entrepreneurship with a 14% increase in start-ups last year, while we've found nearly 10% of the workforce want to start an SMB.
"At the same time, digital has become pervasive and non-negotiable. Small businesses that flourish are now built on or around digital technology. Our role within this new world of work is clear – we build digital tools that solve the biggest problems faced by entrepreneurs, self-employed, sole traders and established small businesses who want to run and grow their businesses. We're proud to share our latest updates and innovations today."