Zoho has revealed that its Workplace suite of applications has received a boost after Google and Microsoft revealed pricing changes. The mix of collaboration and communications applications has seen its customer base increase by 34% to more than 16 million users across all companies.
While Zoho has always offered free trials for some of its applications, it has never offered free versions supported by advertising. This has meant its pricing is lower than most, and with 40% of its new customers fleeing Microsoft or Google, this strategy seems to be working.
In January, Google stopped accepting subscriptions for its G Suite legacy free edition. Existing users will also see their free service end. Google posted a blog that said, "If you have the G Suite legacy free edition, you need to upgrade to a paid Google Workspace subscription to keep your services. The G Suite legacy free edition will no longer be available starting July 1, 2022."
This prompted a rush of users to Zoho as they looked to find a solution that meets their requirements at a cost they understood. Migrations increased by 120% from Google-hosted domains. The cost comparison makes it easy to see why.
Zoho Workplace Standard costs £2.40 per user per month. Premium is £4.80 per user per month. Zoho Mail is £0.80 per user per month. In comparison, Google Workspace starts at £4.14 per month, rising to £4.60 after 12 months. Google Business Standard costs £8.28 initially but includes 2TB of cloud storage, compared to 100MB from Zoho. Both starting plans have 30GB of space.
Enterprise Times also asked Sridhar Iyengar, Managing Director, Zoho Europe, about the momentum of one of its suites.
Workplace sees growth across the board
Zoho has seen growth across all its three major segments
SMB saw growth of 40%,
Mid-sized business growth was 36%,
Enterprises grew by more than 20%.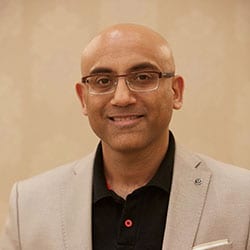 Enterprise Times asked Iyengar where Zoho saw the biggest take up in terms of geography and industry
Iyengar replied: "While United States, United Kingdom, India and Canada are the top-performing countries, we see great growth countries like Brazil, Vietnam, Germany and the Middle East. IT services, Retail, and Real Estate/Construction are currently the sectors where we have the highest number of customers."
Enterprise customers are not small deployments either. IIFL, a diversified financial services company based in India, has 40,000 employees using the solution, and Equitas Bank has 11,000 seats.
Neelay Shah, Group CRM Head, IIFL and Paisa commented: "Before switching to Zoho, too many vendors were involved in providing different solutions. Integrating with such systems especially when data size and security is important was very complex and vendor management was becoming a time-consuming affair. Workplace has an entire ecosystem that is required by the company. The products have integration between them and that makes them much easier to adopt in a wide range of business cases."
What is Workplace
Zoho Workplace comprises 8 applications from the Zoho suite of more than 80 applications. It provides office productivity tools that most people use during the day. The eight are:
According to Iyengar, of these apps, Zoho Mail, Zoho Cliq, and Zoho WorkDrive/Office Suite are the most commonly used. Zoho also continues to invest in the solutions. Enterprise Times asked Iyengar about its improvements in these apps over the last year. He listed the following improvements for its team collaboration apps driven, no doubt, by customer demand during lockdowns.
Team huddles for company events
Project management integration
AI-based search to find data across mails, messages, people, and documents
Grammar and spelling checks in email composer and documents
Q&A in video meetings
All-new task manager for teams
Meeting note-taking
Revamped calendar with resource booking
And for the future, what does 2022 hold for the product roadmap? Iyengar answered: "We will be focusing on helping companies build great culture online for the hybrid workforce—with improved capabilities in informal communication, company townhalls, Q&A, team spaces, team events among others. Also, a unified admin control to help companies all their data (mails, files, messages) to Zoho in a single click."
Enterprise Times: What does this mean
In some ways, the Zoho strategy has been a slow burn, but the tortoise is now catching the hares. It has a loyal customer base and a large number of integration applications on its platform. With the ability to extend and customise, Zoho is becoming a viable alternative to Google and the market-leading Microsoft office suite. It is also proven in both small and large organisations.
Thomas Randall, Senior Research Analyst at Info-Tech Research Group, notes: "Zoho is unique amongst its productivity suite competitors for not rolling out a cost increase for 2022, nor removing their freemium offerings.
"Other providers have justified price add-ons and increases to reflect the additional value they believe their customers have received over the pandemic for using their tools. Yet freemium offerings and price consistency have been central for many customers and businesses to stay afloat during lockdowns.
"Now that such offerings are in short supply, Zoho will likely see increased demand for their Workplace services as customers seek strong ROI for productivity and collaboration software."
The Zoho strategy seems to be paying off, as Iyengar confirmed: "Persistent long term execution has been a hallmark of Zoho, and our investment in Zoho Workplace attests to that. The market has seen vendors offering hundreds of seats for free to gain market share and eventually pulling the plug.
"All along, Zoho Workplace has been consistent in delivering customer value and continued high speed of innovation. Our ad-free approach and respect towards user privacy will be a pleasant surprise to users coming from alternative 'free' services."