Infosys has announced a new collaboration with Brent Council to make high-quality digital education accessible to every Brent resident. The collaboration aims to boost employability skills through its digital learning and training program, Infosys Springboard.
During the pandemic, the number of unemployment claimants in Brent aged 18 to 49 trebled. Currently one in five adults in Brent do not possess the "essential digital skills" that could benefit them in life. The council's mission is to improve prospects for low-paid workers by improving adult education and skills. The council wants to connect economic opportunities for sustainable employment.
To help Brent Council deliver on its mission, Infosys will support residents to acquire new skills to increase their employability. They plan to provide them with support to re-enter the job market. The digital learning platform provides access to digital training in addition to core subject learning, helping users track their progress and navigate different courses.
Closing the digital divide
Developed to support the reskilling and upskilling of the UK workforce. The cloud and mobile-based solution is designed to be accessible anytime, anywhere and on any device. The platform is designed to ensure equitable access for all residents.
Infosys Springboard currently offers over 220 courses on technologies, emerging job roles, as well as professional and behavioral skills. From modules on sending effective emails to cyber-security and coding. The courses are designed to help users to build their digital skill set and boost their appeal to employers.
Brent Council is one of the first to onboard on to Infosys' Springboard programme. It provides access to digital training and skills building, supporting digitally engaged communities by providing access to devices coupled with fundamental IT training.
Under this initiative, Infosys has donated laptops to the council to support children and vulnerable residents lacking access to devices. The programme also supports entrepreneurs to innovate and build digitally enabled enterprises through mentorship and technical support. Infosys' creative and consumer insight agency Wongdoody is helping Brent develop a structured programme tailored to supporting entrepreneurs and SME's.
Supporting the local community
Digital inclusion is a key strategy for the UK government. It was highlighted during the pandemic, following high levels of unemployment and workers being furloughed. The initiative with Brent builds on Infosys' commitment to creating 1,000 digital jobs in the UK to fuel post-pandemic growth. and reinforces the company's expertise and dedication to nurturing digital skills. The company will continue to expand the programme across Europe to democratise access to reskilling and upskilling opportunities.
Cllr Muhammed Butt, Leader of Brent Council, said: "Having digital skills opens up a world of opportunities. Lockdown nudged more businesses to look towards new technologies. It accelerated the shift online, and job adverts are increasingly looking for people with skills that match.
"Many adults would benefit from training to access the jobs of the future. That is the problem Infosys Springboard is trying to address. Our borough is awash with opportunities. Brent council want to help local people develop skills and confidence needed to get out there and snap them up."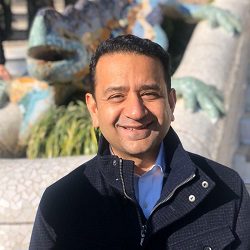 Mohit Joshi, President at Infosys, said, "Infosys is supporting local communities such as Brent. To secure sustainable employment by equipping residents for the demands of a new and evolving workplace. Ensuring equitable access to digital education is fundamental to achieving this. To support the UK navigate economic recovery with a focus on digital inclusion. The Springboard digital platform will play a key role in helping to build a better Brent. In addition to a robust UK workforce."
Enterprise Times: What this means for business
Last week, the UK Digital minister made an interesting speech at Infosys Europe Leadership Forum about closing the digital divide. Dorries told the audience of industry leaders business, public sector and communities must work together to upskill the UK workforce. Furthermore, businesses need to attract people from all backgrounds into digital roles. So, this is positive news that Infosys is practicing what it preaches and supporting the digital needs of Brent council.
Brent is a borough of contrasts in terms of its economic, environmental, ethnic and social make up. Infosys Springboard digital inclusion platform will be a welcomed new resource for residents to gain critical digital and employability skills. The ultimate aim will be getting them into sustainable employment. Hopefully other local authorities in the UK will be beating a door to Infosys to support their digital ambitions. Furthermore, perhaps other global technology companies will also take a leaf out of Infosys book. They should consider developing similar collaborations with other local authorities, universities and appropriate organisations.