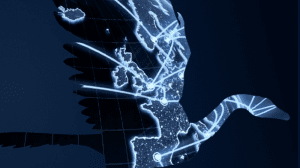 Archax, the FCA-regulated digital securities exchange, broker, and custodian, has announced its subsidiary, Montis Digital is building a blockchain-based post-trade infrastructure. The objective is to enable tokenised assets – such as digital securities or security tokens – to realise their potential. Martin Watkins – formerly of EY, Atos Euronext, and Euroclear – is to be Montis Digital's CEO.
Graham Rodford, CEO of the Archax Group, comments: "The potential benefits of using blockchain technology in financial markets are particularly relevant in the post-trade space, where currently there are many intermediaries involved and the whole process can be time consuming and inefficient.
"Blockchain based post-trade infrastructure can reduce settlement times, remove friction, improve efficiency and lower costs – and our subsidiary Montis Digital is building out the technology that is required for this, and crucially is independent of all the other Archax venues, products and services too."
The need
Some tokenised assets are regulated instruments – and fall under securities regulations in their jurisdiction of issuance. Consequently, specific regulations apply – such as the European Union's Central Securities Depositories Regulation (CSDR).
CSDR mandates that ownership of digital securities be maintained in a Central Securities Depositary (CSD) if the issuance is being admitted to a secondary market for trading – such as Archax. Existing CSDs, however, are not digitally native nor blockchain-based. Therefore the full benefits of tokenisation – such as recording ownership 'on chain' or tokens being freely transferable between wallets – cannot currently occur once they are on a secondary market.
Archax and Monte Digital
The above explains why there is a need for new post-trade capabilities. They can underpin the adoption of regulated digital securities around the world. In turn, Montis Digital's DLT post-trade market infrastructure is to be:
blockchain agnostic
available to exchanges and market participants globally.
Martin Watkins, CEO of Montis Digital, adds: "I'm excited to be part of Montis Digital and the Archax Group, working at the forefront of building the next generation of infrastructure for capital markets using blockchain technology.
"Having worked with leading Financial Markets Infrastructure (FMI) providers globally and been EMEIA lead for Exchanges and FMI at EY, I am fully aware of the challenges that exist in the post-trade world, and how new distributed ledger technology (DLT) can be leveraged to revolutionise the ecosystem."
Enterprise Times: what does this mean
Blockchain is gradually making inroads into the broader securities arena. Archax and Montis Digital is more proof of this.
In this context, Archax is a regulated, digital asset exchange and custodian based in London. Founded by people with financial market expertise, it believes it offers a bridge between:
the blockchain-centric crypto community
traditional investment spaces.
Archax is the first-ever firm to receive FCA regulation as a digital securities exchange, custodian and brokerage. It was also the first firm to list on the FCA's Cryptoasset Register as a VASP (Virtual Asset Service Provider).