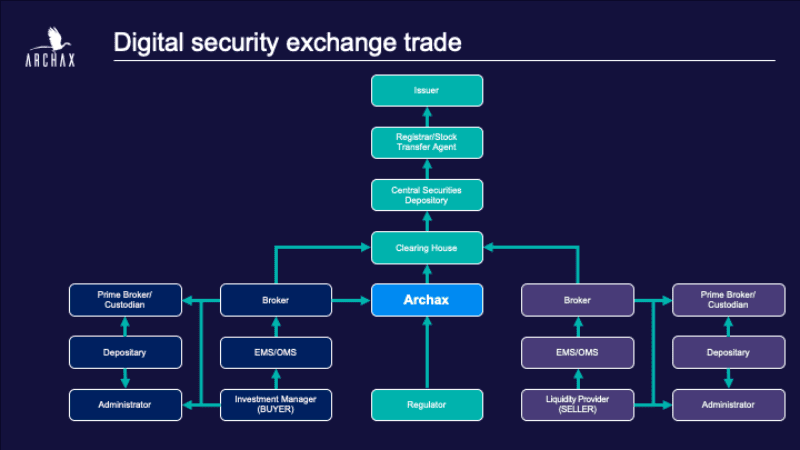 Archax has become an FCA-regulated digital securities exchange and custodian in the UK. Archax believes this is an important milestone for the emerging global digital securities ecosystem. It means digital issuances from across the world will be able to trade on an FCA authorised secondary market. Institutions will have access to a credible regulated trading venue on which to engage with the digital securities space.
David Lester, former Chief Strategy Officer of the London Stock Exchange Group and Advisor and Non-Executive Director at Archax, comments: "In the current global economic climate, providing new, efficient ways for small and medium-sized businesses to access capital is key. Blockchain and tokenisation are innovations that can empower more frictionless and transparent markets which, combined with an FCA regulated exchange like Archax, can deliver what capital providers, business leaders and founders now really need. The launch of the Archax exchange will help bring the institutional and digital asset communities closer together, and open up a new era for the global financial markets space."
The need
Digital securities take real-world assets – such as equity, debt or funds – and tokenise them using blockchain technology. This modernises and simplifies:
the capital-raising process (via disintermediation and removing frictions)
liquidity in assets which are currently hard to trade.
Digital securities also enable democratised participation. This occurs through enabling:
deep fractional ownership
the creation of global secondary markets.
The FCA regulates Archax an SME Growth Market, which means it (Archax) can provide:
new primary channels for capital raising
a secondary market for digital instruments to trade.
The authorisation covers three key areas:
MTF (Multilateral Trading Facility) permissions, to allow it to operate as a regulated digital securities marketplace in London
CASS custody permissions, to enable it to offer a regulated custody service for both digital assets and client cash
brokerage permissions, to allow it to open up to the widest range of participants.
Archax and FCA cryptoasset registration
Besides the FCA approval, Archax has also become (it believes) the first-ever company to receive FCA cryptoasset registration and, therefore, a fully compliant VASP (Virtual Asset Service Provider). The FCA introduced this form of registration earlier in 2020 as part of the amended Money Laundering Regulations (5MLD). It is now mandatory for all cryptoasset firms.
The Archax offering was built by a team with traditional financial market experience. They designed Archax from the ground up to be a global, regulated, digital asset exchange targeted at institutions.
Using matching engine technology and market surveillance from Aquis with R3's private, permissioned Corda blockchain for post-trade, Archax can:
integrate into existing trading workflows
deliver instantaneous real-time settlement
give institutions confidence (because of the FCA regulated exchange status) that all necessary controls and processes are in place.
The issue for Archax – or anyone else looking to create a regulated marketplace – is one cannot ignore regulation for regulated instruments such as securities. It is necessary to cater for the intermediaries that still exist in the traditional capital markets ecosystem. The diagram below presents Archax's view of how this might work.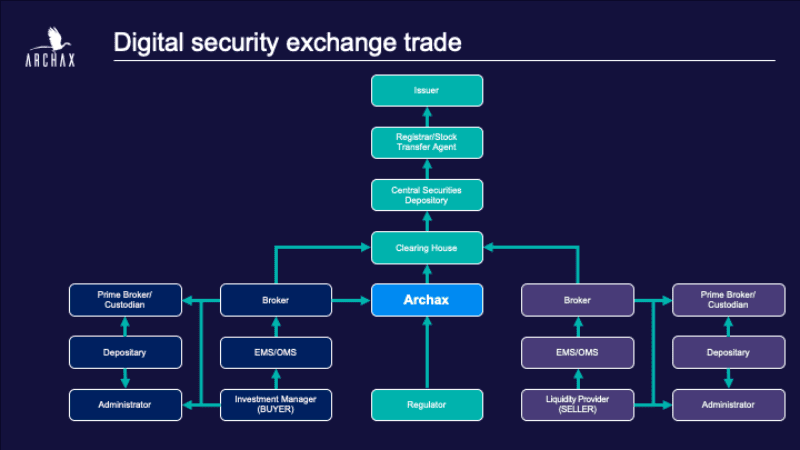 Graham Rodford, CEO at Archax, adds: "We have been talking to the FCA for a while and the application process has been a tough journey, but we are pleased to have now achieved our first significant milestone as we prepare to launch the UK's first FCA regulated digital securities exchange later this year. Our technology partners are second to none, we have a pipeline of 35 digital issuances in place, and we are signing up global brokers and market makers ready for go-live. This is an exciting moment for Archax and a great step in the evolution and legitimacy of digital securities globally."
Enterprise Times: what does this mean
Digitally native assets are not just about new financial instruments. They have the potential to:
revolutionise existing (traditional) financial markets over time
introduce efficiencies by executing activities 'on chain', which should benefit the post-trade actions.
By apparent coincidence, this Archax development is the second digital securities/asset exchange announcement in August 2020 (details of the other one – Exberry/Digital Asset – can be found here). As Enterprise Times commented, the significance is as much about credibility and the specific solution.