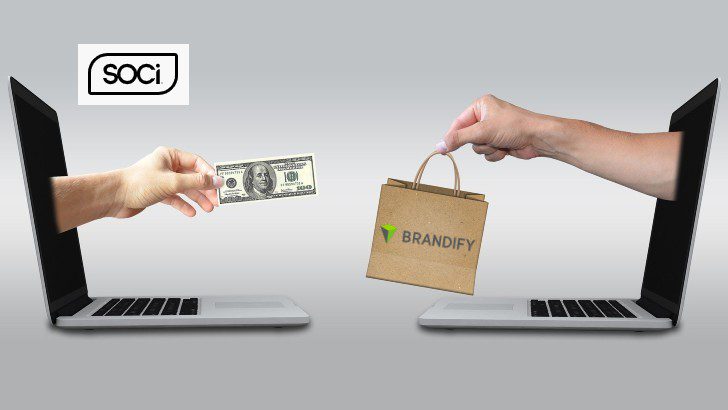 SOCi has acquired Brandify, the industry-leading location-based digital marketing solutions provider that helps brands connect to their customers. Neither party disclosed the terms of the deal. The acquisition was enabled by the $80 million Series D funding round that SOCi completed in January with JMI Equity. It is the first time that SOCi has dipped into the pot for an acquisition. It is also the first acquisition it has completed, according to Crunchbase.
For the SOCi all in one marketing platform, the Brandify location-based digital marketing platform provides a significant addition. What wasn't clear in the announcement is whether the acquisition also includes StreetFight, the digital magazine dedicated to the local marketing ecosystem. Brandify acquired the publication in 2017. StreetFight provided the answer to that question in its coverage of the deal. StreetFight will continue to operate as an editorially independent media outlet.
Dustin Hayes, Head of Marketing at Brandify wrote the article in StreetFight said: "Personally, I'm excited to join the marketing department at SOCi under the leadership of Chief Marketing Officer Monica Ho. The rest of the Brandify team will bring their many talents and years of expertise to new roles at SOCi, and the Street Fight editorial team will continue to provide top-notch daily coverage of industry developments with marketing and sales support from myself and the rest of the SOCi organization."
With consolidation brings strength,
The combined company will operate under the SOCi brand and will serve more than 700 major brands. Its footprint includes more than 3 million store and office locations. SOCI called out that the deal will strengthen its relationships with key partners such as Google, Facebook, Apple, Yelp, etc. Brandify is not a small partner in this deal. It brings more than 4.5 million managed locations and more than 300 clients from fifteen different industries. The discrepancy on the number of locations is not easy to explain. Both the release and the article by Hayes cite 3 million while the Brandify site cites 4.5 million. Brandify clients include companies such as Buckle, Ameris Bank and The North Face.
Afif Khoury, SOCi's Founder and CEO, commented, "We are incredibly excited for this new chapter at SOCi, Over the past year, it has become more important than ever for brands to connect with customers on a localized level. The integration of Brandify's suite of solutions further solidifies SOCi as the leading all-in-one platform for executing the most important digital marketing campaigns across search, social, reviews and ads, helping our clients continue to connect with their customers, maximize their online presence and drive customers to their locations."
Combining the rich location and industry functionality of Brandify and the SOCi platform will provide a powerful tool for organisations. Localised digitalised marketing has increased in importance since the pandemic began. Brands need people to find them as physical casual footfall has decreased. Digital marketing is the one great answer for attracting new customers and retaining existing ones. Brandify can help to power that.
Manish Patel, Brandify's Founder and CEO, commented, "Our deep history and expertise with location-based marketing solutions will be instrumental to SOCi in realizing its future vision. SOCi is the perfect home for the Brandify team and roster of enterprise clients. Our teams have a shared vision and together we are dedicated to helping multi-location brands establish and deepen their connections with customers on a local level. I'm proud of all that we have achieved since Brandify's inception in 1997, and I look forward to supporting the SOCi team as they continue to execute their strategic growth plan and keep the combined company on an upward trajectory."
Enterprise Times: What does this mean
The new, enlarged SOCi, backed by JMI, will become a stronger force once fully integrated. It will be interesting to see how this combination evolves going forward.  SOCi promises to further integrate its solutions with, "CRM, point of sale, rewards and other critical tools and data sets."
Will it integrate? If so, with what solutions? Will it acquire? Will it be acquired? SOCi needs to fit in a larger technology stack. Will it integrate with Salesforce, MS Dynamics, Blue Yonder, Oracle and SAP? Or, could it be acquired by them or another MarTech company?