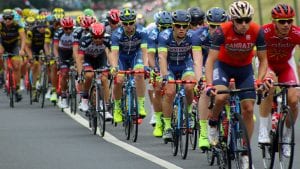 NTT Ltd is to deliver a digital twin of the Tour de France. The company is creating a connected stadium. It will deliver fans a unique set of options to watch and enjoy the race. Over the 21 stages that compromise the 2021 Tour de France, NTT will capture a mammoth 3.36 billion data records. That data will be made available to fans, media, the teams, riders and third-party organisations. It will be the most data ever gathered at a major sporting event.
Peter Gray, Senior Vice President, Advanced Technology Group, Sport at NTT Ltd, commented: "The digitization of the Tour de France began in 2015 by capturing data from the cyclists to provide real-time updates. Every year we have been able to take the technology to the next level, this year we are creating what is essentially a digital twin of the event. It's a highly dynamic and changing environment that requires immediate access to information to ensure continuous and smooth operations, resulting in more informed and engaged fans."
What will NTT deliver?
The company has detailed five digital experiences that it will make available to fans. It includes:
Race Center – the official live tracking site that provides race updates, including rider live tracking data on letour.fr and on the official Tour de France Mobile application
LeTourData – data-driven insights and AI predictions on Twitter, Instagram and TV broadcast
3D Tracker – an immersive augmented reality app that provides 3D views of the stages
Tour de France Fantasy by Tissot – a fantasy sports game integrating data insights and machine learning (NTT predictor) to provide insights on the riders to watch
NTT Media Wall – a rich media display at the race villages featuring data insights and visualisations from LeTourData, and live race updates
Race organisers and teams will also have access to the data that NTT is collecting. It said: "In another first for 2021, NTT will use real-time analytics at the edge to provide immediate race data back to official race vehicles. This will deliver a live overview of the race situation, even in remote areas or the high mountains."
This data will supplement that data already gathered from biometric devices worn by the riders. It will enable the team strategists to have multiple streams of data to plan their tactics and stages.
How much data will be streamed
Enterprise Times asked NTT several questions about its plans for the Tour de France. We wanted to know how it was gathering the data. It said: "GPS sensors are mounted under the saddles of all 184 riders. They transmit speed and position every second, resulting in an average of 3 MILLION readings per stage per rider."
The weight and reliability of those sensors will be important. They will need to last for an entire stage with no requirement to change batteries. They will also have to be resilient. The Tour de France riders encounter almost every weather condition there is across the various stages. In addition, no rider will want to be carrying excess weight. NTT said: "The sensor weight is under 100 grams, which includes a durable housing, GPS chips and a battery that can last at least 8 hours."
How many data points can each sensor deliver?
"The raw sensor data is augmented with 53 calculated attributes in real-time by our streaming analytics platform including gradient, weather data, group calculations, time gaps etc., creating a rich data set that we can leverage in interesting ways.
"In simple terms, each data sample from a bike becomes 53 enriched data records, turning our 3 million readings per stage into nearly 160 million data records per stage.
"Our machine learning models have been trained using over 300 million historical records, and our stage favourite prediction includes a matrix of 150,000 decision trees to make the prediction based on 31 different factors"
What other technology is NTT using?
As any organisation using digital twins and IoT knows, it is easy to be overwhelmed by high volumes of data. What technology is NTT using to do the data analytics during the Tour de France?
"We use a real-time streaming analytics platform that is able to process the data in flight, and ensure extremely low latency. This platform has been developed by NTT leveraging a number of open source products.
"The analytics platform has been developed to run in containers, allowing us to deploy in the cloud, but also use the same platform to run on edge compute units.
"In addition, we use a range of analytics tools and machine learning models to provide live race insights, predictions and visualisations."
One other technology use will be selling the data to those companies providing fitness bikes for training. It will allow people to replay every move, every decision, every acceleration from the riders and compare themselves to that.
Stopping Tour de France data from being abused
Like any major sporting event, there is a lot of room for data misuse and abuse. One of the biggest is spot gambling on the race. The level of real-time data will be of interest to gambling syndicates. What is NTT doing to prevent the data from being misused?
"NTT works closely with ASO [Amaury Sport Organisation] to determine who should have access to which information.
"Access to the raw data, and data services API is secured, and limited to approved parties including the broadcasters, official application providers, and the cycling teams."
Enterprise Times: What does this mean?
There is a lot to admire about NTT's ambition here. The number of data points, the analytics, the applications and the use of the data is spectacular. However, there is also a serious business point to be made. Like other technology vendors involved in major sporting events, NTT will see this as a chance to showcase its capabilities.
In this case, those capabilities are around IoT/IIoT, advanced analytics and digital twins. One of NTT's areas of focus is cybersecurity. Large enterprises gathered significant amounts of data from across their systems daily. It is not unlike the amount of data points NTT will collect during the Tour de France. What NTT is doing is showing, however, is that it is the right partner for those cybersecurity teams to help them analyse that level of data.
NTT is also focused on OT systems where information from sensors, often in remote locations, is critical. Being able to demonstrate small, lightweight, resilient and battery-friendly sensors is a boost. There is a lot of interest in sensor technology in logistics and in automotive. It is not clear if NTT developed and designed these sensors. However, its ability to build systems that work with them will be of interest to customers.
Putting all that aside, for fans of cycling and the Tour de France in particular, this year's digital experiences promise to deliver a feast of excitement.