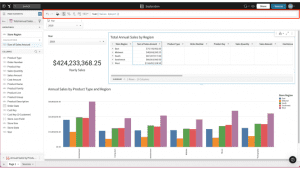 Sigma has announced Workbooks, the next iteration of its analytics solution. There are many approaches that analytics vendors are taking. Some are focused on providing data analysts with tools that appeal to their data science knowledge. Some vendors look to move workers away from spreadsheets and towards dynamic, interactive visual interfaces.
Sigma aims to strike a middle ground. It will appeal to many happy and experienced spreadsheet users. It provides a simple user interface and the ability to build complex analyses with data governance.
Introducing Sigma Workbooks
Workbooks provide the next generation of solution that combines the functionality of existing products of Worksheets and Dashboards. It enables users to extract data from numerous sources, analyse that data and share those insights collaboratively across the organisation.
Rob Woollen, Sigma Computing Co-founder and CTO, commented: "Sigma has solved the data access versus control conundrum that IT and data teams have been grappling with for years. With a data exploration and analytics interface that is similar to a spreadsheet, Sigma Workbooks meets knowledge workers, like operations, finance, and marketing teams, where they are when it comes to analytical skills and empowers them to find the answers they need to make decisions quickly.
"Sigma Workbooks also gives some much-needed time back to data and BI teams so they can focus on larger initiatives, curating data sets, and supporting the data needs of business teams behind the scenes."
Enterprise Times spoke to Woollen about the announcement asking him whether Workbooks will replace Worksheets and Dashboards.
Wollen replied: "We expect users to at least for the next year have both available. Over time, we expect the transition fully to workbooks, but there are no plans to remove worksheets or dashboards."
What is Sigma Workbooks
Workbooks allows users to connect to multiple data sources easily and then interrogate that data in real-time. Users can apply simple and complex formulae to enhance that data further. With a real-time link to the data warehouse, calculations are carried out by Workbooks instantly. It can also calculate millions of rows of data almost instantly. Woollen described Workbooks as a: "workspace for data-driven people. It's this idea that you can get into the data, start working with it yourself and get instant feedback."
The dynamic interface allows the user to sort, filter and group data quickly and easily. Importantly a dashboard can contain both a graphical and data view of the information. Users can create their formula on the fly for an unlimited amount of data. They can also provide a narrative against the insights they uncover and then share and collaborate on them.
Elements included within Workbooks includes visualizations, tables, pivot tables, controls (e.g. sorting, grouping filters), text, images, spacers, dividers, embeds, and buttons. Eahc of these elements a user can deploy on a canvas and share.
Workbooks can also work as an embedded solution using iframes with an overarching security layer to prevent unauthorised access. Sigma Workbooks differs from many other analytics software because the end-users can be granted access to a full "Explore" experience even when using it whilst embedded. Woollen explained this as: "They can do things like build their own formulas, they can change things, they can calculate new things. They now get the full sigma experience brought into any other interface."
There is a guided tour that helps to helps a rapid return on the investment. It enables users to quickly connect data sources, start creating data sets, apply a formula, and create graphical visualisations using canvases.
On the future
What is on the roadmap for Workbooks?
"I'm very focused on collaboration and performance—this core notion in Sigma of being able to come into a Workbook and ask questions. Fundamentally, you're going to be working with other people. You want to make that as a fast and iterative experience as possible. Those are the levers and focus that  I want.
"If we can get to the point where we can say,  these 1000s of people that are active in your company looking at data, and they can actually ask not just the first level questions but can sit there and ask the second, the third, the fourth, and spend their time digging deeper and deeper. That's still the North Star of the company and what I'm always focused on."
You mention collaboration; how will Sigma integrate with Teams and Slack?
"We do a bit today. So we offer the ability to bring things into those collaboration platforms. There's definitely an opportunity there. There's always an interesting debate of how deeply to integrate versus how loosely to integrate. That's certainly an area of interest for us."
What about a natural language interface?
"We don't, we have search. We have the ability for people to express complex things in formulas. Our focus is generally trying to answer questions about (sales) demand plans and those types of things. Systems are not at a point where you can say, give me the right strategy for iPhones. What we want to build is something where people can have the expressiveness of a spreadsheet, and that's our focus."
Enterprise Times: What does this mean
There is an ongoing debate about whether spreadsheets are needed. What Workbooks delivers is an analytics solution that enables users to apply their spreadsheet knowledge within a tool that has few limits. It enables data user to have secure and bounded access to a company's data lake. Users can ask that data business questions in a familiar yet modern interface without any coding. While this means that Sigma does not present the data science algorithms that some data scientists might want, a wider set of people can use it.
With the ability to leverage data sources such as Snowflake and other data warehouses, customers feel that Sigma is making a difference. Agero Senior Director of Data Science and Analytics Michael Bell commented: "Sigma Workbooks has supercharged our ability to analyze millions of rows of live data. We began using Sigma almost two years ago and were immediately impressed with how quickly authorized teams throughout the company were able to pick up Sigma and use it to find what they needed, when they needed, without much or any help from the BI team.
"Sigma helped us finally eliminate the BI bottleneck that had been holding Agero back and enabled us to achieve the data-driven, self-service culture we've been striving for while adhering to the governance constraints our clients needed. Sigma Workbooks improves on an already great cloud-scale spreadsheet experience and has introduced a new level of agility to both our analytics and decision-making."