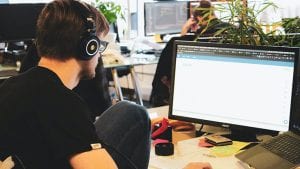 Huntress has raised US$40M in a successful series B funding round led by JMI Equity. It plans to use the money to expand its cybersecurity program and add new capabilities. This funding comes 15 months after it raised $18M in a Series A funding round. That money was used to support the launch of the Huntress Security Platform.
Kyle Hanslovan, founder and CEO at Huntress, said: "Until small businesses and mid-market firms can improve their security posture, they'll remain prime targets for attackers.
"We're seeing evidence of that every day—in large-scale efforts like the exploitation of Exchange servers, and via the constant barrage of 'normal' malicious tactics hackers use to infiltrate businesses that are unprepared to launch a counter-response."
Huntress increasing support for SMBs
The Huntress Security Platform is a Software as a Service (SaaS) offering. The company supports the platform through its own ThreatOps team that focus on attacks missed by traditional endpoint security software.
It is used by Managed Service Providers (MSPs) and Value-Added Resellers (VARs) to support small to mid-sized businesses (SMBs). In January, it acquired Level Effect, an endpoint detection and response (EDR) vendor. A few days later, it launched a beta of its own managed EDR service aimed at SMBs.
Targeting SMBs through MSP and VAR channels makes sense. Both channels have been building out their managed offerings to the SMB market. What Huntress is doing is giving them additional tools such as EDR and threat detection capabilities.
Enterprise Times: What does this mean?
This is yet another funding announcement for a cybersecurity company in a year when all records for investment are set to be broken. Unlike many companies in this sector, Huntress has chosen to only sell to channel partners who offer services based on its products. It's a smart move as it allows the company to focus on threat detection and tool development. Its partners get to build the user base and deliver remediation to end-user devices.
It has also focused on those partners who are supporting SMBs. These makeup over 95% of all companies, which means there is plenty of business for Huntress' MSPs and VARs. The question now is, what will it do with this money?
The most likely options will be to strengthen its platform with new capabilities. Whether those will be developed internally or through acquisition is a different question. Its acquisition of Level Effect to help deliver managed EDR has already added new capabilities to the platform. In addition, it has added managed Antivirus for Microsoft Defender.
Its next move might be to acquire a company with cloud security tools. SMBs are moving to the cloud quickly and often with little to no experience. They struggle to balance security across their on-premises and cloud environments. It will also allow its channel to widen its appeal to SMBs.
Another option might be to expand its ThreatOps team to enable it to detect and respond faster to new waves of malware targeting SMBs.