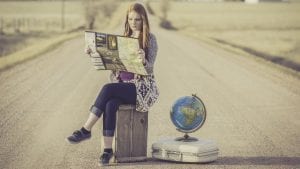 Oracle has announced a new update for Oracle Fusion Cloud Human Capital Management (HCM). The release builds on Oracle Journeys' capabilities launched in its Fall 2020 release and further updated as part of the Employee Care Package it updated earlier this year. Customers can now create and tailor their own Journeys to deliver personalised workflows that can guide employees through different business processes.
Chris Leone, senior vice president of development, Oracle Cloud HCM, commented: "With our homes doubling as offices over the past year, we've grown accustomed to the way technology improves our lives as consumers, and employees want that same experience at work." 
"As offices reopen, it will be critical to provide consistent and positive experiences both in the office and for remote workers – but it doesn't stop there. Organizations need to provide guidance throughout an employee's entire career, from training to finding a mentor, returning to the workplace, and eventually traveling safely. Oracle Journeys will help HR teams provide value beyond traditional HR processes by tailoring unique experiences for their workforce."
As the remote work looks set to continue, HR teams' ability to automate processes easily is important. It will enable them to spend more time on strategic thinking and decision-making rather than mundane administration. The enhancements to Oracle Journeys aim to facilitate this.
What is new for Journeys
There are three new components of Journeys. Enterprise Times spoke to Emily He, SVP of HCM Marketing, Oracle, about them.
Journeys Launchpad
Journeys Launchpad is a new dedicated portal that enables employees to locate, begin and share different journeys according to their needs. Managers can assigns journeys to employees, for example, an onboarding journey.
Over time the AI-enabled software will recommend a journey based on the employee's actions without the need for specific intervention from a manager. For example, if an employee is promoted to a position of responsibility, they may be prompted for a management training journey. The Journeys are available on any device, including desktop, mobile, chat applications, or Oracle Digital Assistant.
He explained how employees get access to journeys, saying: "One is through managers assigning journeys to employees. If I have a manager with an employee working in one location and the office is opening, and I have another employee where the office is not open, they would need to have two different journeys. As a manager, I can make that tweak. I can assign separate journeys to different employees.
"When we talk about AI-driven, this is very much the power of having a system of record like Oracle underpinning the Journey because in our HR profile, not only do we track location and basic demographic information, we also track people's skills, their career aspirations,  their job function, and their feedback from the community. Based on that information, and looking at what journeys other people who have similar profiles may be consuming, we can recommend journeys to you."
Journeys Creator
In the past, administrators have been able to create journeys themselves. Enterprise Times asked He what is different about Journeys Creator.
"It's a better version of what they had. It is also supported by what we call the Journey Booster. Before, we had a design tool that allows HR to edit a pre-populated journey. A Journey is nothing but a sequence of steps. You can now add, edit and  remove tasks."
Importantly those tasks can involve steps from across the Oracle Cloud Application portfolio. It can contain steps that move from HCM to Finance. For example, Manage My Expenses does just that. The system already includes several Journey templates that administrators can modify to fit their organisation's processes. They include Onboarding, Return to the Workplace, Parental Leave, Relocation, Illness or Injury, and Return from Leave.
Journeys Booster
The new Journeys Booster feature enables organisations to create Journeys that extend beyond Oracle Cloud Applications' boundaries. It does this by leveraging the Oracle Process Cloud to integrate with third-party applications using its low-code interface. This means that no matter what third-party application the organisation may use within its HR function, Journeys can now provide a single point of interaction. An organisation can create a single experience for new employees that controls a process through HR and ITSM solutions within a single experience.
Extending the platform and creating a marketplace
Where journeys were originally useful additions for HR teams, they have taken a massive leap forward with this announcement. The Launchpad seems to provide a marketplace for Oracle. At the moment, all Journeys are provided free as part of core HCM. Oracle has also created all the listed Journeys. With Journey Creator now available, that seems about to change. He explained what Oracle is considering saying:
"Now, because we're setting it up as a platform, we're expanding the sourcing of journeys. Instead of Oracle always creating the template, we're also asking customers what kind of journeys they would like to see and whether they want to work with us to co-create the Journey. So we can have a best practice journey set up and publish that on the platform and then HR teams can take that and tailor that to their individual organisations."
Launchpad is not a marketplace yet, though. Enterprise Times asked whether customers and partners can share or resell journeys?
"Currently, Oracle needs to publish a journey template. But in the future, we may change that. We're very much talking about a journeys marketplace. We want to see if we can have more people involved in creating these journeys."
Enterprise Times: What does this mean
He did not confirm that Oracle would open up the marketplace, either for customers and partners to add new applications. Nor whether it would look to monetise the platform. The former seems likely though partners may be reluctant to share their intellectual property without some monetary gain.
Regardless, customers are excited by the prospect. It will enable customers to share applications internally if they run a decentralised HR function. Jacely Voon, General Manager, human capital & corporate social responsibility, Fujifilm commented: "The needs and expectations of employees have changed drastically. Now more than ever our workforce needs personalised guidance, support, and motivation. Oracle Cloud HCM provides a single HR platform that allows us to better manage our teams and keep up with their evolving expectations. No matter what further changes we see in the workforce, we will be ready to deliver a positive employee experience for our 14,000+ team members across the region."