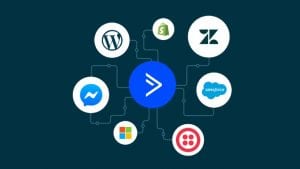 ActiveCampaign has added several major technology applications to its app integration ecosystem. The new additions include Tech giants Facebook Messenger, Microsoft Dynamics 365, Twilio SMS, and Zendesk. These integrations enable ActiveCampaign customers to create personalized customer experiences at scale. More than three-quarters of ActiveCampaigns 130,000 customers already use at least one integration on the platform.
Jason VandeBoom, founder and CEO of ActiveCampaign, commented: "Using the right tools for your business and customers is fundamental to our vision for customer experience automation. We are making the tools that growing brands are using more valuable while connecting them to technology that is fueling their success. The fact that more of our customers are using our library of integrations is a testament to the value of this mission."
ActiveCampaign has around 320+ integrations, according to the press release. The integrations include some of the most popular applications such as PayPal, Salesforce, Shopify, Slack, Stripe, and WordPress. The most commonly used applications include WordPress, Shopify, Facebook, and Salesforce, with the ten most commonly used integrations utilised by over 45,000 customers. This is an increase of 45% since September. It is an indication of how companies build best-of-breed software ecosystems within their organisations.
What are the new integrations for ActiveCampaign?
The well known new integrations include:
Other new integrations include:
Enterprise Times: What does this mean
ActiveCampaign is rapidly filling out its ecosystem with partners ensuring that marketing and sales leaders can leverage their tool of choice and orchestrate marketing and sales campaigned from ActiveCampaign. Brett and Ashley Nobles, founders of Your Income Space, commented: "We are so glad that we selected ActiveCampaign from day one. With an affordable, user-friendly interface and the ability to seamlessly integrate our tech stack, it's allowed us to grow with ease and to speak to our customers in a way that drives conversions while also letting them know that we care about them."
It is not just about having the integrations in place, though. The recently enhanced App Studio enables developers to create the apps and automation that extends ActiveCampaigns CXA platform's functionality. While the app listings provide search and segmentation information, they do not offer any reviews or indications about how many customers use the integrations.
For customers wanting to extend their  ActiveCampaign solution, there is no way to pick a popular solution. For example, there are over 80 "eCommerce" solutions listed. Strictly speaking, these are not all eCommerce solutions, and there is no easy way for ActiveCampaign users to identify whether they are popular or how they add value.