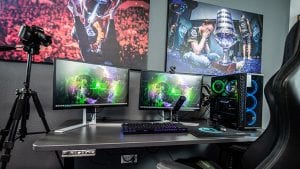 Messaging platform Discord is considering putting itself up for sale, with Microsoft currently considered the most likely buyer. The deal, which Bloomberg says could be worth more than US$10 billion, is far from done at present. However, Microsoft seems to be in pole position as it is believed to be in exclusive talks with the company.
Selling out to Microsoft is just one option that the company has. Another would be to seek an IPO. The challenge with this second option is that the company has yet to show significant profits, making pricing complicated.
Why would Microsoft want Discord?
It's simple – gamers. Discord has created one of, if not the largest, chat platform for gamers. As such, it would be a great fit for Microsoft's Xbox division.
Discord offers a feature called Nitro which allows people to boost their chat servers with a variety of features. It includes everything from better Emojis to allowing bigger uploads and HD Video support. In gaming groups where people often stream their games, boosting a channel with Nitro is a popular option.
The feature would also allow Microsoft to offer subscriptions or other bonuses around Xbox. But in doing so, how would it cope with non-Xbox games? Discord has thrived because it is agnostic of gaming vendor. It is also not limited to chats around the major gaming platforms.
Many of the growing board game companies have built their own servers and communities on the platform. It allows them to push details of new releases and run walkthroughs of new releases and existing games. Some use it as a pre-Kickstarter channel with streams about upcoming campaigns to engage their potential customer base.
Discord is not just about gaming
While gaming was the original focus of Discord, it has become much more widely used. Many security conferences now use it as their online presence for their communities. The ability to create channels, manage users and create content monitoring systems works well. The same is true for other groups of individuals. They can set up their own server and build their community from there.
The question here is, what would Microsoft do to monetise those groups? Pushing ads into those groups would be a quick kill moment for many who would look for an alternative platform. Going through the various communities to harvest data to improve off-platform marketing would also be bad optics for Microsoft. Without these options, Microsoft seems to have no benefit for engaging with the platform to gain access to these users.
Or does it? Moving Discord to Azure would give Microsoft an immediate sales opportunity. It could add in a range of features such as more bandwidth, faster video, increased storage. These would appeal to many groups already there, especially those who are using it as a conference platform.
Who else might bid for Discord?
This is the big question. Like Microsoft, Sony and Nintendo already have their own online communities, and any move for Discord would raise questions over support for competitor platforms.
So what about companies with no-gaming credentials? Ever since Salesforce snapped up Slack for an eye-watering $27.7 billion, messaging apps have become a target. Microsoft and Oracle both wanted access to TikTok, although that was potentially more about potential earnings from cloud services than anything else.
Companies in the conference business might be one alternative. Most have been decimated by the collapse of in-person conferences over the last year. Few have done well to build out a replacement platform. Instead, their market has been taken away by other collaboration apps such as Zoom, Teams, WebEx et al.
Acquiring Discord would allow them to get back in the game as we wait to see how in-person recovers. This year, a hybrid experience is expected to be the norm, with a large online presence still part of the mix. Having a proven platform that has enabled many conferences to survive makes sense. However, there is still likely to be a need to do more in building out the infrastructure.
What about Amazon, Epic, Apple and Google?
Like Microsoft, Amazon, and Google could see this as an opportunity to sell cloud access. Both are capable of matching anything Microsoft can offer in terms of cloud features and capabilities. Both would also be able to play the gamer and conference agnostic card to avoid marginalising any specific community.
Bloomberg reports that Discord has also spoken with Epic Games. It is currently involved in a major row with both Apple and Google about in-app payments around its games. It is a situation that is only likely to be resolved through long and complex lawsuits. However, acquiring Discord would give Epic a new direct route to gaming communities, one that it could look to expand. However, if it went that route, just like Microsoft, it would have to convince other gaming communities, it would treat them equally.
That leaves Apple the company with the deepest pockets. It could certainly afford to buy Discord, but it would then have to commit to supporting the Discord app across every other platform out there. That should be no problem for Apple, but what would its end game be? Where would it monetise that community? At present, it's hard to see any obvious answer to either of those questions.
Enterprise Times: What does this mean?
What is not clear here is the imperative for Discord to sell to another vendor. It has done very well during the pandemic and built a very large following. If the goal here is simply monetisation, an IPO might be a better alternative. However, that comes with a range of other risks and the challenge of pitching the initial valuation in such a way as to allow the current founder to make the most money.
It could also be that this is just another fishing expedition by Discord as it seeks to understand its value in the market. There is nothing wrong with that but opening exclusive talks suggests this is much further on than just "what are we worth".
At present, neither Discord nor Microsoft is replying to emails about this possible deal.