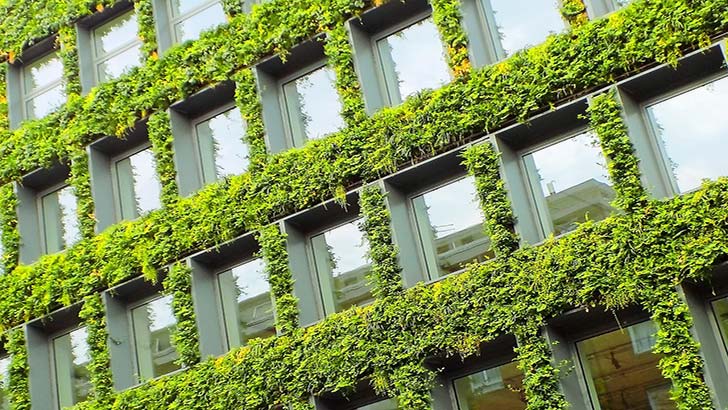 With a newfound focus on environmental and social responsibility in building design signalled by the Government's £3bn green investment package, there are clear efforts underway to improve the impact of our buildings. Yet, the sector still accounts for 40% of the UK's carbon footprint. To meet the 2050 net-zero carbon goals and deliver a social impact fit for 2020, we must turn to innovative solutions to reduce the carbon footprint of buildings and construction.
This could range from integrating artificial intelligence (AI) into the design process, to introducing nature into the fabric of structures. Architectural technology can play a significant role in maximising the positive impact of future construction projects.
Learning from nature
In the coming years, AI will offer architects vital support in reducing the environmental impact of new buildings. AI will help them to make more informed, time efficient design choices requiring fewer resources.
Genetic algorithms, in particular, which use machine learning to replicate the process of evolution for designing buildings, hold promise. These metaheuristic systems, inspired by Darwinian natural selection, can pinpoint the best factors for success and continuously 'evolve' the design to find its best form. Much like in nature, utilising this nonlinear process allows for the exploration of a vast number of outcomes that could uncover better solutions.
Most recently, genetic algorithms have been used by the furniture industry to review and optimise production processes. However, these can be applied to an extremely varied array of problems, from energy efficiency to modular construction. By using genetic algorithms more widely in architecture, we can create spaces that meet modern standards with far greater precision than relying on current best practices.
Walls that breathe
Transitioning to greener energy sources has enabled the UK to cut its CO2 emissions by more than a third since 1990. Now architecture, engineering and construction (AEC) must seek further improvement by looking beyond typical renewable energy and green construction methods.
Living walls, which incorporate natural organisms into the building materials of a project, is one advancement to consider. At astudio – the first UK architecture firm to purchase an algae machine from US pioneer Sustainable Now Technologies – we designed a method of skinning building exteriors with algae compounds. These compounds take CO2 from the atmosphere through carbon sequestration, and, once it has grown, the algae can then be harvested to provide a sustainable source of biofuel.
Using living walls, we can make our buildings truly green and self-sufficient. Introduced at scale, they could be a solution to offset carbon emissions in our cities by producing heat and electricity, greatly reducing energy costs for new and old structures.
Care for the community
The power of VR and real-time rendering tools in making the design process more open and collaborative cannot be overstated.
At astudio, we use the virtual reality visualisation plugin, Enscape, to model, tour, and adapt designs in real-time. Not only do such tools enable greater collaboration between those involved in the design process, but they also enable stakeholders to engage with the consultation process in a far more interactive way. For example, in our residential and regeneration projects; through VR walkthroughs, residents can immerse themselves in a fully rendered model of the project before work begins. The community can then provide feedback, informing the design of spaces and improve the social sustainability of their project.
While it is important to address environmental concerns, creating buildings that are fit for living must remain our primary focus, particularly so amid the spiralling housing shortage. By seeking feedback from those closest to the project, we can create solutions that balance both the environmental and social impact.
astudio's Desborough Road project, for instance, will provide 70 new units in High Wycombe for homeless families. Not only has the environment been considered by increasing insulation, and reducing heat loss and air infiltration, but it has also been situated near to local healthcare and education services to improve quality of life for residents.
The modular revolution
A third of local authorities missed their house building target last year. Projects like Desborough Road, built using modular and other offsite construction methods, will be vital to overcome a housing shortage thought to be in excess of one million homes.
With modular manufacturing, elements of a building are constructed in factories and then transported to the site for a quick assembly. Indeed, modular has significantly shortened the construction time of astudio's Sugden Way project, which will deliver 13 new homes in Barking later this year, by 50%. However, modular is not only beneficial to the efficiency of the project, but also greatly reduces the environmental impact of the build, requiring 67% less energy than traditional construction on average.
These reductions serve to show what is achievable by embracing innovation. Now, AEC must show a willingness to adapt, and implement emerging technologies that will help to improve the environmental and social impact of our current and future buildings.
---
astudio is an award-winning, design-led practice, leading its field in design for manufacture with offices in London and Lisbon. At the cutting edge of innovation towards solving the pressures of our modern built environment, astudio are pioneers in the use of modular construction  to address the UK's housing crisis through its off-site prefabricated volumetric solution, 'amodular' and have developed a concept for 'living wall' technology in collaboration with Brunel University. astudio is committed to delivering high-quality innovative architecture in a wide range of sectors – characterised by strong conceptual thinking, enduring and sustainable design and collaborative working. It is an RIBA award winner and only five years since its foundation, it won Building Magazine's coveted Architectural Practice of the Year in 2012.
Their projects span civic and cultural sites, commercial property, conservation, health, education, retrofit, residential and masterplan development. astudio also encompasses an industry leading R&D arm, and most recently has expanded its focus on landscape architecture.