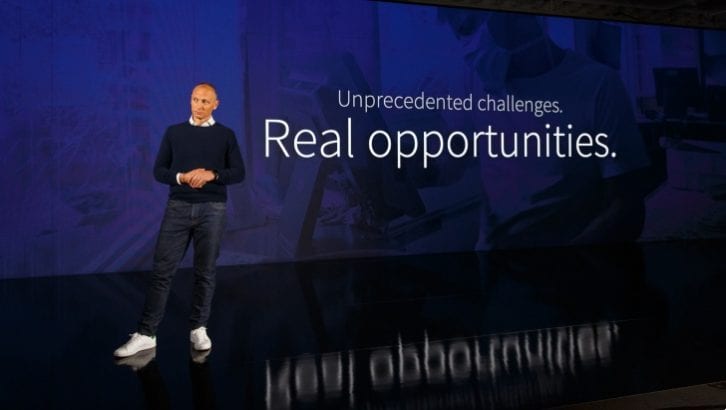 Amanda Jobbins has joined Infor as its new CMO. Jobbins first week was spent on the annual Inforum conference where she will have had the opportunity to learn about Infor quickly. As the event was virtual, it would not have created the same opportunity as the physical event would have though.
Jobbins joins the company having spent the last four years at Oracle where she was CMO & SVP Digital Demand & Business Development EMEA & JAPAC. She was previously CMO EMEA at Dell and Global CMO at Sage. Before that, she held senior marketing roles at Cisco, Symantec, McAfee, IBM and BMC. Enterprise Times asked Kevin Samuelson, CEO in an interview this week about the appointment.
"When we put down the characteristics that we were hoping to pull together for a CMO, she checks all the boxes. She's done it at scale and internationally. She's worked through SaaS transitions and worked with the tier one market, the SMB market. She is also a great down to earth person and really works well with all the teams that we have."
While Infor did not issue a press release about the appointment, Jobbins did introduce herself during the Inforum keynote saying: "It's fantastic to be here for the first virtual Inforum events. I couldn't be more excited to be sharing this with you and with our customers and partners from around the world. Thanks very much for letting me be a small part of it, and I'm looking forward to meeting as many of you as I can in the coming months and years. "
Time for change?
Marketing within Infor has struggled in the past, sometimes with limited budgets. It has gone through several CMOs in recent years. It has also struggled slightly for brand awareness at times in certain markets. Many people still remember Movex in Europe and Lawson in the US and Baan in both. That has been changing as the CloudSuites rolls out to customers. It also appears as though the internal attitude to marketing is changing as well.
Samuelson added: "The notion of a CMO and the importance of marketing with Infor is significantly greater than probably any time I've ever been here. We obviously had to be pretty heads down and focused on building products and winning those first lighthouse accounts. Now that we have this momentum, this feels like a time that we should be leaning more heavily into marketing which is something we haven't done that much in our history. She's a perfect person to help us scale that up and, and think about marketing differently."
Rob Pickell, CMO, Mavenlink recently spoke about the three key components of Marketing SaaS: product, the marketing engine and brand. ET asked Samuelson whether there is a priority for Jobbins?
Samuelson answered: "In product and demand gen, you can probably have an impact more quickly. Brand is a harder nut to crack. In enterprise software, it's probably the hardest thing to affect. Certainly, all three are in focus. I would suspect you'll see more impact on those other things before brand."
Enterprise Times: What does this mean
Samuelson has found an experienced and remarkable leader to head up the marketing function. He has done so at a time when it appears as though Infor may increase its spending on marketing. If that is true, it may have been one of the reasons that Jobbins joined. As Samuelson noted, she has worked across many of the different domains that Infor operates in. It will be interesting to see how the Infor messaging evolves over the coming months.