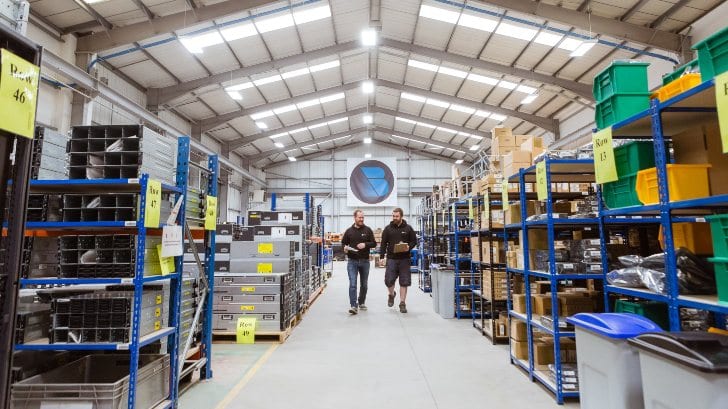 UK firm Techbuyer has achieved phenomenal growth, made easier with an implementation of NetSuite by FHL Cloud Solutions. Techbuyer is a global leader in the buying, refurbishing and selling of data centre equipment, including servers, memory and storage. Founded in Harrogate, Yorkshire, England by Kevin Towers it has grown from a two-person operation to more than 180 with offices in seven countries on three continents. That growth has brought challenges, especially with its back end systems. As the company grew, it implemented a Sage 200 system for each new location. As it grew to multiple locations, it needed a system more able to scale. To find out more Enterprise Times spoke to Rich Kenny, Group IT Director at Techbuyer.
The selection
With growth came complexity, as Kenny explains:
"We used to be a business where everyone knew everything. Our processes were simple, and it was easy to keep a handle on what was going on with sales, visibility of stock, product prices or financial performance. We were experiencing growing pains as we scaled beyond the capabilities of our original systems."
As the company expanded, it had three clear strategic objectives that it wanted to accomplish and maintain:
To purchase used technology equipment more quickly and opportunistically in key locations.
Ensure that 99% of orders reach customers the next day.
Keep a more accurate stock inventory of more than 225,000 parts across its main trading regions of Europe, the Americas and Asia-Pacific.
At it started its search Kenny explain what Techbuyer was looking for in its new solution.
"A global view of all our operations. We moved into new three countries in three months and have two separate parts of the business which did not exist a year ago. We needed to be able to customize and scale to match our pace of innovation and growth."
The company reviewed several applications including Salesforce, SAP, Microsoft Dynamics, and Sage as well some smaller specialised solutions. In all, Kenny looked at 30 different companies before reducing the number to a final three.
Why did Techbuyer choose NetSuite?
"It matched where we were at the time. It was customizable but feature-rich. As a cloud product, NetSuite works anywhere in the world as one platform. NetSuite also allows us to 'switch countries on' as we grow, with the platform managing worldwide currencies seamlessly, and easily providing data for analysis and group reporting."
The Partner
Alongside the selection of NetSuite was the choice to work with FHL Cloud Solutions. FHL is a leading NetSuite partner, partner of the year in 2018 and part of RSM. Kenny explained why, saying: "They were a good fit for how we operate. They were big enough to have a wealth of expertise, but small enough to be responsive and care."
Importantly, during the month-long planning process FHL impressed. Kenny added: "FHL understood our business challenges from the off. With the team's extensive experience of NetSuite, they quickly showed us how we could realise our growth and profitability objectives, working collaboratively with them."
The project
Once the costs and timelines were locked in the project started in earnest, scoping and implementation took only ten months from pre-selection through to implementation. FHL delivered the project within the original schedule. Enterprise Times asked what the biggest challenge was during the migration.
"The data coming from multiple instances of Sage (which turned out not to have unique identifiers), hundreds of spreadsheets and lack of clarity around some functions. Also, training people and developing new processes and procedures while implementing this globally in 1 day."
This challenge will be familiar to many. What is notable is that FHL completed its task on time. Moving from a legacy solution is never straightforward, and the project seems to have gone well. Once completed Techbuyer had implemented:
NetSuite OneWorld
Inventory Management
Financial Management
Fixed Asset Management
Advanced Electronic Bank Payments
As with most NetSuite projects, Techbuyer also wanted to, and is now in the process of integrating several other applications. These include:
Techbuyer also integrated the NetSuite solution to its bespoke PIM application. Kenny commented: "We're delighted with the positive impact our new systems are having on our business performance. And with the ongoing support, we're receiving from FHL, we're confident the value gained from our investment will continue to increase."
Benefits
Now complete, has the NetSuite solution delivered against its objectives? Techbuyer has improved order fulfilment and inventory management. It has leveraged NetSuite Oneworld ability to expand the company across new borders quickly. It highlighted four key benefits:
Techbuyer is now able to see every part of their business from a single pane.
Order Fulfilment. Techbuyer is still achieving a 99% next day delivery objective despite a 20% increase in customer orders.
Real-Time view of the organisation. This real-time view of operations enabling faster evidence-based decision making.
CSR impact: Techbuyer is committed to UN sustainability. Using NetSuite, it can now accurately report performance against its KPIs. These include diverting five million tons of technology away from landfill.
Looking forward and looking back
Enterprise Times asked Kenny if he would have done anything differently in the project. He answered: "We had a genuine hard deadline for our financial mid-year in order to align our international operations. If I could have, I would have taken this slower. We needed to manage some of the functions better and get key stakeholders to take ownership rather than just consulting with them and training them. I would also have spent even more time on the data. If it were possible, I would have done soft implementations of functions rather than complete business change globally in 1 day."
FHL helped Kenny to deliver a significant change to the business in a timely fashion.
Stretching out an ERP implementation is rarely possible or a good idea and if anything they should be accelerated, though where possible phased in. That the project is now complete does not mean that Kenny is finished. Kenny is looking to embrace the SuiteSuccess framework to improve the usage of NetSuite. Enterprise Times asked Kenny how?:
"We're hiring specific administrators to make the most of accounting and reporting opportunities. We've got lots of customisations so looking to streamline those to make speed improvements."
Kenny is also looking to integrate other solutions in the next phase include its marketing applications such as Magento eCommerce.
Enterprise Times: What does this mean
Techbuyer is a UK success story. It has grown to become a global leader in refurbished certified data centre equipment. That growth is now underpinned by NetSuite ERP, with which it can continue to grow and scale without the concerns it once had. The cloud-based approach by NetSuite will also have enabled it to have maintained some operations during the lockdown. With companies returning to work in offices slowly, the importance of cloud solutions has never been greater.
Every cloud solution needs expertise to help implement the solutions. In this case, FHL worked with Techbuyer throughout the process, building trust and knowledge of the Techbuyer business along the way. It is a sensible approach; vendor partners can no longer afford just to implement a solution and walk away with the professional services revenue from that one engagement. Instead, build trust through the process. There is more work available with software vendors continuously updating their solutions. FHL is in an excellent place to continue assisting Techbuyer and others to continually improve both the solution and the benefits they derive from it.